Tiny DV Cam for Discrete Moments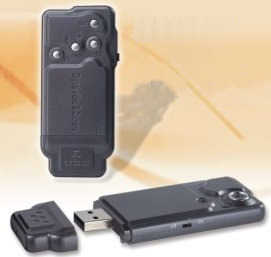 There are always going to be times when you need to discretely film something.  Perhaps you suspect your nanny of stealing from the cookie jar, or believe your wife to be molesting the postman.  So it's a soft slice of relief that you can now buy a digital video camera that's the size of a USB memory stick.
Okay, so with 2mb of on-board memory you're not going to be able to record much footage of your missus and the mailman, but at least you can expand it with SD or MMC memory cards.  And you should probably look beyond the 12fps-VGA-at-best quality to the... um... 300k CCD.  Yeah, the quality is pretty shabby.  But it's SMALL, yeah, SMALL!
Minimum order of 300, so you might have to get together with some friends before placing an order.