Bluetooth tracker Tile has spawned a new, Tile Pro series, promising double the range and a generally more-unmissable alert for your lost keys. The new Tile Style and Tile Sport each increase the distance they'll work from your smartphone to up to 200 feet, twice what the previous Tile Mate and Tile Slim could manage. Meanwhile, there's the promise of greater resilience to the elements, too.
That's courtesy of new waterproofing, which allows the Tile Pro pair to be immersed in up to 1.5 meters of water for up to an hour. Aesthetically, the two models are differentiated by their styling. The Tile Style gets a ridged, satin-white body with a shiny gold ring, while the Tile Sport has a tire-track effect body and a graphite ring.
Inside, though, the hardware is the same. Tile has given each tracker a speaker with double the volume, and there's now control over individual volume settings and even a choice of eight ringtones. If you'd rather not have your missing keys, bag, or any other item squealing from across the house, the updated Tile app has a reworked proximity meter. That, Tile says, does a more accurate job of showing whether you're getting closer or further away from the tracker.
Meanwhile the reverse search is still supported. If you've lost your phone, but do have your Tile to hand, you can cause the handset to ring remotely. That works even if the phone is on silent.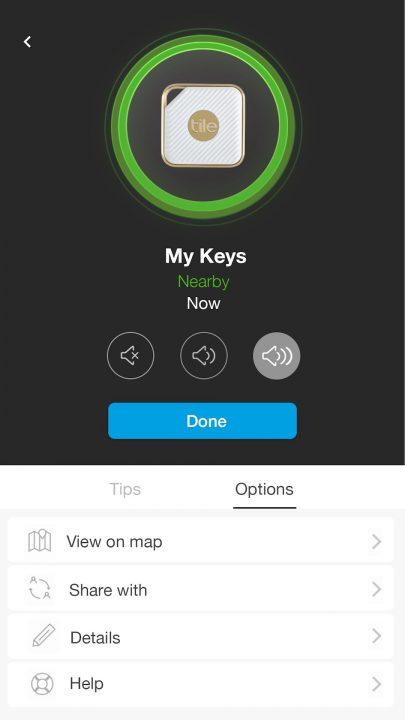 However you don't actually need the phone at all with the Tile Pro update. If you've got an Amazon Echo or a Google Home, you can now use your smart speaker to help track down a Tile Style or Tile Sport. Saying "Alexa, ask Tile to ring my keys," or "Ok Google, ask Tile to ring my camera bag" and, if they're within Bluetooth range, they'll sound their alert. If you've got a device with access to the Google Assistant, you can ask that instead.
If your Tile isn't within range, meanwhile, the smart speaker will give the last recorded position. You can see that in the app, too, and thanks to the Tile community get updates on where the item may have moved to as long as it came within Bluetooth range of another user.
Tile Style and Tile Sport are both available from today, priced at $35 apiece. They'll also be sold as a twin-pack, for $60, either made up of two identical units or, alternatively, one of each style.