TicWatch Pro Review: One smartwatch, two screens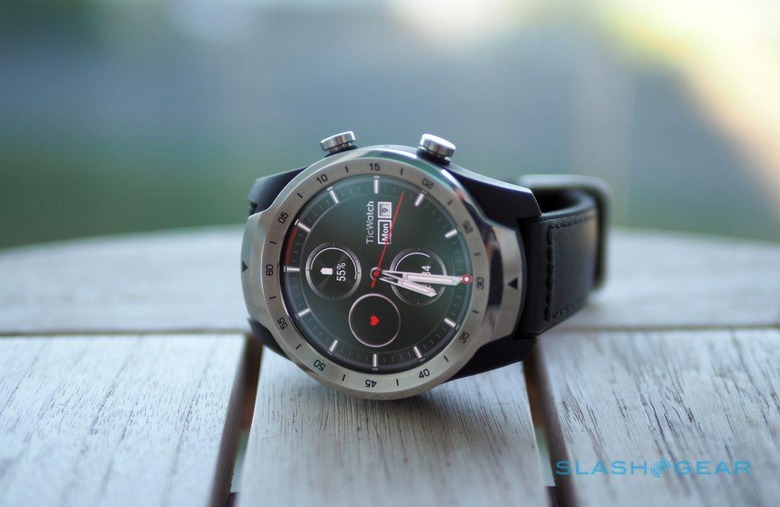 EDITORS' RATING: 7/10
We may still argue about the usefulness of smartwatches, but few would disagree that a wearable with a flat battery is no use at all. The TicWatch Pro running Wear OS by Google wants to make sure that's not an accusation you can level at it, using a clever twin screen system of stacked panels, one for full functionality, the other for power efficiency. At $249.99 it's fairly affordable, too, but has TicWatch made a smartwatch that's twice as usable or just doubly frustrating?
TicWatch made its name in smartphone circles for its dual displays. Like other Wear OS smartwatches there's a circular OLED touchscreen for interacting with the Google Assistant, reading notifications, and controlling apps. On top of that, however, there's a second screen, more like that of a Casio G-Shock, which can show the essentials like time, steps, date, and other basics.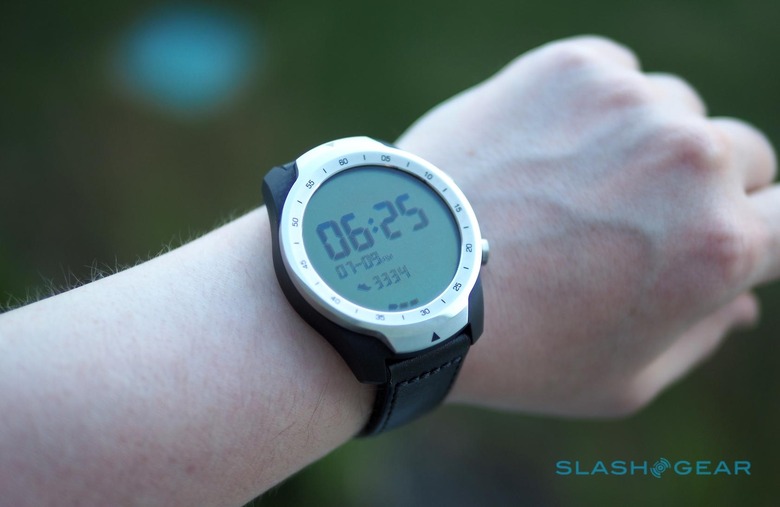 The second screen clearly shows less information, but it's also much more frugal. It means the TicWatch Pro can keep it permanently powered up, without destroying battery life. If you've ever bemoaned the fact that you have to twist your wrist or even raise your arm just to see what time it is on your smartwatch, having a secondary screen like this could be the answer.
The downside to those dual displays – and the TicWatch Pro's relatively affordable price – is its bulk. I don't have the largest wrist around, and the smartwatch feels very chunky on it. The plastic casing, meanwhile, feels functional rather than premium, even with the metal bezel and rear cover. TicWatch offers two colors, black or silver, but having seen both in person I don't think they'll win any awards for styling.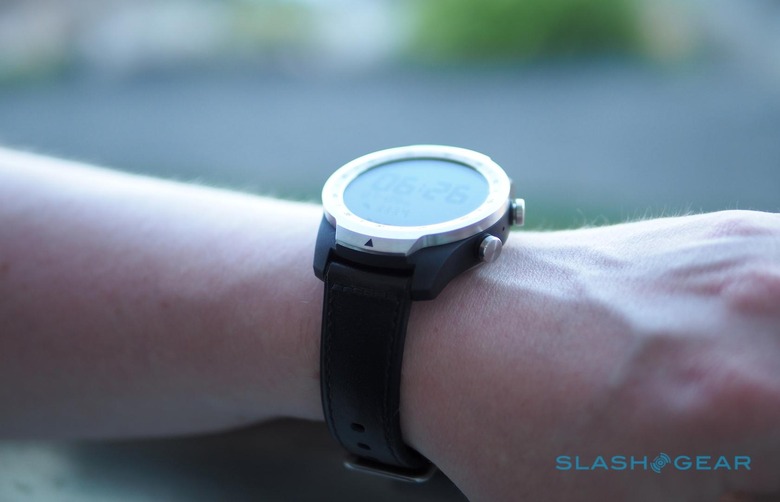 As for the strap, that epitomizes the TicWatch Pro's attempt to straddle the classic and fitness watch segments. On the top is a layer of real leather, while underneath is silicone. Together, the whole thing is IP68 water and dust resistant, which means depths of up to 1.5m for as long as thirty minutes are safe, though the company doesn't recommend swimming with the smartwatch on.
Wear OS, for better or worse
Android Wear may have a new name, but Wear OS will hold few surprises even to those who haven't worn a smartwatch running Google's platform in some time. Indeed, with its Snapdragon 2100 chipset, the TicWatch Pro is running hardware more than two years old.
Qualcomm's lackluster efforts on smartwatch chipsets is another argument for a different time, but it does mean that Wear OS performance just doesn't feel as snappy as, say, an Apple Watch Series 3. Google, at least, has given its platform more standalone functionality, though TicWatch doesn't have a cellularly-enabled version. You'll need to be on WiFi, or have a tethered connection to your smartphone, to get the most from it.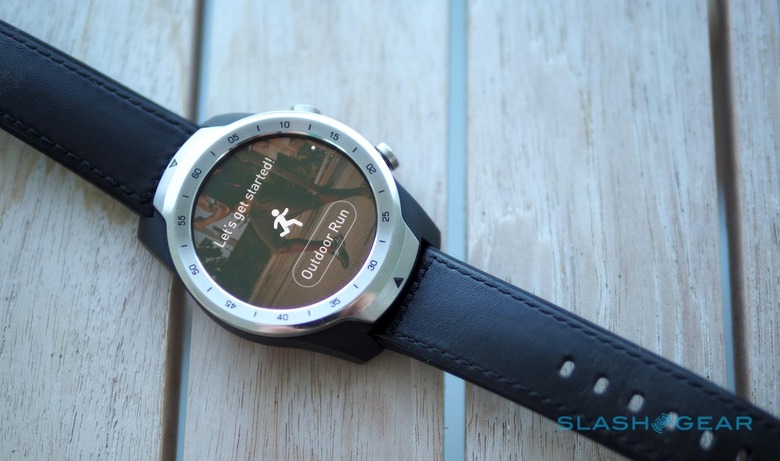 Things should get more interesting when Android P arrives later in the year. That will bring better power management, Actions on Google which will make better use of the Google Assistant, and other tweaks. Really, though, second display aside, TicWatch isn't doing a huge amount different with the TicWatch Pro than we've seen from other smartwatches.
It's all about the battery
The TicWatch Pro's complexity is down to one thing: keeping an active watch on your wrist for as long as possible. Just as there are two displays, though, there are also two power modes.
"Smart Mode" is Wear OS at its fully functional. You get the OLED touchscreen for active use, and the low-power display the rest of the time. The TicWatch Pro is rated at up to two days in that mode, and honestly that's a conservative estimate in my experience. Three days of average use isn't out of the question.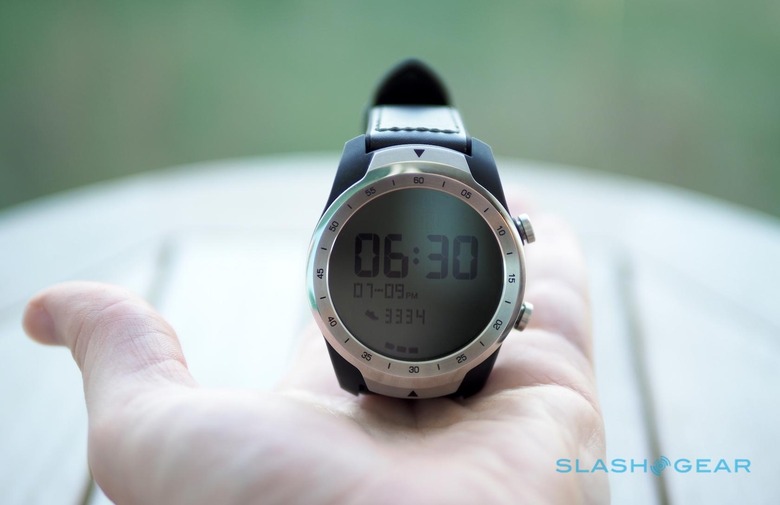 "Essential Mode," meanwhile, powers down the more battery-greedy parts – including the OLED – and relies entirely on the low-power display. You can enable it manually, and get up to 30 days use, or have Essential Mode automatically switch on when Smart Mode reaches low battery. In the latter case, the promise is up to three days, albeit without the spoils of Wear OS.
What makes the difference from other low-power modes on smartwatches I've used is the fact that, even in Essential Mode, you're not missing out on sensor data. The TicWatch Pro still counts your steps and monitors your heart rate; they're shown on the low-power display, and then synchronized with Wear OS when the wearable next powers up into Smart Mode. Better still, the promise is that future OTA updates will add tracking of distance traveled, calories burned, speed, and cadence in Essential Mode, too.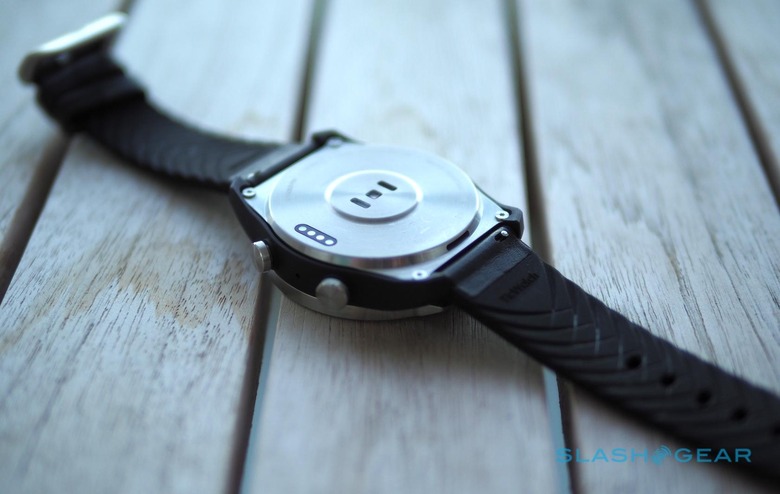 There's a downside to the twin modes, mind, and that's how long it takes to return from Essential Mode to Smart Mode. Expect about 75 seconds from holding down the power button to Wear OS being fully booted up. That may not sound long, but it feels like an age when you're at the register at the grocery store, waiting for Android Pay to be available.
Verdict
There's a lot packed into the TicWatch Pro for not a huge amount of money. The smartwatch's $249.99 price tag belies the convenience of its twin displays, and you're not sacrificing features like NFC for Google Pay or waterproofing. Where the compromise makes itself clear is in the wearable's sheer size: if you're not into large watches, the TicWatch Pro is not for you.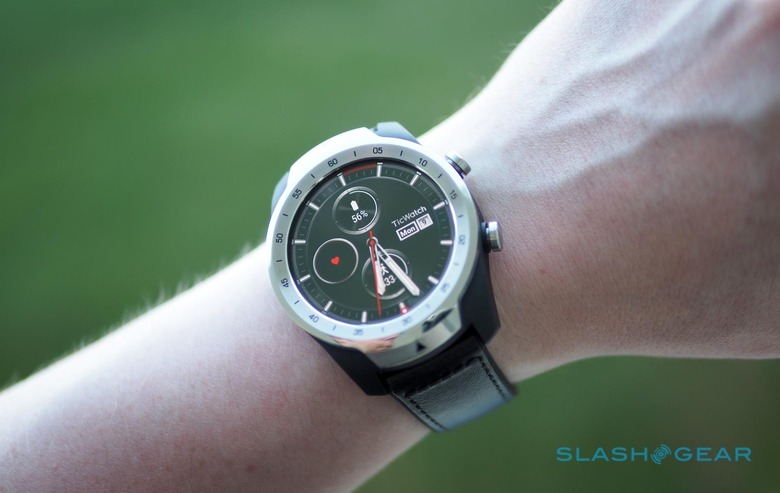 The jewel on the wrist, though, is the battery life. Through its combination of doubling up on the displays and offering multiple levels of power management, the TicWatch Pro delivers longevity of a sort you just don't see from other Wear OS smartwatches. Sure, at the narrow end of that you're getting only the very basics from a watch, but it's still a whole lot more useful than a battery-drained lump when all you need to know is the time.