TicHome Mini puts Google Assistant in a portable speaker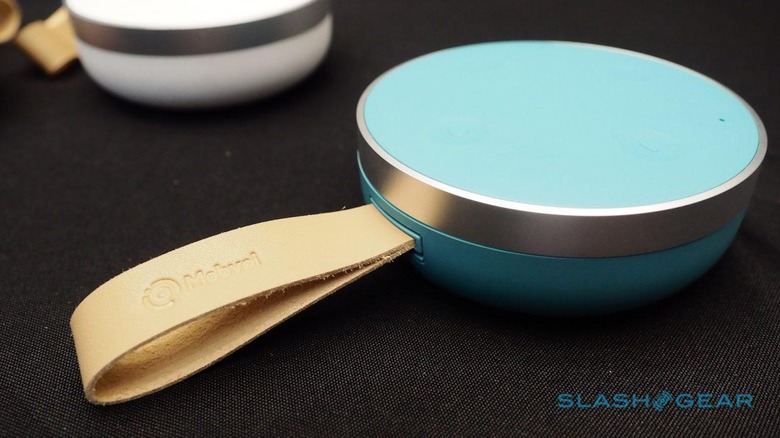 Google may not have a portable version of its Home smart speaker, but that leaves the door open for third-party alternatives. One such example launched at IFA 2017 this week, the Mobvoi TicHome Mini. A circular Bluetooth speaker that also happens to hook up to your WiFi connection and deliver the Google Assistant.
It's squatter than a Google Home though, with a 11cm diameter, slightly wider. The speaker fires down, onto whatever table you've placed it on. However, courtesy of the interchangeable strap you can hang it off a hook.
Although there's a trigger button on top, most importantly you can call out "Ok Google" for completely hands-free access to the Google Assistant. As with the smart agent on the Google Home and on Android devices, you get access to you calendar, Google Play Music account, and third-party services like Spotify, Nest, and IFTTT for broader integration with your smart home.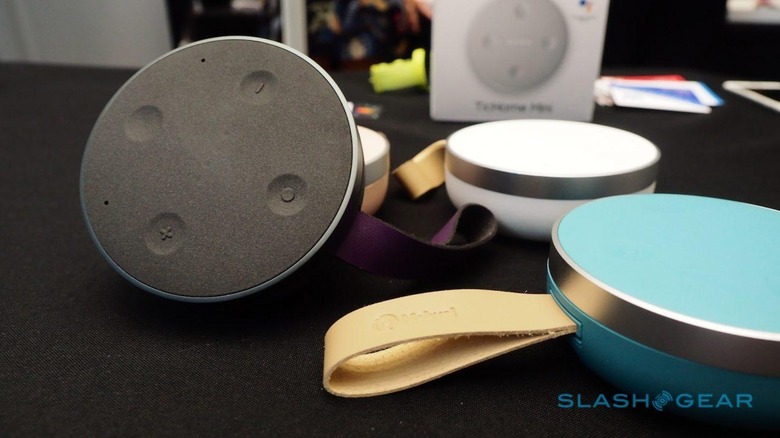 It's one of a small handful of third-party speakers that are getting some Google Assistant magic. The expectation is that they'll perform much as Google's own Home does, not to mention spread to more unusual devices. Indeed, Google has confirmed that smart appliances should soon begin to respond to the "Ok Google" trigger phrase, so that you'll be able to do things like start washing cycles by voice.
For the moment, though, we're expecting more familiar form-factors. Inside the TicHome Mini there's a WiFi a/b/g/n (2.4/5 GHz) radio, along with Bluetooth 4.2. There's also a 3W speaker and a dual microphone array. On top, there's an action button, volume controls, power button, and a microphone mute key. There's also a multicolor array of four LEDs for status feedback.
If you're tempted to take the TicHome Mini into the bathroom, meanwhile, you'll be pleased to hear it's IPX6 splash proof. Hooked up to WiFi, the 2,600 mAh battery should last for up to six hours. It recharges over microUSB.
Even if you're not connected to WiFi, the TicHome Mini will still operate as a Bluetooth speaker. It'll be offered in five colors: red, black, blue, gold, and white. Final pricing has not been confirmed, but Mobvoi says it should come in at under $100 when it arrives sometime over the winter. That makes it a compelling rival to Amazon's Alexa-enabled Tap Bluetooth speaker, particularly if your online life is resolutely Google-centric.