Thrustmaster Ferrari 458 Spider Racing Wheel supports Xbox One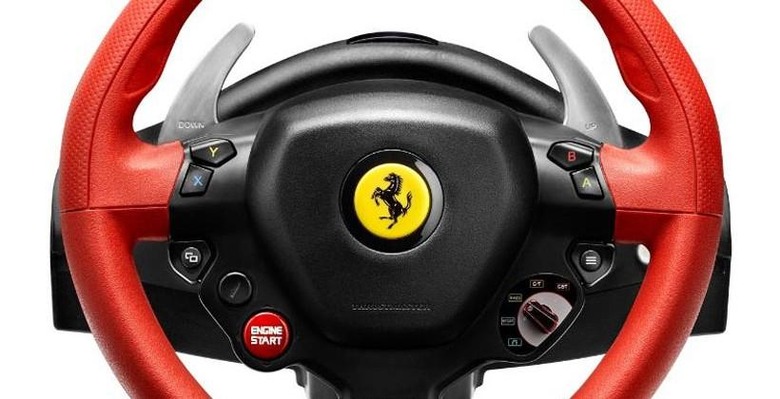 Fans of racing and driving games on the Xbox One have a new racing wheel to choose from. Thrustmaster has announced the new Ferrari 458 Spider Racing wheel that is officially licensed from Ferrari. The wheel is a replica of the one inside the actual Ferrari car.
Thrustmaster uses a wheel with an 11-inch diameter making it a 7/10 scale replica. It features a red textured rubber Ferrari grip and has sequential paddle shifters behind the wheel. Thrustmaster equips the wheel with nine action buttons.
The buttons include view and menu buttons, a two-position manettino dial, and an Engine Start button that is actually a d-pad. An Xbox Guide button is also included. Thrustmaster uses the bungee cord mechanism inside to center the wheel and offer feedback while driving.
This isn't a force feedback racing wheel. The range of motion for the racing wheel is 240-degrees. Adjustable sensitivity allows the driver to choose between four pre-set levels. A pedal set is included that has adjustable throttle pedal and brake pedal with progressive resistance. The racing wheel will ship on April 18 for $99.99.
SOURCE: Thrustmaster