Three WiFi Hub ZTE MF10 Review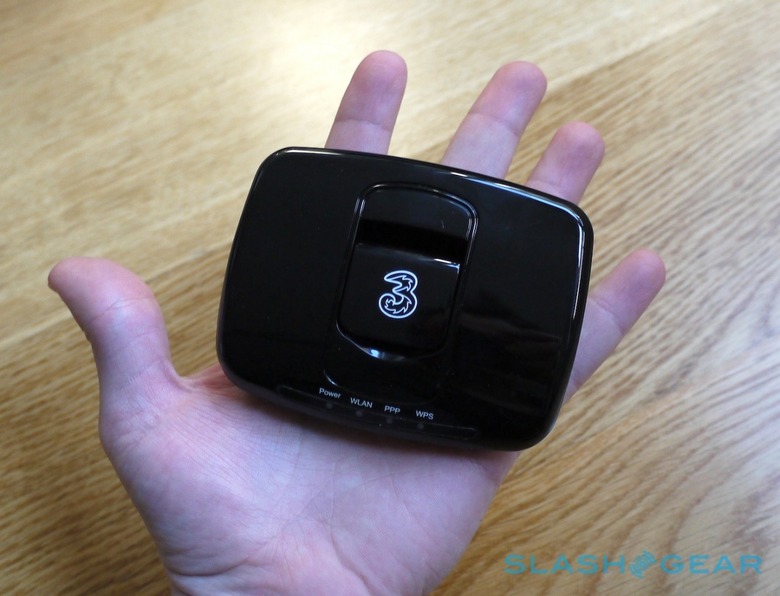 With mobile data speeds matching – and in some case exceeding – traditional wired broadband connections, it's no surprise that data sticks have taken off in the past few years. Until now, the two most common options are a USB dongle, for getting a single device online, or a mobile hotspot, sharing a 3G/4G connection with a number of WiFi-tethered clients. Now UK carrier Three has launched the Three WiFi Hub (aka ZTE MF10), a compact, semi-portable way to share a USB modem's connection with multiple wireless and wired devices. Must-have addition to your gear bag or just a glossy paperweight; the full SlashGear review waits beyond the cut.
Hardware
This isn't your regular router: at 93 x 70 x 25 mm it's a palm-sized glossy black plastic box sitting on four grippy rubber feet. Bigger than a regular mobile hotspot, but the upshot is connectivity: as well as sharing out your USB modem's connection with up to five WiFi devices, it has a pair of 10/100 ethernet ports on the back for wired devices too. That's useful if you're trying to share your connection in a WiFi-saturated environment, where wireless links can often become unstable.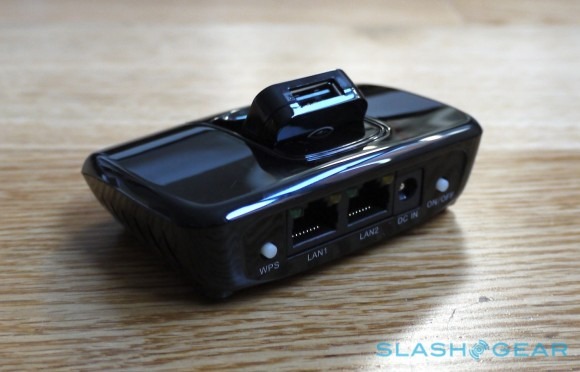 On top is a rotating USB port for your modem, as well as four indicator LEDs for power, WLAN, PPP and WPS status. The back offers two buttons – WPS for easy connections with Windows-based computers, along with power – the two ethernet ports, each with activity LEDs, and a DC power input.
Unfortunately there's no internal battery for true portable use, so you'll have to find space in your bag for the included AC adapter. That's frustratingly bulkier than the Hub itself; ZTE really needs to learn a lesson from the ultra-compact wall warts supplied with recent handsets from Nokia, HTC and Apple.
Software
Unlike USB modems, which generally require an app be installed on your laptop, it's possible to use the WiFi Hub without any software bother whatsoever. Once your modem is in place and the connection has stabilized, it's a simple matter of searching for the preset SSID on your tablet/laptop/phone/console and punching in the PIN, both of which are printed on the bottom of the Hub itself. Wired connections are even easier: just plug in your ethernet cable.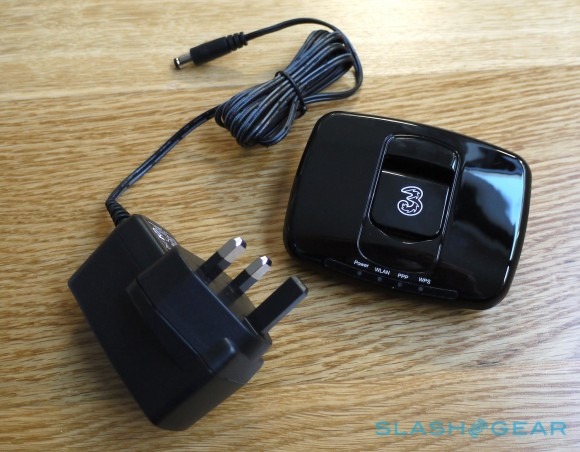 ZTE ships the Hub preconfigured to use WEP security, the weakest option but the one with the broadest compatibility. Most users will want to step up to WPA or, preferably, WPA2, (though a fully open WiFi connection is also possible) and that requires logging into the browser-based settings page. That's found at 192.168.1.1 and logging in with the default username and password (which can be easily changed).
There's actually a fair range of options available, if you're of the tinkering mindset. The basics – SSID and security – can be altered, as well as the APN settings for the USB modem, DHCP settings for automatically assigning IP addresses, MAC and IP filtering, URL filtering to limit which sites can be connected to, and port forwarding. There's also a firewall, with optional DMZ bypass.
Obviously it's up to the user how deeply they dig through the settings; it's possible to treat the WiFi Hub as plug-and-play, or get pretty granular with your control.
Performance
We saw no difference in download speeds from Three's normal performance when using the WiFi Hub, though being able to position the modem near a window meant we could hunt down the best signal at any one time. WiFi range proved sufficient to cover our (admittedly bijou) London flat, with two solid wood doors in-between, with maximum strength showing in OS X.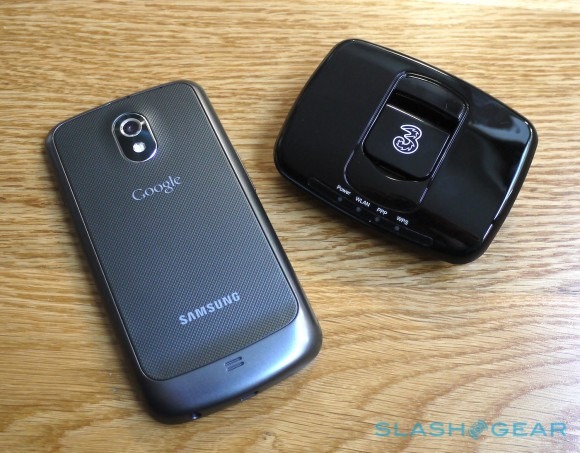 Unfortunately, our attempts to get the WiFi Hub working with USB modems from other providers than Three failed, even when the modem was unlocked. The settings page refused to recognize that a modem was plugged in, and no connection was automatically made. Three tells us that other operators' modems should work, but obviously won't help you out if – like us – you can't get the Hub to recognize them. It would also be useful if you could plug a wired WAN connection, such as in a hotel room, into one of the ethernet ports, and share it with the Hub.
Wrap-Up
There's no denying the Three WiFi Hub works, nor that it's useful. The wireless connection is solid, and the two ethernet ports are a particular bonus over regular mobile hotspots. Ease of use – with a Three USB modem – is another strength, though we wish ZTE had opted for better security with WPA2 by default.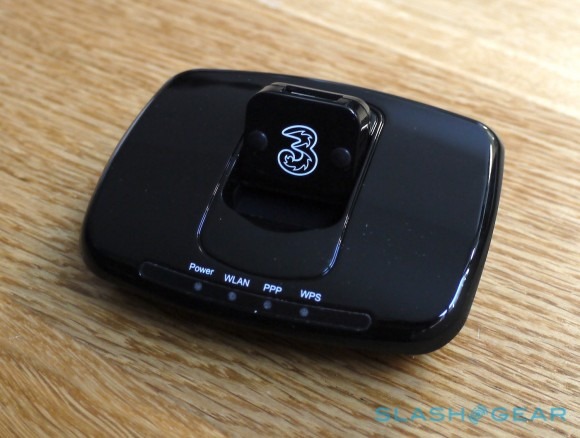 Unfortunately the absence of a battery – even to just power wireless use – significantly limits the usefulness of the WiFi Hub when on the move. Forget dropping it onto the table at your nearest coffee shop or in an airport lounge and getting online in seconds: you need to make sure there's a power point nearby. For hotel rooms or spur-of-the-moment meeting room connections that shouldn't be too great a drawback, however.
That power limitation, compounded by the unnecessarily chunky AC adapter, are our main criticisms of the Three WiFi Hub. Those with modems from other providers should also be wary, as compatibility isn't assured and you're on your own to figure out any problems. Still, at £39.99, if you're a Three data modem user who blanches at hotel and conference wireless fees and has enough bag space for the power adapter, the WiFi Hub makes an inexpensive way to get multiple people online.