Three Euro Internet Pass promises low-cost unlimited data roaming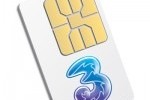 UK carrier Three has bucked the sky-high international data roaming charges trend with its new Euro Internet Pass, offering unlimited data in most EU countries for £5 ($8) a day. The new add-on supports some of the most common holiday destinations – including France, Germany, Greece and Spain – though Three does warn that tethering isn't included in the deal.
"The pass was designed for browsing," Three also warns, "so streaming may not be as good as it is on our UK network, and, tethering isn't included." Setup may also be a little tricky for first-time users, requiring a combination of turning on data roaming but (initially) turning off push notifications so as not to be charged until the day-pass kicks in:
"To activate the pass, firstly make sure data roaming is enabled. You'll then also need to turn off your push notifications  (they're the things that tell you stuff like when you've got an email, when it's your turn in a game or when someone's tagged a pic of you). They need turning off to avoid out of bundle charges while you're setting up the pass. How to do it differs from phone to phone, so make sure you've worked out how to sort it before you go away. Then just click on the link in the SMS. Follow the simple steps to buy the pass and then you can go wild online until midnight that day (UK time)" Three
Nonetheless, even with some setup hassles, this is still a significant improvement on how data roaming is usually priced. Horror stories of users coming back from their holidays to discover huge bills have grown increasingly commonplace, as data use on smart devices increases but roaming fees have generally not.
It's worth noting that the deal doesn't cover travel in North America, which may put a dampener on it for some, but we're expecting that now Three has opened the floodgates other carriers will join in the fun. Details on exactly where is and isn't covered below:
Supported countries:
Austria, Belgium, Bulgaria, Cyprus, Czech Republic, Denmark, Estonia, Finland, France, Germany, Greece, Hungary, Ireland, Italy, Latvia, Lithuania, Luxembourg, Malta, Netherlands, Poland, Portugal (incl. Azores & Madeira), Romania, Slovakia, Slovenia, Spain (incl. Balearic & Canary Islands), Sweden, Vatican City, Monaco
Unsupported countries:
Aland Islands, Albania, Andorra, Armenia, Azerbaijan, Belarus, Bosnia and Herzegovina, Channel Islands (Jersey, Guernsey), Croatia, Cyprus (North), Faroe Islands, French Guiana, Georgia, Gibraltar, Guadeloupe, Iceland, Isle of Man, Kazakhstan, Liechtenstein, Macedonia, Martinique, Moldova, Montenegro, Norway, Reunion, Russia, San Marino, Serbia, Switzerland, Ukraine, Turkey, Netherlands Antilles and the Rest of the World