This zero-emission Nikola truck wants to make diesel history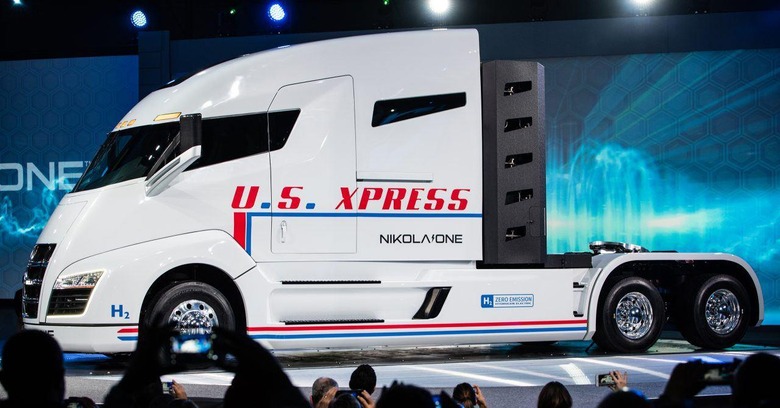 The future of American trucking is hydrogen-electric, ambitious startup Nikola Motors claims, and we've now seen the 1,200 mile range semi it thinks will start the revolution. Unveiled this week, the Nikola One may look at first glance like a traditional diesel truck, but under the skin it's a very different story. A smarter powertrain, connected cabin, and longer running on a single tank of fuel – paired with doubly-ambitious hydrogen fuel network plans – could make this the revolution hauling has been waiting for.
Targeting trucks rather than passenger vehicles comes with a few obvious advantages. For a start there's more space for batteries, something Nikola takes full advantage of. In fact, the Nikola One has a vast 320 kWh lithium battery array; contrast that with the current largest pack Tesla offers, the Model S P100D's 100 kWh battery, and you get an idea of where the range comes from.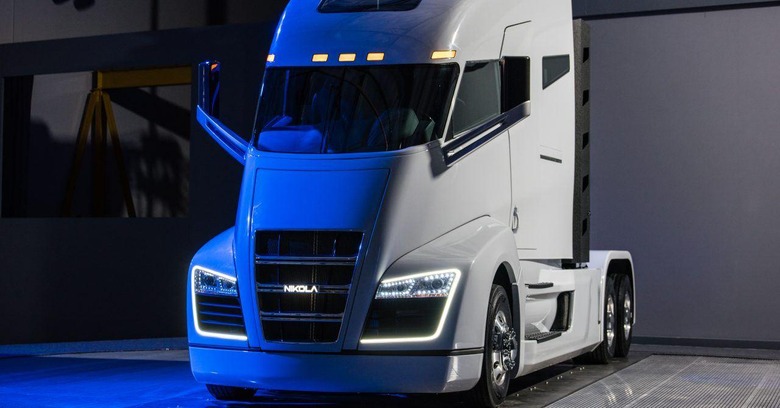 The Nikola One isn't solely reliant on what's in the batteries, however. The truck also squeezes in a hydrogen fuel cell, which works as a mobile generator turning hydrogen into electricity. It's good for almost 300 kW and can switch on and off within a few seconds, the company says, keeping the batteries topped up.
A truck also has more wheels and axels than a passenger car, and so there's more scope for adding extra electric motors. In the case of the Nikola One, there are six motors, one for each wheel. Altogether they're good for 1,000 horsepower and 2,000 lb-ft. of torque; the automaker contrasts that with the typical diesel truck, which would offer half the horsepower and more like 1,650 lb-ft.
Some of the inherent drawbacks of traditional truck driving are turned into positives in Nikola's case. The instantaneous torque you get from an electric motor means pulling away is swifter: half the time to take you from 0-60 mph, for instance, at 30 seconds when under load. Top speed going up hills is higher, too, at a claimed 65 mph versus 20-40 mph for diesel trucks.
However it could be going downhill which is most changed. Not for nothing do steeper declines have truck run-off spaces for when brakes overheat or fail altogether; Nikola's system uses the same regenerative braking as electric cars like the Model S do to convert motion back into electricity. At the same time, since each electric motor can be controlled individually, Nikola can do torque vectoring just like an Acura NSX (albeit on a much bigger scale). By feeding more or less power to each wheel, the overall stability and cornering ability of the truck can be adjusted while on the move.
In all, the truck company claims a zero-emissions range of up to 1,200 miles, potentially more than double what a comparable diesel truck might deliver. 10-20 mpg might not sound much in car terms, but it could mean up to four times the economy of that traditional truck.
Meanwhile, by putting the drivetrain components low down in the body, the center of gravity is lower for increased stability. It also allows the cabin to be pushed forward, giving the driver a clearer view through the panoramic windshield; the space itself is 30-percent larger than is typical, with mid-cab entry for safety, two full-sized beds, a full-sized fridge and freezer, microwave, HVAC, and a computer desk.
As for tech, the driver gets WiFi and 4G LTE, a 40-inch curved 4K TV with an Apple TV, multiple 12V and 110V outlets, and a big 21-inch touchscreen in the dashboard. From that, they can see a surround-vision view of what's around the truck for easier navigation when parking and in tight city streets, plus see real-time congestion and traffic details on the route ahead. Since the truck is connected, dispatchers can log in and see location, economy, and other driving metrics, or push new scheduling and navigation information remotely to the driver.
It's all very ambitious, but Nikola Motors isn't stopping there. Just as Tesla opted to built out its own charging network to give owners of its electric cars the confidence that they could go cross-country without the batteries running flat, so the hybrid truck startup plans to do the same with hydrogen. Come 2019, it aims to start switching on hydrogen stations in the US and Canada, aiming for 364 in total.
Unlike Tesla's Superchargers, however, Nikola intends its hydrogen stations to be open to drivers of other fuel-cell vehicles. They're in relatively short supply today, though that's in no small part down to lacking infrastructure. A Nikola One should be able to fill up its hydrogen tank in under 20 minutes; a car-scale tank will take much less.
The first of the trucks should – if all goes to plan – be on the road by 2020, and indeed Nikola is already taking deposits. $1,500 is all it takes to get your name on the list, and though lease pricing is expected to be, at $5,000 per month, more than double what the typical diesel truck might set you back, there'll be some perks in with that. Free hydrogen fuel for a start, along with all scheduled maintenance thrown in too.
SOURCE Nikola Motors