This Xbox One S Minecraft Bundle Deal Is A One-Day-Only Steal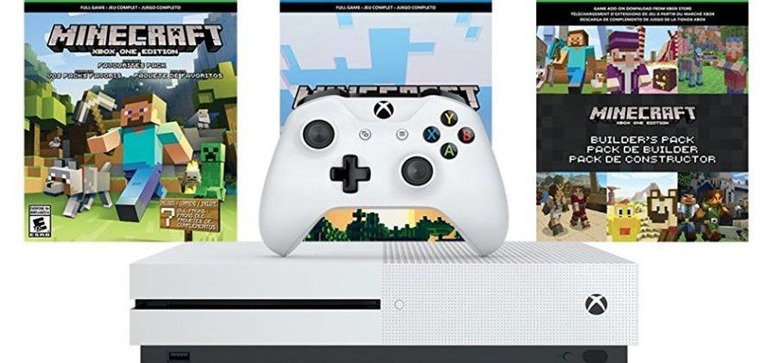 We may receive a commission on purchases made from links.
We're guessing that some of you managed to grab inexpensive Xbox One S bundles on Black Friday, but if you missed those deals, Microsoft is back with a new promotion that will prove tempting for many. This new promotion will likely be your final chance to pick up an Xbox One S bundle on the cheap before the end of the holiday season. You need to act quickly though, because this deal is good for today only.
We're seeing Microsoft mark down the cost of the Xbox One S Minecraft bundle to $230 today. That's not bad at all, considering that its normal cost comes in around $300. While discounts will likely be active throughout the rest of the holiday season, $230 is probably the lowest we'll see Xbox One S bundles go.
Unfortunately, you're exchanging your choice of bundles for this low price. Though there are quite a few different Xbox One S bundles out there, this $230 price tag only applies to the Minecraft Favorites bundle. Even if you're not really a Minecraft fan, snagging an Xbox One S for $230 is probably still worth it.
This deal seems to be available across the board, with different websites like the Microsoft Store, Amazon, and GameStop all offering it. Should you choose to pick it up, you'll get a 500GB Xbox One S, a wireless controller, a copy of Minecraft: Xbox One Edition Favorites Pack, and a copy of Minecraft: Xbox One Edition Builders Pack. You'll also get access to the Minecraft: Windows 10 Edition beta, so with two different platforms covered, you're definitely getting a lot of Minecraft for the money.
Unlike another hot holiday item, stock levels for the Xbox One S Minecraft Favorites Bundle seem to be steady. Just be sure to buy sooner rather than later, since this deal is over once the sun sets on December 16.