This Tesla vs Lamborghini race is deeply satisfying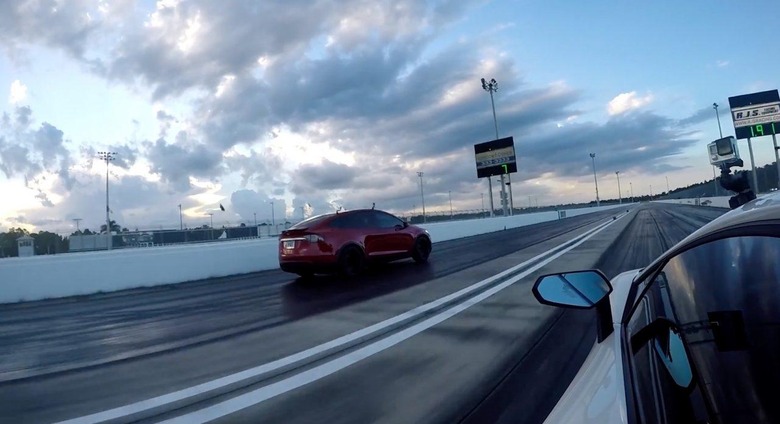 Making the decision between a Tesla Model X P100D and a Lamborghini Aventador SV is not something most of us will ever get to do, but thankfully we have entertaining drag races to salve that pain. The two cars – and a Model S P100D that also joins in the fun – went head to head at the Palm Beach International Raceway to show what happens when you put the cutting-edge in electric SUV against one of the most coveted supercars on the market. Here's the spoiler: don't argue with instantaneous torque.
It's the handiwork of DragTimes, which wanted to see how the Model X in Ludicrous Plus mode would handle the 1/4-mile. That was completed in a mere 11.418 seconds, reaching a top speed of just over 117 mph. Not quite as fast as Tesla suggested when it added "Ludicrous+" earlier this year – then, the company said the quarter mile would come in 10.6 seconds, with 0-60 mph taking just 2.4 seconds – but impressive nonetheless.
All that power put itself to good work taking on the Aventador SV. That has 750 HP and all-wheel drive, putting the power from its 6.5-liter V12 through a 7-speed single clutch transmission. At $530k as-tested, it was more than three times the price of the $165k Model X P100D.
Despite that disparity, the Tesla does a solid job vanquishing the Lamborghini in the quarter mile. It's a win that's then repeated with the Model S P100D.
Why are the Tesla twins so effective at drag racing? There are a handful of reasons why electric cars can do so well, not least because all of their torque is available from the outset (unlike in a gasoline engine, where the engine has to reach the speed where maximum power is generated). Throw in the fact that there are no gear changes to deal with – the Model S and Model X are single-speed – and, even if a gasoline-powered exotic has a whippet-fast transmission, it can still struggle.
Does all this mean you should drop your ambitions to own a Lamborghini and line up directly at your nearest Tesla showroom? We'd say... no. The raging bull may not have raged quite so hard as the screaming electron in this head-to-head, but there's undoubtedly more to a car's allure than pure straight-line speed. Tesla's SUV and sedan may be impressive, but it'll take the upcoming new Tesla Roadster to give it serious sex-appeal.