This strap fixes an Apple Watch to your luxury watch (no, really)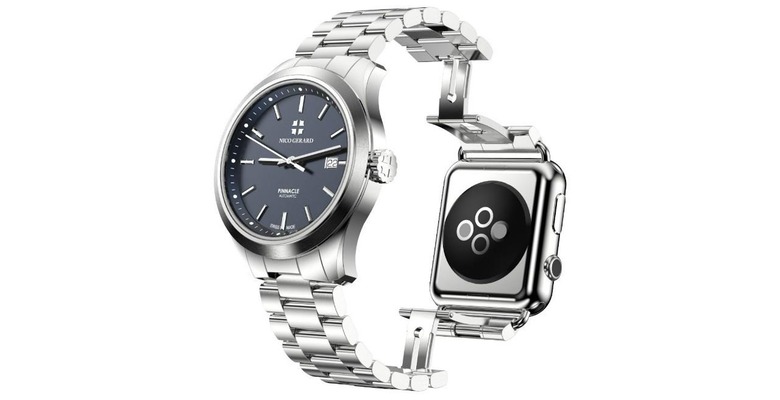 Persuading traditional watch lovers to switch to a smartwatch is part of Apple Watch's lingering challenge, but one luxury timepiece firm thinks both on one wrist is the answer. California-based Nico Gerard's first model, the Pinnacle, is traditional horology on one side, with a Swiss movement-powered analog watch intended to sit on top of your wrist, but hides an Apple Watch on the underside to sate your notification addiction.
If that sounds mildly odd to you, then you're not alone. Wearing two watches – one on each wrist – is a fashion statement not many can pull off, never mind having two on the same strap.
Nico Gerard argues that it's functionally quite practical, however. The fashion side has a 41mm case with hour, minute, second, and date; it'll be offered in stainless steel or 18 karat gold.
You'll pay handsomely for it, however. The stainless steel Skyview Pinnacle, for instance, comes in at $9,500, though you do at least get a matching 38mm Apple Watch thrown in. It's limited to 99 units, and should ship in 8-10 months.
The regular Pinnacle, meanwhile, ships in 10-12 months, and will be $9,300.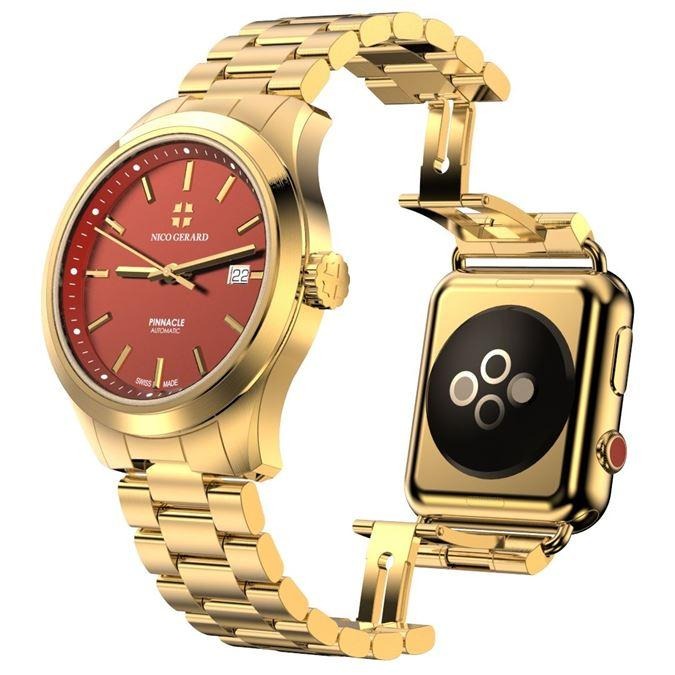 Finally, the Sunrise Pinnacle takes things to max-luxe, with an 18 karat gold case, matching 28mm Apple Watch Edition, and the knowledge that only 88 are being made. For that, you'll have to cough up a heady $112,000, though you'll get your double-sided wearable in 6-8 months.

The clever part is, undoubtedly, the bracelet itself, which Nico Gerard has dubbed the Papillon. It has a double-clasp like many regular watch bracelets, but ends in lugs suitable to slide onto the Apple Watch's grooved strap connectors.
Whether this is really going to solve the problem for many watch-lovers remains to be seen, with integrating smarter functionality to a more traditional timepiece certainly a more ergonomic approach, albeit one which might bake in a little too much premature-obsolescence for the target audience.
VIA Mashable
SOURCE Nico Gerard