This ridiculous PS4 price cut just kicked in (but you'll have to act fast)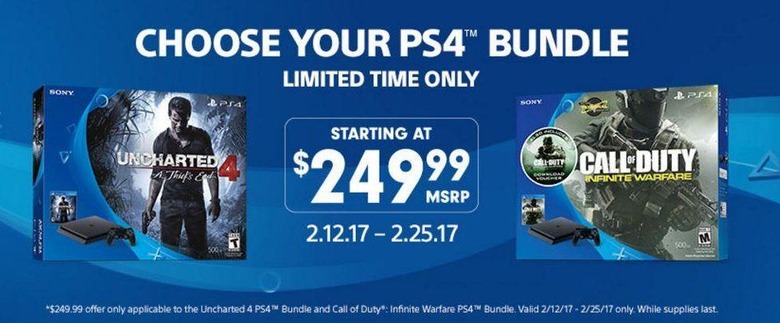 If you've been thinking of picking up a PS4, it would seem now's the time to strike. Sony has announced that it's dropping the price on two popular PS4 bundles for the next two weeks, bringing prices back in line with what we saw when the holiday shopping season was in full swing. It looks like we can chalk these low prices up to the usual mid-winter lull that plagues the video game industy.
In its attempt to move some consoles during a time when sales are slow, Sony has dropped the price of these bundles down to their Black Friday points: $250. There are two bundles to choose from, with one featuring a free copy of Uncharted 4 and another featuring Call of Duty: Infinite Warfare.
Obviously, these bundles include the PS4 Slim and not the more powerful PS4 Pro. The PS4 Pro is still sitting at a retail cost of $400, and being Sony's new star of the show, isn't likely to come down in price any time soon. Still, if you don't have a 4K TV and don't foresee buying one in the near future, then the PS4 Slim should suit your needs perfectly.
Just as well, $250 is the lowest price we've seen these bundles hit, at least officially. That seems to be as low as Sony is willing to go, so if you're thinking of holding out for a lower price, you may want to reconsider – they aren't likely to go any lower, at least not until Black Friday 2017 rolls around.
You have until February 25 to consider this deal. After that, the bundles will return to their full price of $300 and we'll be left waiting for the next round of discounts. We'll see if Microsoft comes up with a deal of its own to counter Sony, because for those on the fence between Xbox and PlayStation, the PS4 is the clear choice for the moment.