This Pixel 3 XL notch glitch is annoyingly funny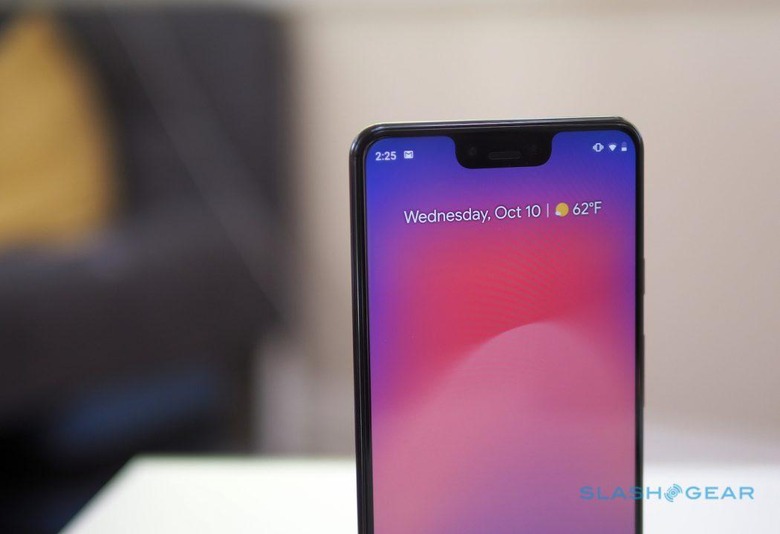 As if Google's Pixel 3 XL wasn't notched enough, an oddball bug affecting the Android smartphone is adding a second, even more annoying cut-out to its display. Observed by a number of owners of the 2018 handset, the new notch isn't at the top or bottom as you might expect, but protrudes in from the side.
Of course, it's not the same sort of notch, as you've probably guessed. Google uses the cut-out at the top of the Pixel 3 XL's display to accommodate the phone's twin front-facing cameras, its earpiece speaker, and other sensors.
This errant side notch, meanwhile, is a software glitch. That doesn't make it any less frustrating, however. Indeed, it's probably more so, given it's right where you might choose to swipe down a list, or try to tap links on a webpage. Some are seeing it on the upper right edge of their Pixel 3 XL, while others, like in this image from Redditer disastar, see it on the lower left instead.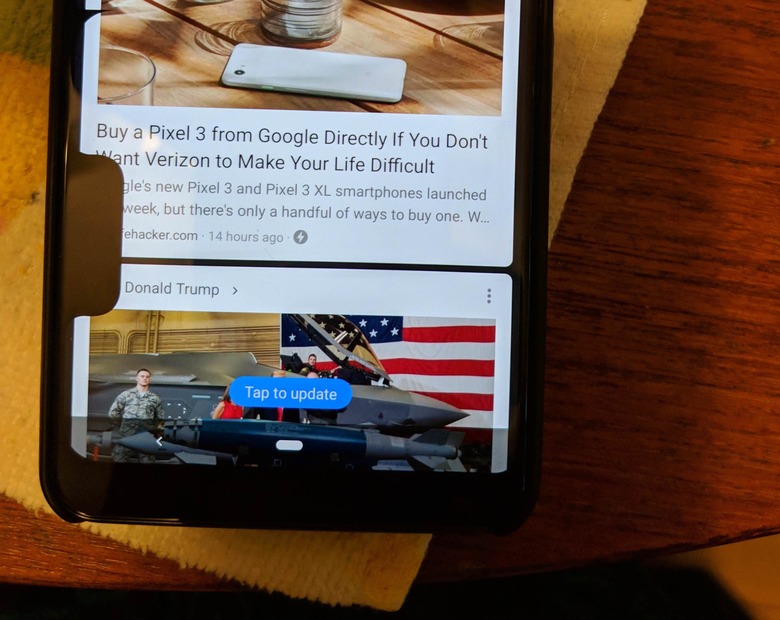 Exactly what is causing it is unclear. One possibility is rogue developer settings, since Android does offer coders the ability to add a virtual notch to their phone. That can be helpful for testing out apps-in-progress to see how they look and behave when run on a device with a cut-out section from the screen.
If that setting is enabled, and the auto-rotate on a phone gets confused, it's possible that the faux notch is getting stuck in the wrong place. Google offers the option of both a top and bottom developer notch, in fact, though not a side notch.
Other Pixel 3 owners have been reporting a similar – though not so intrusive – graphical mishap. Their phones have been adding small rounded corners partway down the edges of the screen, presumably similar UI hangovers from a poorly-handled rotation.
While you might suspect that this is Google playing a very untimely April Fool's Day prank to show notch-haters why they really shouldn't complain – because things could, in fact, be significantly worse – it's actually all a software fault. Restarting the Pixel 3 XL reportedly vanquishes the extra notch, or at least according to reports from those suffering its presence. However, Google told Android Police that an official fix is "coming soon" should you be so afflicted.
It's not the first problem to affect the Pixel 3 and Pixel 3 XL, of course. A somewhat more worrying bug has seen the camera app fail to save photos that it has captured, despite looking like they've been successfully added to the camera roll. Google has said it will release an update to fix the flaw.