This Nintendo Switch Joy-Con lawsuit could mean cash for gamers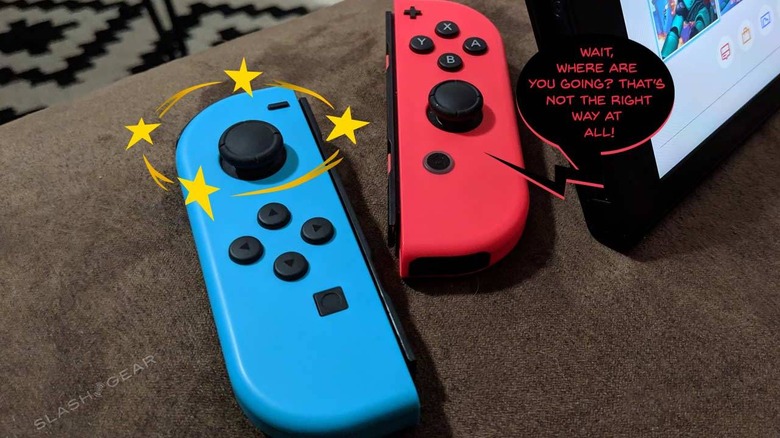 Owners of the Nintendo Switch (with its detachable display, on-screen dock, and Joy-Con controllers) has a class action lawsuit headed its way this week. The law firm Chimicles Schwarz Kriner & Donaldson-Smith LLP filed a class action lawsuit against Nintendo of America, Inc for claims relating to alleged defects in the Joy-Con controllers – and their drifting. Oh, with the drifting.
Drifting Joy-Con controllers are no joke. Imagine buying a car, only to find out that every once in a while the wheels start to turn without the steering wheel. You probably won't die if your Joy-Con controllers start to drift, but your in-game character might. That's the situation for plaintiff Ryan Davis, and it's almost certainly the case for a bunch of other Nintendo Switch owners, too.*
*According to the lawsuit, "the internet is replete with examples of message boards and other websites where consumers have complained of the exact same Joy-Con defect."
Ryan Davis was an avid Nintendo Switch gamer. He purchased his first Nintendo Switch in July of 2017 with an extra set of Joy-Con controllers. After approximately 11 months, his first left Joy-Con began to drift. Even while he held the controller completely still, the on-screen representation of that control started to move in a manner that was erratic.
Under a one-year warranty, Davis was able to send his Switch controllers to Nintendo for a replacement. Three months after this send-in, the controllers he'd received as replacements for the first began to drift once more.
Two pairs of Joy-Con controllers, one sent in for fixing and returned, and by the time the free repair warrantee was up, both pairs of Joy-Cons drifted so badly, they became unusable. The problem did not end when Davis bit the bullet and purchased more Joy-Cons on his own in April of 2019.
The issue, says the complaint, isn't simply that a defect exists. It's that Nintendo's not done anything to address the situation on a decent scale. "Yet, notwithstanding its knowledge of its manufacturing defect, Defendant fails to disclose the defect and routinely refuses to repair the joysticks without charge when the defect manifests and never disclosed this material defect to consumers."
The lawsuit seeks that injunctive relief be provided by Nintendo in the form of a recall of the controllers or a free replacement program. It also seeks "equitable relief in the form of buyback of the devices." and costs, restitution, damages, including punitive damages, penalties, and disgorgement that'd be decided at trial, attorneys' fees, pre- and post-judgement interest on any amounts awarded, and "such other or further relief as may be appropriate."
You can find this complaint and the sign up form for the Joy-Con class action lawsuit over at CSK&D right about now. Have a peek at the timeline below for additional information.