This new Porsche Taycan speed test may not be practical but it sure is cool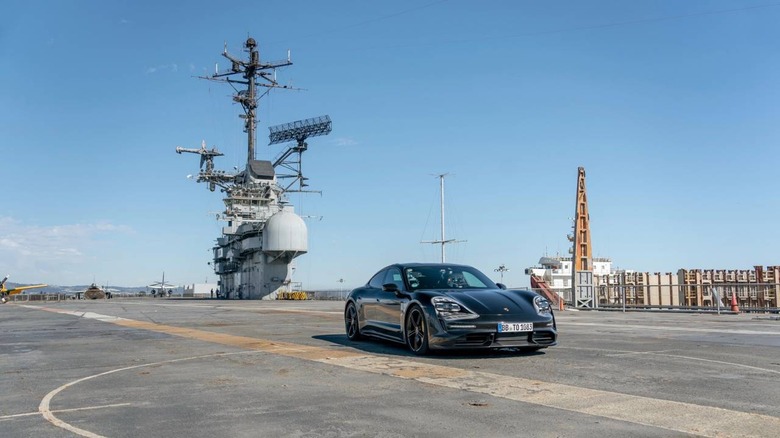 Porsche's all-electric Taycan is about to break cover, and clearly the prospect of its Tesla-fighting sports sedan has left the German automaker feeling oddly playful. How else to explain the latest pre-release Taycan challenge, a 0-90 mph run on the deck of the USS Hornet and – even more vital – coming back to a standstill before running out of aircraft carrier deck.
The USS Hornet is large, that's a given. Its 869 foot long flight deck tops a vast, 27,500 ton vessel: usually, a catapult is relied upon to hurl aircraft off at around 170 mph.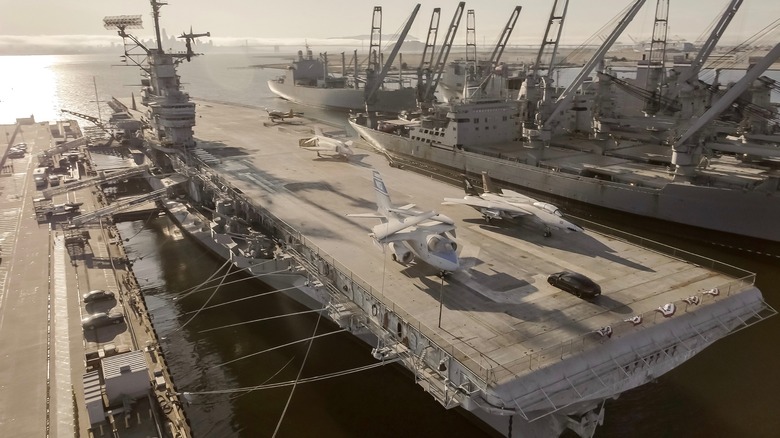 Porsche, sensibly, opted to rely on the Taycan's electric drive instead, rather than launching a prototype EV into the water. With professional racer Shea Holbrook at the wheel, the car's launch control accelerated it to 90.58 mph in 422 feet. 10.17 seconds after starting, the Taycan was brought back to a halt.
It did it with under 100 feet of deck left to play with, which seems a reasonable amount on paper but is probably less reassuring if you're at the wheel yourself and considering how buoyant the car might be. Porsche did, at least, erect a safety barrier of barrels before the end of the flight deck.
Porsche hasn't confirmed all the performance details, but as per any car bearing the company's badging, power shouldn't be in short supply. The Taycan will have two electric motors for all-wheel drive, and we're expecting more than 600 horsepower in total for the most powerful model. Arguably more interesting is the two-speed transmission: where most EVs have a single gear, the Taycan seemingly has two, with a second ratio for more efficient higher speeds.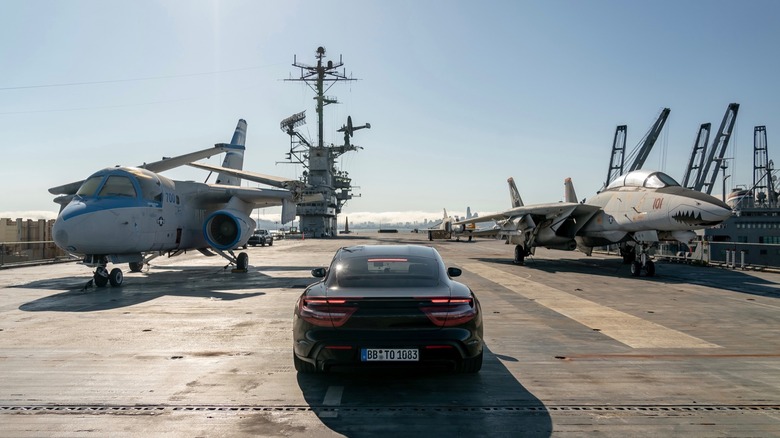 "The deck is a long, long way up and despite appearances it's actually quite bumpy," Holbrook says of the feat. "Deliberately accelerating towards thin air and the ocean is a new experience for me, but the Taycan gave me a huge amount of confidence – it was really stable under acceleration and, more importantly, under braking."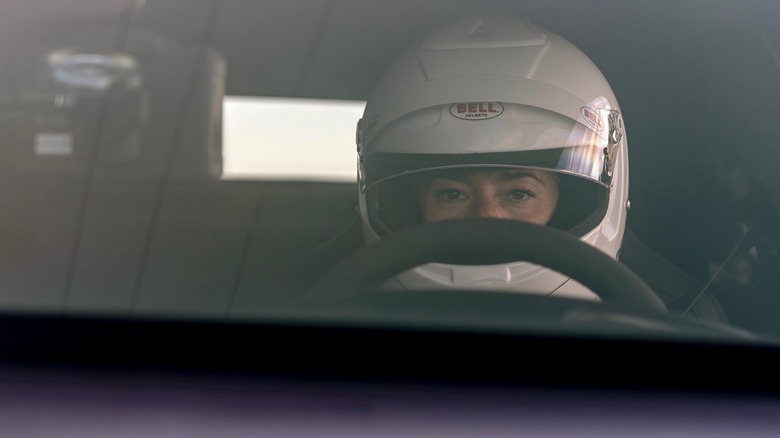 It's that predictability on uncertain surfaces that Porsche is emphasizing from its stunt. "On a tough, changeable surface the Taycan's composure, its incredible acceleration and stopping power were so impressive," Stefan Weckbach, Vice President Product Line, Taycan, said. Given fans of the marque have been mixed in their reception to the idea of an all-electric car, just how close it gets to the driving dynamics of a 911 is undoubtedly going to be a key metric.
"It goes without saying that this impressive run is strictly for pros like Shea," Porsche's Weckback adds, indicating that even if you should happen to have an aircraft carrier of your own, and a Taycan, you shouldn't just point the car at the horizon and floor the accelerator. Good to know.
Soon, though, the meat of the Taycan will be revealed, as the car makes its official debut. That's expected to take place on September 4, and we'll be there to bring back all the details of what could well be Porsche's most important car in years.