This Moto Z Stereo Speaker Mod is respite from the tyranny of Bluetooth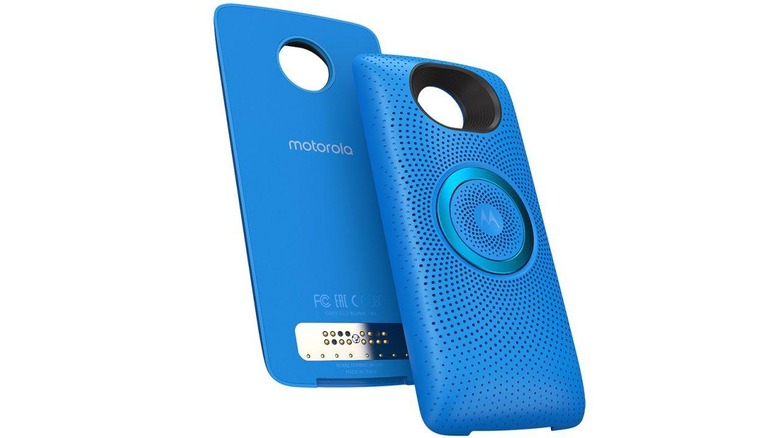 Many of us probably have some kind of wireless speaker that connects to our phone through Bluetooth, and while that's a convenient solution to playing music through your phone, it isn't always a very portable one. Motorola is trying to solve that little conundrum today by introducing a new stereo speaker mod for its Moto Z line up. As the name suggests, this speaker snaps right onto the back of your phone, allowing you to play music without carrying around a separate speaker.
This isn't even the first speaker mod to launch for the Moto Z. There have been a few speaker mods released by other companies, the most recent of which being last year's Alexa Smart Speaker, but this one is more affordable than many of the others. While the Alexa speaker clocks in at $150, Motorola's stereo speaker will only set you back $59.99.
While that price point suggests middling audio quality for the speaker itself, there's still plenty of reason to give this Moto Mod a look. Since it snaps onto the back of your phone, there's no need to pair it through Bluetooth. There's also no need to charge it between uses, as it's powered by your phone's battery.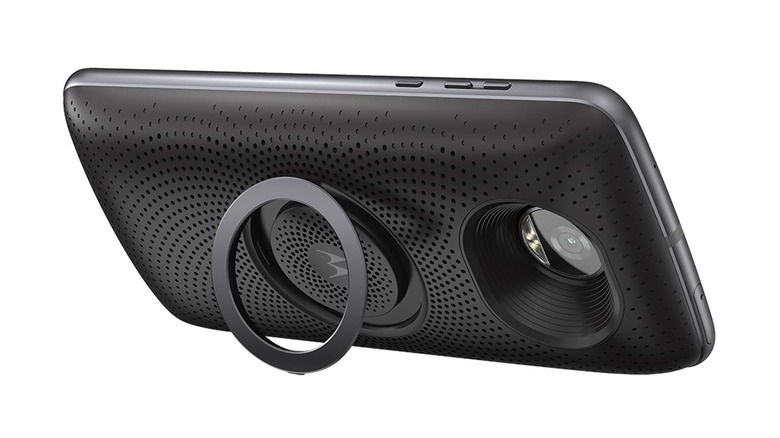 The speaker comes with a built-in kickstand, allowing you to use it to get better sound while watching movies on your phone, and it can also be used to provide a better-sounding speakerphone for hands-free talking. In short, it sounds like a nice accessory to have, especially if you listen to songs or watch shows on your phone frequently but don't like having to use headphones for better sound quality.
The Moto Stereo Speaker Mod is available today from Motorola's website for $59.99, though can also be financed through Affirm for $10 per month. The speaker is available in three different colors – red, blue, and black – and estimated delivery time seem to only be a few days at this point. Be aware, however, that it seems to add considerable bulk to your phone, so prepare for a fairly hefty device after you snap this on.