LEGO Ninjago Movie Destiny's Bounty LEGO Review (behold the golden banana)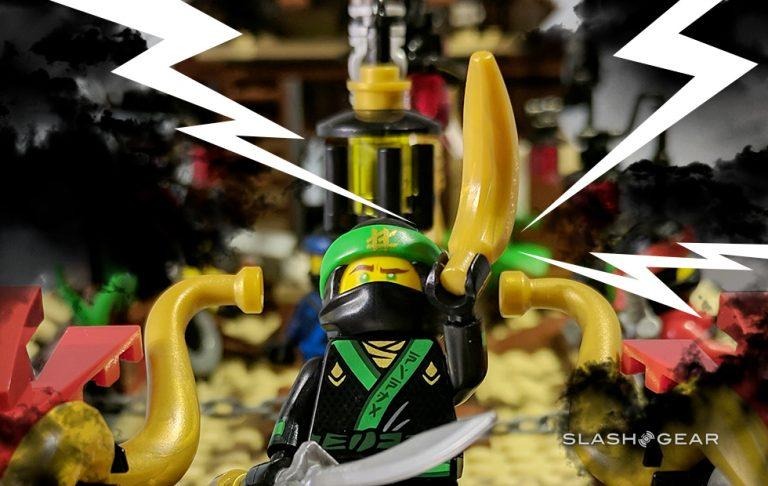 EDITORS' RATING: 9/10
This is the Destiny's Bounty, and it's arrived at SlashGear just in time for The Ninjago Movie premiere. The Ninjago Movie is coming to theaters in the United States this weekend, and this ship aims to be the real-world representation of the main characters' flying skyship, containing the entire crew of 7 main character minifigs. Behold, this film's most iconic vehicle.
I need to start this review off with a single piece. While the end result is certainly impressive, I'd like first to turn your attention to the single most amaze-balls piece in the set. This tiny piece is like a cherry on top of the ice cream sundae that is the set – but more like a banana in a banana split.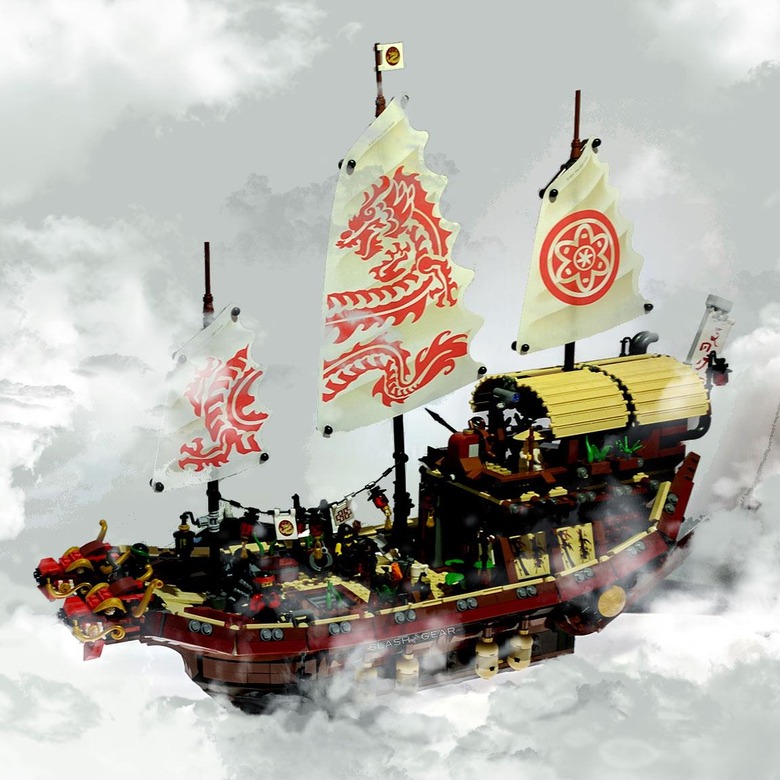 The Golden Banana
This ship contains more than a few unique pieces – rare pieces, and odd versions of pieces, too. This set is a must-have for LEGO fanatics if for no other reason than the inclusion of the golden banana. That's right – there are four banana (33085) pieces in here in Pearl Gold, for the first time in the LEGO universe, ever.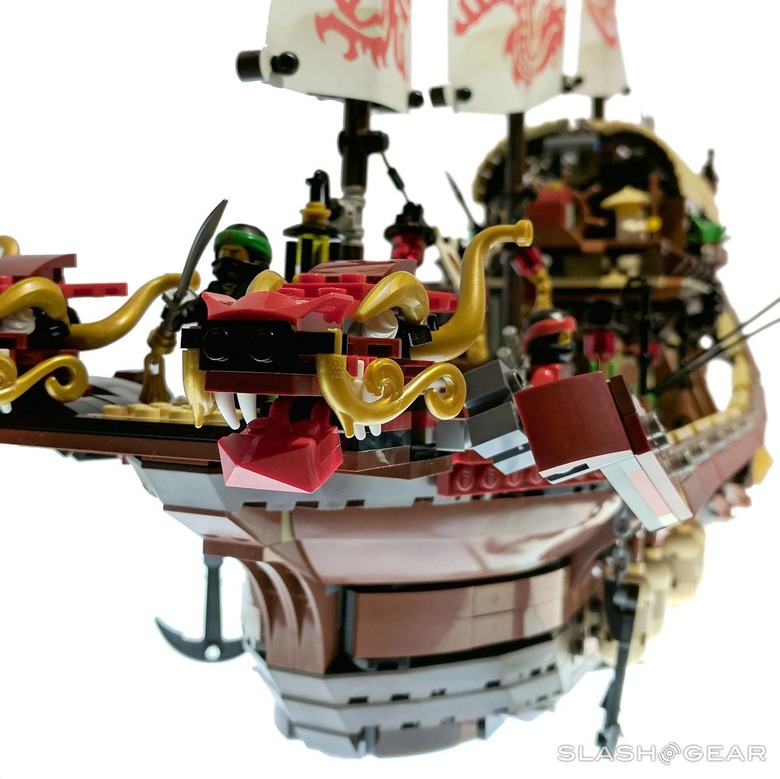 Of note: you can find the only Tan bananas in the Harry and the Hungarian Horntail set (4767), and a few dark bluish gray bananas in mixels sets 41569 and 41546. But the GOLDEN banana, that's only here in this set. The golden banana is utilized in the faces of the dragons up front of the ship.
The build here is both extremely detailed and extremely play-friendly. While I wouldn't recommend this set for builders brand new to LEGO, there's no way any fan of LEGO ships wouldn't get a kick out of building this set – or having a fabulous time playing on several decks. This build is modular, allowing each individual room and deck to come apart for access. Not particularly easy access, but access nonetheless.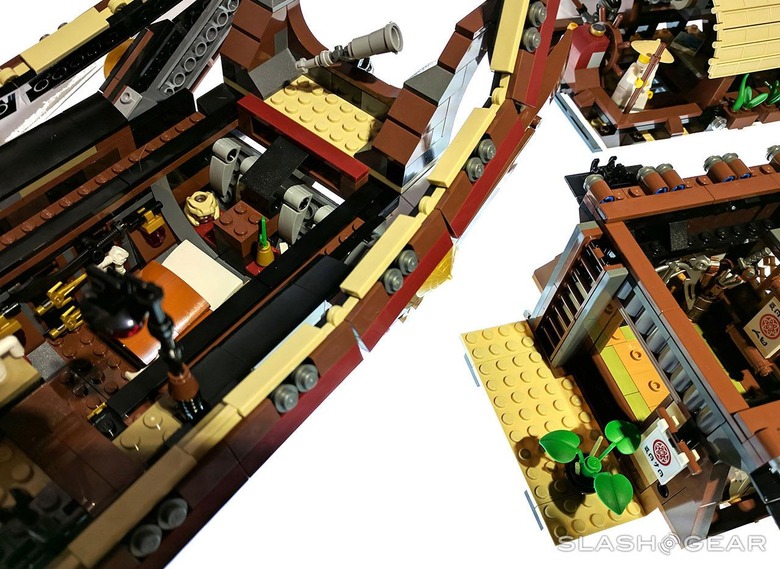 Size
Back in the year 2014, we had a look at an extremely comparable LEGO build by the name of MetalBeard's Sea Cow. We did the review of that set near the premiere of the LEGO Movie – but it came out just after the movie was released. Now we've got the opportunity to make a part of the Ninjago movie come to life the same weekend the film is released in theaters.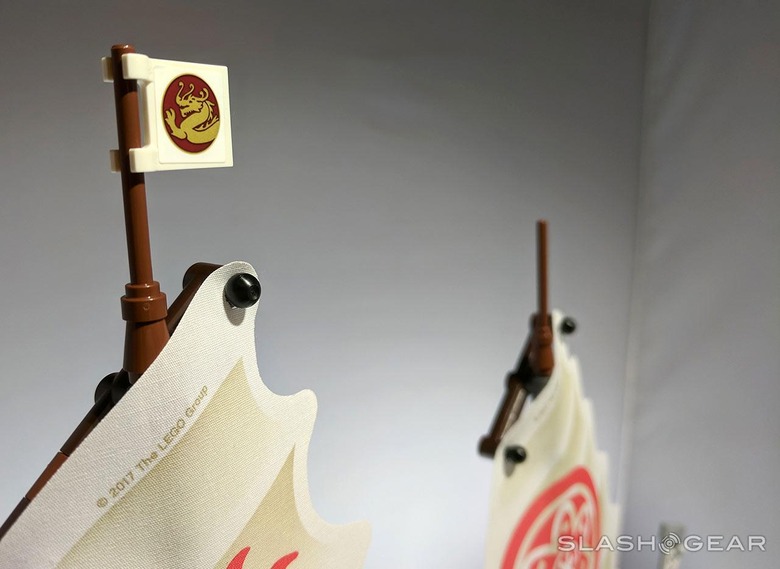 The number of bricks in this set is fairly similar to that of the Sea Cow*, but the end result is a much more stable and reasonable sort of ship. Where the Sea Cow was exceedingly tall and tended to tip if handled too roughly, Destiny's Bounty is a stable craft made for long living room sea sailing and ninja training sessions.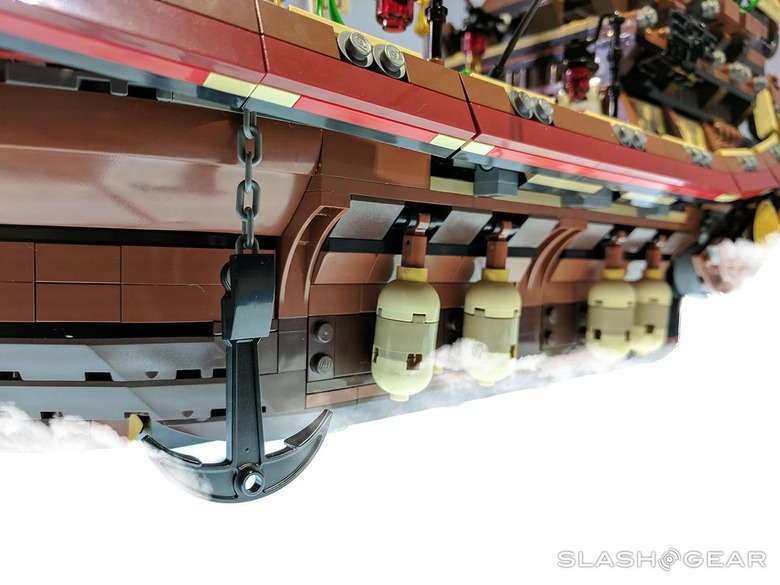 UPDATE: Don't try to steer this ship over too deep a carpeting – it's stable, but it's not impervious to shag!
*Destiny's Bounty is made up of 2,295 pieces, while the Sea Cow contained 2,741 pieces. Both are seafaring (or skyfaring) ships, and both contain their respective film's entire hero crew of minifigs.
While there is one other set that's larger (Ninjago City), this ship exemplifies the film's content – and the content of the TV show at the same time. Unlike some smaller sets which include one or two main characters, this set contains the whole batch: Wu, Kai, Lloyd, Zane, Nya, Jay, and Cole. That's all the heroes, anyway.
Satisfaction
Much like the Sea Cow, this ship's individual segments are all largely satisfying to complete. I've built some sets that drudge on and on for their segments of featureless base building – this is not that. There's a collection of entertaining bits in every individual bag in this Ninjago set.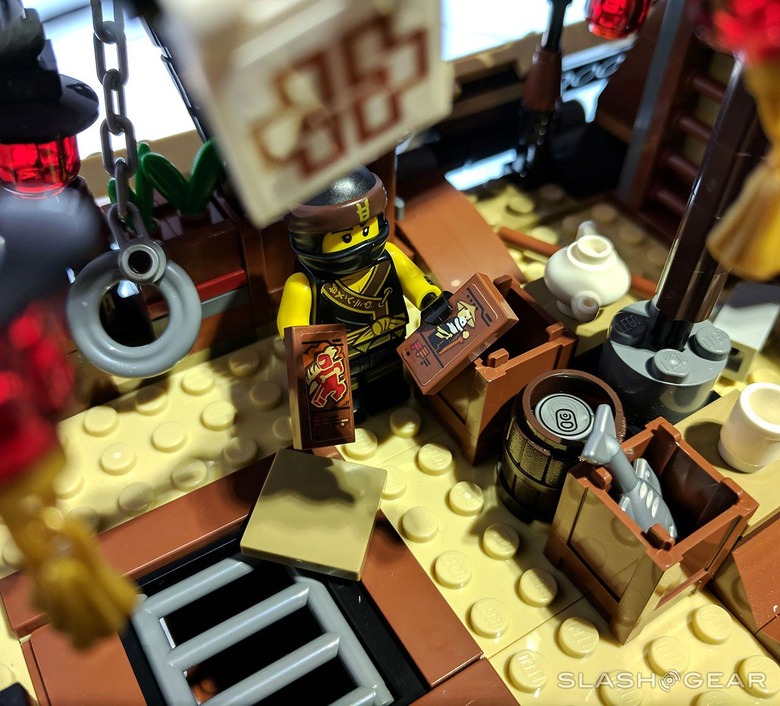 This set has everything but the kitchen sink – instead opting for a bathroom sink. That sink is joined by a toilet, both in the base of the ship. The rest of the base is filled with weapons, sleeping quarters, and battle memorabilia.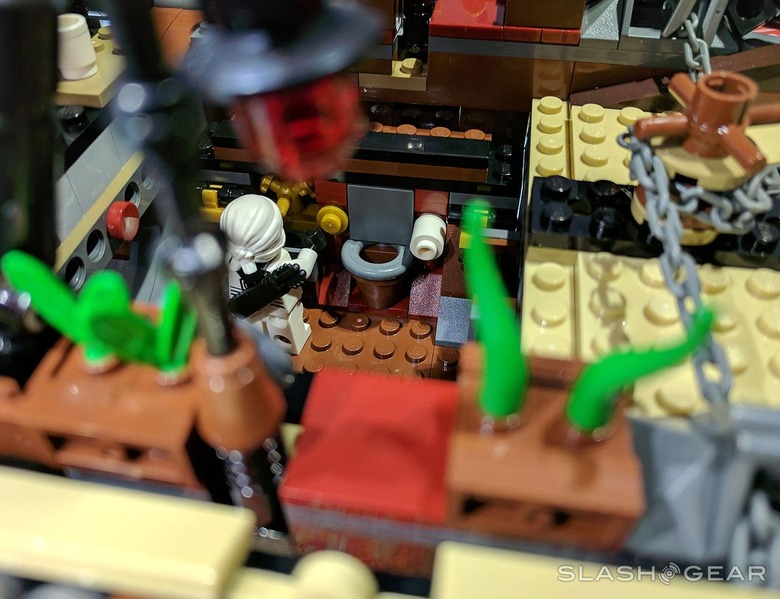 As should be expected, this ship also has an anchor – two anchors actually, just to be extra sure. There's also a massive number of minifigure-sized accessories, mostly weapons, that are absolutely necessary for the most mega fans of both pirates and Ninjago-type ninjas.
Wrap-up
If you only buy one massive Ninjago Movie LEGO set, make it Destiny's Bounty. Not only does it best represent the content of the movie itself, it's a perfect representation of the heart of the series. It's also a perfect mix of LEGO cartoony style and a more subdued, realistic style that fits the LEGO City universe perfectly.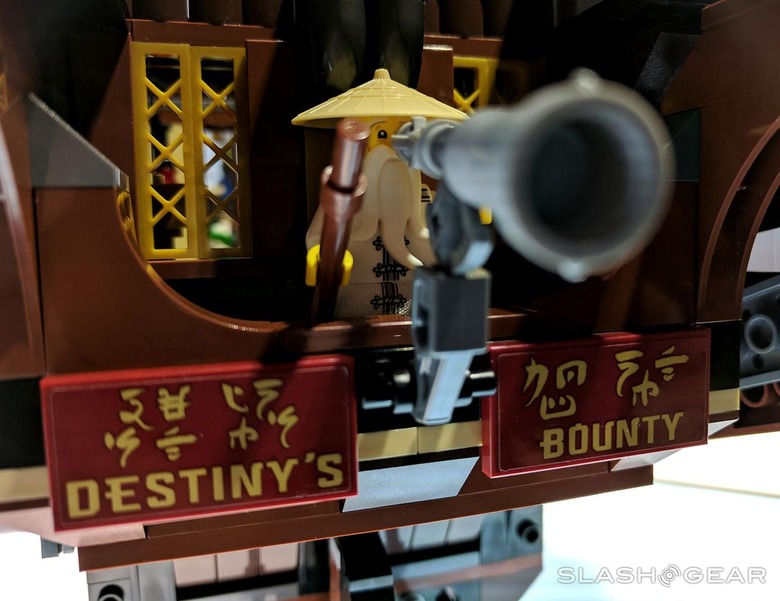 The LEGO Ninjago Movie: Destiny's Bounty set is out in stores right this minute for approximately $160 USD. This set is LEGO item number 70618 and includes 2,295 pieces. It'll take several hours to complete, and can be found wherever the most massive LEGO sets are found.