This is the "House of Cards" season 5 trailer, and it's dark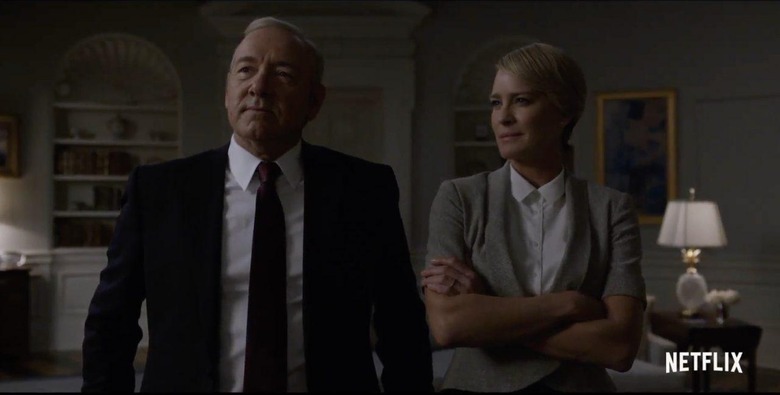 The official House of Cards Season 5 trailer has landed, and it seems Netflix's hit series has had to crank up the tension just to compete with real politics. The show, which returns to the on-demand service on May 30, is already multi-award winning and one of Netflix's biggest draws. Now, as it enters its fifth season, critics are waiting to see whether Frank Underwood & Co. can keep the pace going.
Judging by the trailer, they're not holding back. "The American people don't know what's best for them. I do," intones President Frank Underwood, played by Kevin Spacey. "I know exactly what they need. They're like little children, Claire. We have to hold their sticky fingers and wipe their filthy mouths."
When season four ended, the Underwoods were turning to surveillance technology and fear to keep their ill-gotten place in the White House. Faced with a terrorist group dubbed ICO, the couple decide to capitalize on the uncertainty of the American people rather than attempt to pacify them. That story arc looks set to launch season five.
It's a much-needed series for Netflix, which has faced some unexpected challenges recently. Over the weekend, it was revealed that hackers had stolen the latest season of Orange is the New Black, season 5, and released it online. The perpetrators demanded a ransom from the streaming company in order to withhold the illegally-obtained show, but when Netflix refused to pay, it was pushed out to torrent sites.
For Netflix, it's one of the perils of moving away from just streaming other company's content and instead producing its own. The company has said it is going full-steam ahead on homegrown movies, including a quartet of Adam Sandler titles in the aftermath of The Ridiculous 6. Earlier in the year, it took the wraps off Death Note, another of its self-funded projects.
With a show like House of Cards, however, once the original novel material has been exhausted, the question is whether the writers can maintain the pace for a full US season. Given the current political climate in the US, that becomes even harder, with the widening divide between parties making it all the harder to build a convincing fictional storyline. The question we'll have to wait to have answered is if House of Cards season 5 can go far enough to be entertaining without being forced to push viewer belief too far.