This is the $2.43m Pagani Huayra Roadster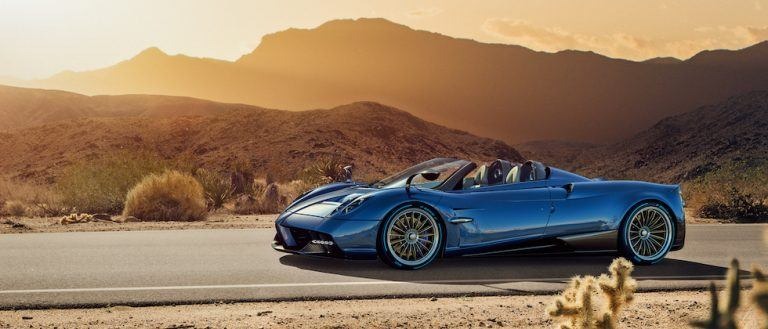 Italian supercar manufacturer Pagani can always be relied upon to deliver some deeply dramatic carbon-fiber madness, but the new Pagani Huayra Roadster goes even further. Revealed today ahead of its official debut at the Geneva Motor Show 2017 in a few weeks time, the roofless version of the Huayra coupe is a multi-million dollar experiment in speed and materials expertise. Don't assume they just took an angle-grinder to the coupe.
Indeed, the styling has been sharpened up, even over its distinctive sibling. Bigger wheel arches and more aggressive creases feature, though Pagani still leaves most of the mechanical nature of the car on show from various angles. The Italian marque says that it wants everything down to the last screw to be beautiful as well as functional, and it's hard to argue that it hasn't achieved that.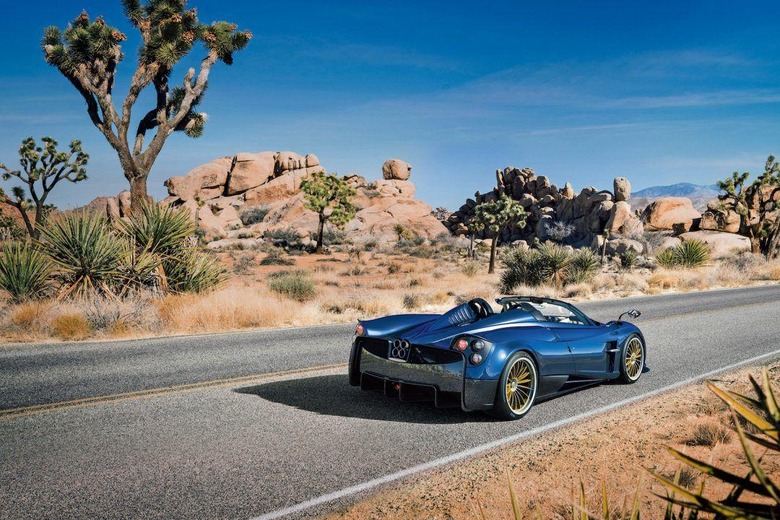 Mercedes-AMG donates a 6-liter V12, specially created for Pagani, and which delivers 764 horsepower at 6,200 rpm, along with 738 lb-ft. of torque at 2,400 rpm. It's mounted longitudinally in the center, behind the driver, and delivers power to the rear wheels. That's via an AMT 7-speed transmission with electronic mechanical differential.
The 2,821 pound convertible sits atop 20-inch forged aluminum alloy wheels on the front and 21-inch on the rear. They use independent double wishbne suspension, with adjustable shock absorbers and anti-roll bars. Four ventilated discs get Brembo CCM brakes, with 6-piston calipers on the front and 4-piston on the rear. Pagani shoes the Roadster with Pirelli P Zero Corsa or P AZero Trofeo R rubber.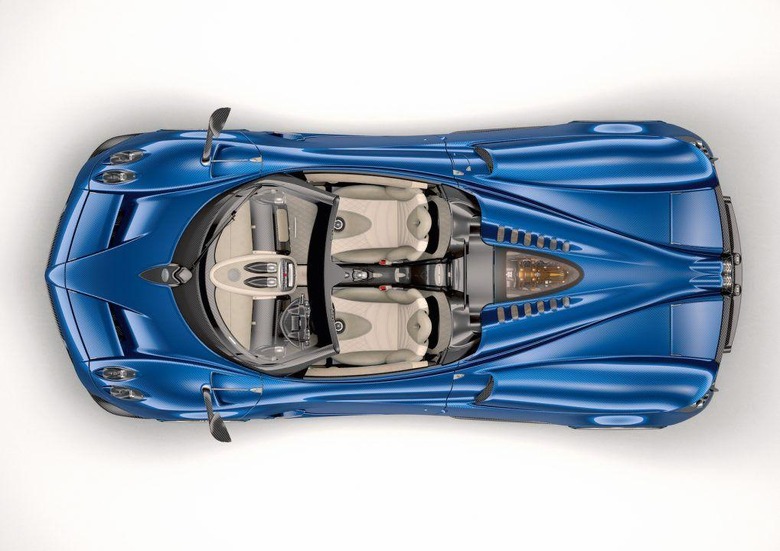 What's astonishing is that, despite being more structurally stiff than the coupe, the Huayra Roadster is actually lighter than its predecessor. To achieve that, Pagani had to cook up a new form of composite material especially for the new car, combining it with its carbo-titanium and carbo-triax HP52. The result is a 52-percent increase in stiffness and a cut in torsional flexional rigidity, despite being more than 176 pounds lighter than the hard-top.
Pagani throws in a new ESP system, co-developed with Bosch over the past five years, and which prides itself on helping keep the car stable while being practically invisible to the driver themselves. Five driving modes are offered – wet, comfort, sport, race, and ESC off – and there are active aerodynamic elements and active suspension on the front. Two front flaps and two rear flaps operate in tandem to help keep the bottom of the Roadster parallel to the road, for maximum airflow efficiency.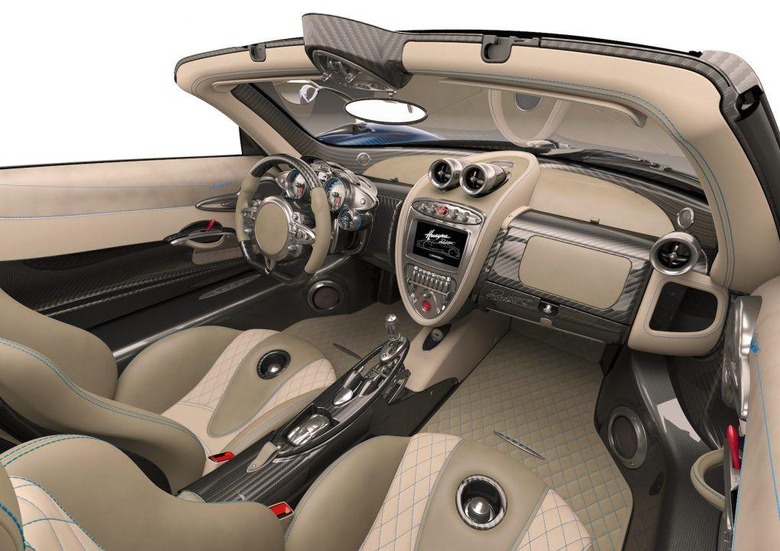 Two roof designs will be included. The first will be a light carbon hard top, with a glass panel in its center. That will give the Huayra Roadster a look like its coupe, though the automaker says it should be easy to remove, too. Should you do that, and suddenly be caught by rain while on the move, there'll be a fabric and carbon cover that can be stowed in the Roadster when not in use.
As for the price, well, you'll need deep pockets indeed if you want one on your drive. The sticker kicks off at 2,280,000 EUR plus tax, or $2.43m before taxes, though that's assuming you could even find one. Pagani says it'll only be making 100 of the Huayra Roadsters, and they're all sold.