This is tailgating, Rolls-Royce Cullinan style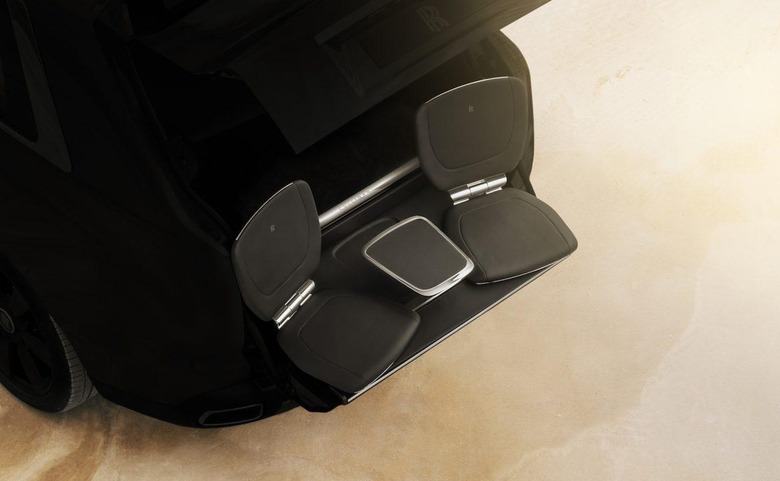 Swap the hot dogs for caviar, the grill for sous-vide, and your rusty old Explorer for the Rolls-Royce Cullinan, and you have tailgating the luxury way. While the upmarket SUV may not be quite ready to make its public debut yet, the British automaker is previewing one of its more unusual features: the Rolls-Royce Cullinan Viewing Suite.
Drop down the tailgate, press a button, and out slide two rear-facing leather chairs, unfolding to give you the perfect place to perch and watch a sunset or polo game. And, since Rolls-Royce doesn't yet make a baseball hat with straws and holders for two bottles of Veuve Clicquot, there's also a cocktail table. That too folds out automatically to hold your drinks and snacks.
As you might expect, Rolls-Royce hasn't stinted on developing the pop-out chairs. They're finished in the same leather as the rest of the interior, with clamshell hinges for the seat-backs and rotating mounts that allow them to spread as they emerge from the floor of the trunk. Of course, they get the "RR" monogram logo, too.
It's just what you'd expect when an automaker like Rolls-Royce decides to get into the SUV game. Not, that is, that they'd be happy with you calling it a Sports Utility Vehicle or, worse still, a truck. Instead, the category is "Effortless, Everywhere" according to the British firm, with the high ride height and promised off-roading capabilities merely the way that Rolls-Royce can facilitate owners taking the luxury they expect with them.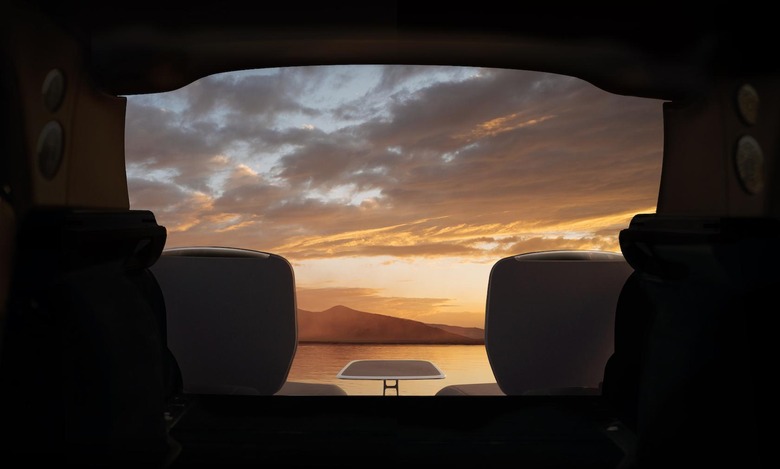 It's not the first fancy trunk we've seen in the space, mind. Bentley waded into the high-end SUV space back in 2016 with the Bentayga, its vision of an upscale go-anywhere vehicle. Check the $32,000 "Mulliner Hamper" option and you get three leather-wrapped pods in the cargo area, one to chill your champagne and caviar, one with a full set of Linley cutlery, and another with a high-end picnic blanket.
Where Bentley expects you to perch on its slide-out bench, however – albeit a leather wrapped bench with diamond stitching – Rolls-Royce has gone one step further with its pop-up seating. No word on how much adding these jump-seats to the Cullinan will cost, but considering we're expecting a healthy six-figure price tag for the SUV alone, it's unlikely to come cheap.