This is Pebble Time Round - a smartwatch just 7.5mm thick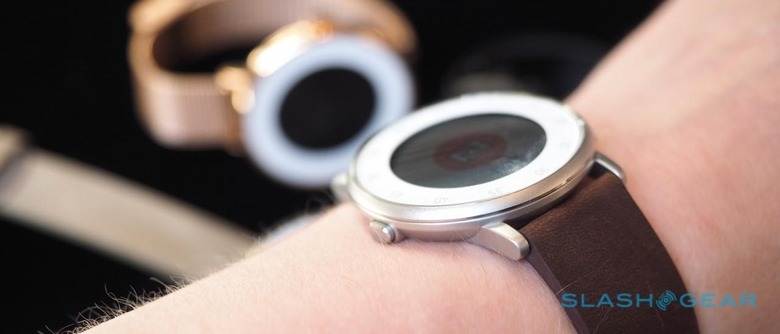 When you're making a gadget as personal as a smartwatch, the more choice the better, and so Pebble is welcoming its first ever circular-screen wearable. The Pebble Time Round slots into the same line-up as the Pebble Time and the Pebble Time Steel, billed as the thinnest, lightest smartwatch in the world, and packing the same simple software along with cross-platform compatibility. I caught up with Pebble founder Eric Migicovsky to find out more.
As Migicovsky puts it, not everyone has the wrist for a Pebble Time Steel. It may not be the largest smartwatch out there, but those with smaller arms – women are a particular focus, though not the sole one – can find it simply too bulky for comfort.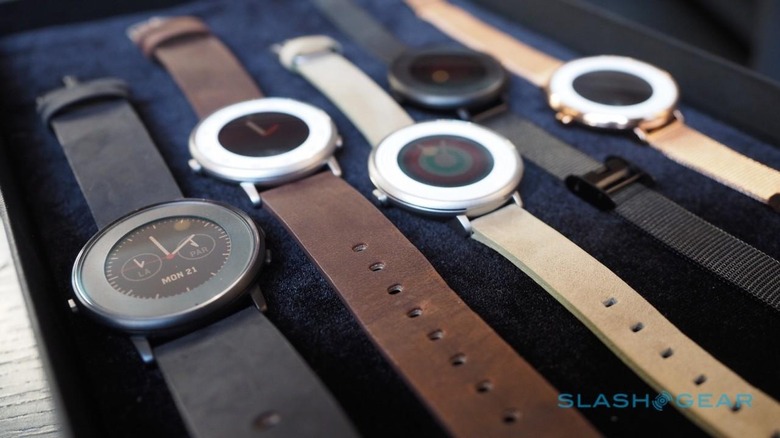 Pebble Time Round is the company's solution. Distilling the same Timeline interface, third-party app support, and power-efficient hardware into a new, far more elegant circular case, it's a Pebble with an altogether different feel.
Pebble is a paid-up member of the rose gold bandwagon, though that particular color is only available with the narrower strap. Otherwise, there's silver and black; different versions have different bezel markings, and apps can check which pattern – numbers, notches, or something else – are printed on and adjust accordingly.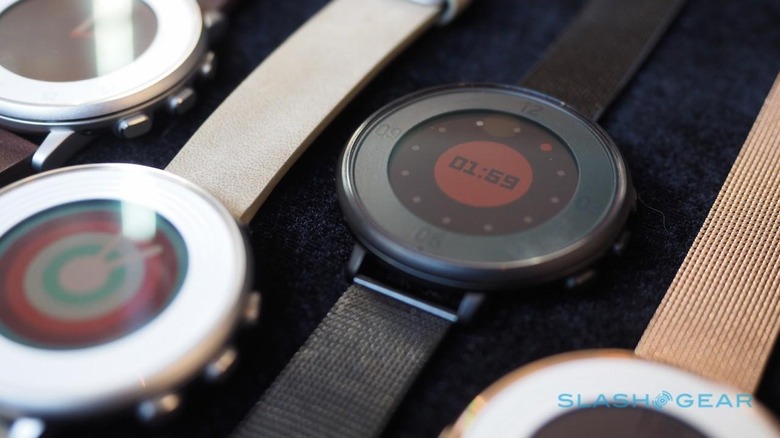 As with the Pebble Time Steel there's marine-grade stainless steel and real glass for the display. You also get Pebble's now-traditional four buttons, along with Bluetooth to connect to your iPhone or Android handset.
It required an all-new internal design, however: the circuit board is donut-shaped, wrapping around the battery in the center. Nonetheless, you get the same Pebble Time features we've seen before, like vibration alerts, a built-in microphone for recording voice notes and audio replies, and IPX7 splash-resistance.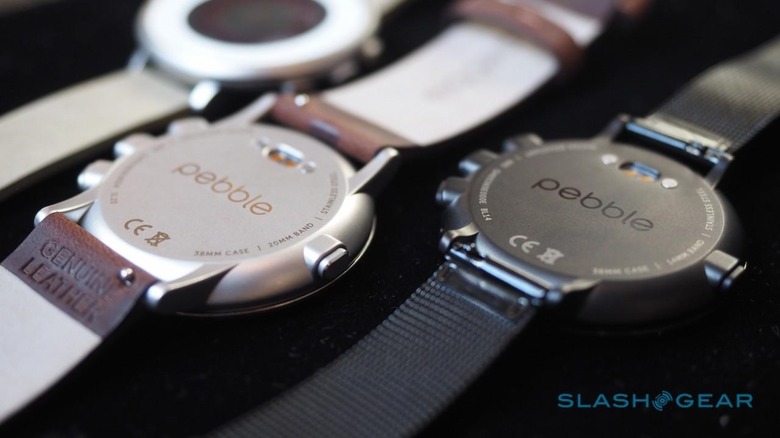 The straps, too, have the same quick-release tabs for tool-free swapping, in addition to supporting the same Smartstraps technology. That will – eventually – allow fresh functionality to be added by clipping on a new strap.
For the moment, though, there are two sizes of regular strap. Bands either 14mm or 20mm in width are supported – the lugs are different, so once you pick a size you can't switch – and if you've already got a favorite strap in that size, you shouldn't have a problem using it.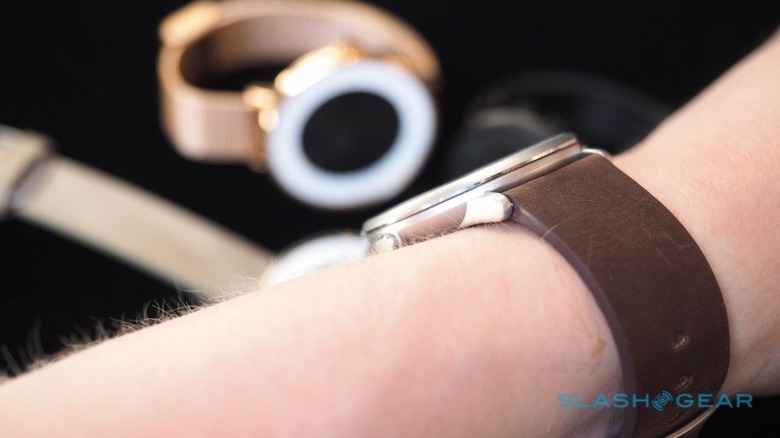 On the wrist, it reminds me a little of the Withings Activité. Both provoke that "this is a smartwatch?" feeling at first, though of course the Withings maintains the illusion for longer with its analog face.
The screen remains Pebble's advantage and, it has to be said, its compromise. As with the Pebble Time, it's a color e-paper panel, selected primarily for its frugality. In the case of Pebble Time Round, it's just under an inch in diameter, using an LED backlight for better low-light visibility.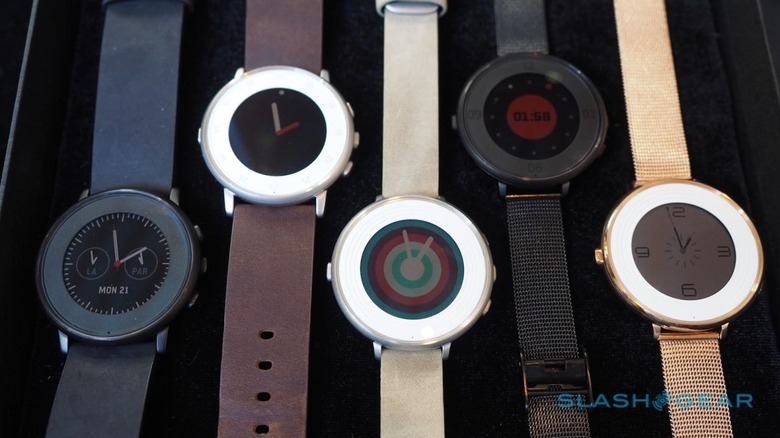 You don't get the rich colors or brightness of the screens on the Apple Watch or Samsung Gear S2. Instead, it's a more muted affair, and though things improve with the backlight on, the drive for power efficiency means it's not going to win first place in any beauty pageants.
That leads to Pebble's biggest compromise with Pebble Time Round: battery life. It's fair to say the company has set up a large part of its sales pitch on the idea of lasting far longer than rivals, usually somewhere in the region of 7-10 days.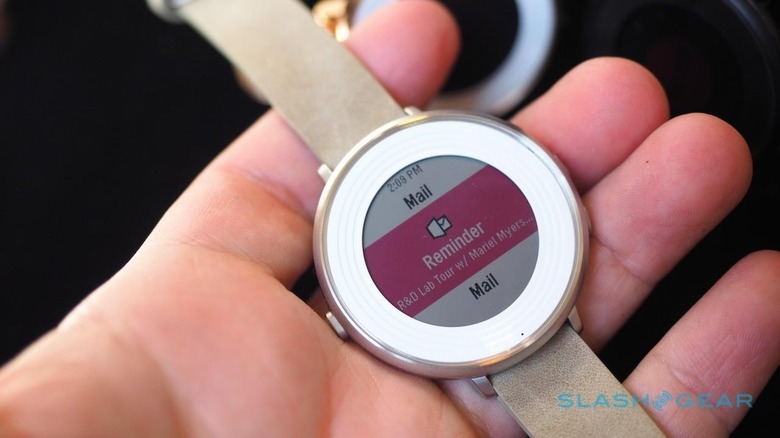 Pebble Time Round, though, lasts two days. That's two solid days, mind – 48 hours – which means you could wear it all day, all through the evening, and then on through the night for sleep tracking. Still, it means you'll probably have to travel with the charger unless you're gone for just the weekend.
There are a couple of things mitigating that compromise. Most significant is the fast-charging, which Pebble says squeeze in power for more than a day in just fifteen minutes. The idea, Pebble CEO Eric Migicovsky explained to me, is that you'd probably take Pebble Time Round off while you shower, giving it the length of your ablutions to recharge.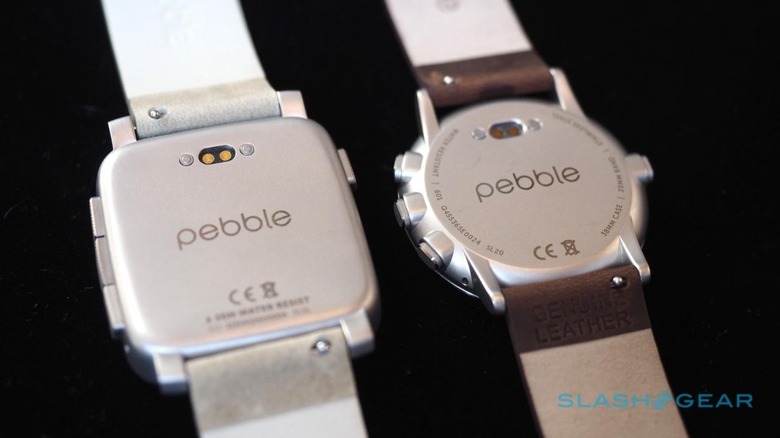 Happily, it still uses the same magnetically-clinging charger cable of the Pebble Time, so if you already have one it will work on the new model.
As for software, it's the same experience as you'd have on an existing, square Pebble, only with some differences in pagination. Pebble's much-loved physical controls still step up and down through the menus, but when you scroll, rather than it going line by line, it flips through texts and emails a page at a time.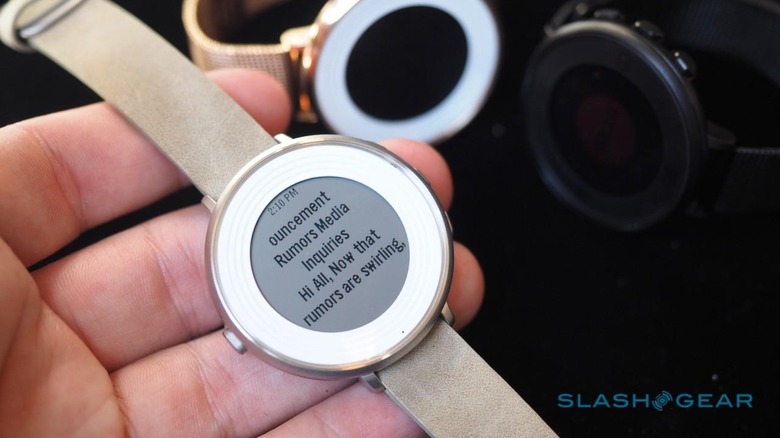 That was a fix to bypass dynamic text wrapping – having to adjust the number of words on a line as the reader scrolled through and the width of the display got first larger and then narrower again, Migicovsky showed me, but has turned out to be so popular that Pebble is considering rolling it out to the regular watches.
For developers, meanwhile, it's a new opportunity. Though Pebble Time Round won't ship until November, the new SDK is being released today: Migicovsky tells me that the latest iteration of the Pebble OS was designed with different screen sizes and shapes in mind, and that app makers needn't do much to get their code to play nicely.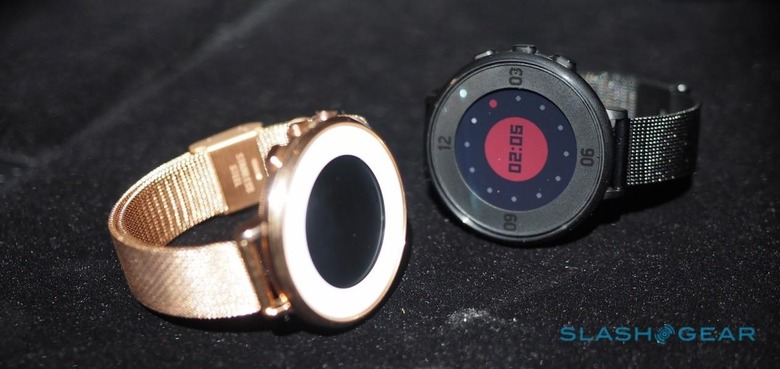 Those watch face designers who have already come up with round designs should find it takes "just a few lines" of changes, Migicovsky said, for them to fill the new watch's screen.
I admire Pebble's resilience in the face of mounting competition. The Apple Watch may not have been first to market but it's made a big splash, in being discussed at least, while Android Wear's recent iOS expansion – though hardly close to parity with the functionality you get when using an Android phone – is gnawing away at another of Pebble's hitherto unique selling point, that it was cross platform unlike its rivals.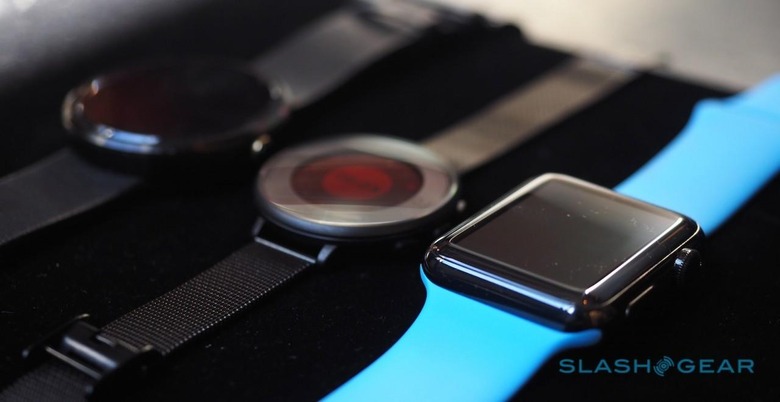 The question is whether the fashion-attentive will be so impressed. Pebble Time Round is certainly an intriguing addition to the company's range, but at $249 it's not an inexpensive one. Some of the detailing is great, like the brushed metal back, but in other places – like the sizable bezels – it can look a little Swatch-like, despite the price.
In Migicovsky's mind, many Pebble Time Round buyers will be existing Pebble wearers. They, he told me, would wear the circular watch when a larger, more conspicuous smartwatch might be out of place, flipping between the two (or more) depending on context and company.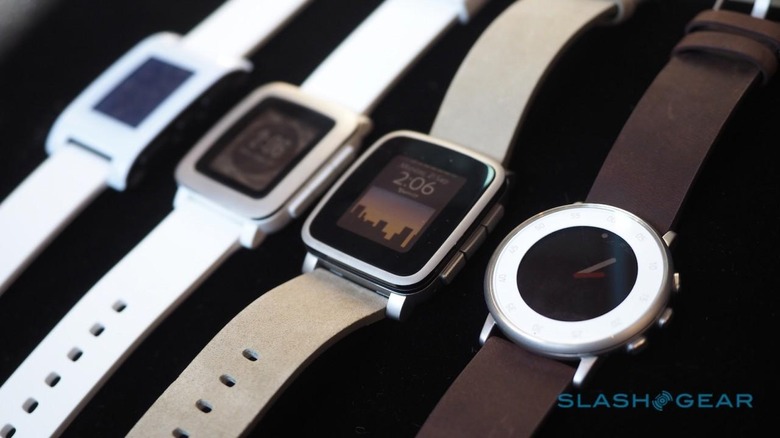 Had it been sub-$200 I could perhaps imagine that more readily. As it stands, you have to really buy into the design in order to overlook Pebble jettisoning its traditional battery life message. For some – particularly those for whom most smartwatches are just too big and cumbersome – that's a compromise worth making.
Pebble Time Round goes up for preorder today, priced at $249 (or £229 in the UK). It'll begin shipping on November 8.
MORE Pebble
[gallerybanner p=406013]