This Is Paladins On Nintendo Switch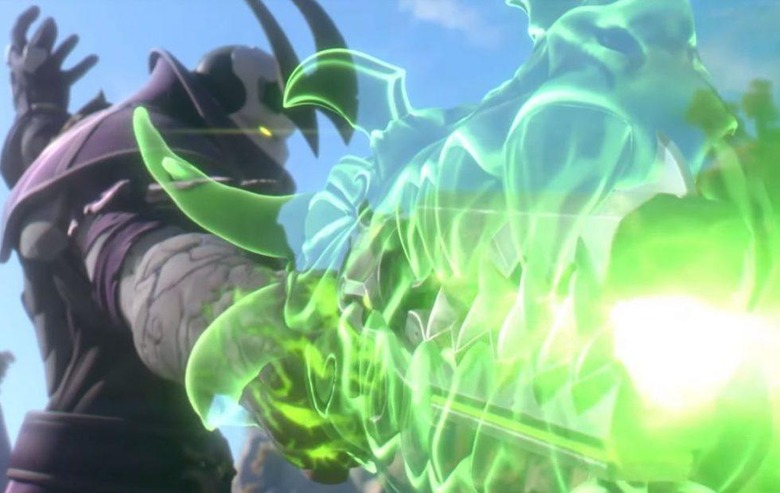 Paladins, a hero shooter not entirely unlike Overwatch, is making its way to Nintendo Switch soon. The currently free-to-play title will land on the Switch next week, according to a new announcement trailer released by developer Hi-Rez Studios. When it arrives, it'll support some form of cross-platform play too, which is always exciting.
Hi-Rez says that the Switch version will be cross-platform compatible with the Xbox One, which means that Paladins fans on both platforms can play with and against one another. The Switch version won't have cross-platform functionality with the PlayStation 4 version, which is to be expected given Sony's feelings on the matter. You also won't be able to play with those on PC either, likely due to the simple fact that a keyboard and mouse can give PC players an edge over console players in shooter games like this.
Paladins will launch for Switch on June 12, and at first, only the $30 Founder's Pack will be available. Though the game is free-to-play on other platforms, a free-to-play version won't be available later in the summer according to VentureBeat. Still, it isn't as if picking up the Founder's Pack is a bad idea, especially if you anticipate playing Paladins a lot on your Switch, as it grants access to all currently available and future heroes in the game.
This is an exciting announcement in more ways than one. A couple of weeks back, a leaked document claimed to show the lineup of games Nintendo is planning to preview at E3 2018 next week. Paladins was one of the games listed, which is encouraging because it lends credibility to the notion that other games on that list – Fortnite, DragonBall FighterZ, and FIFA 19, to name a few – will be revealed soon.
We'll likely get to see Paladins for Switch in action next week, during Nintendo's E3 Direct presentation and the Treehouse livestream that will take place immediately after. We'll be covering those events as they happen, so be sure to stop by SlashGear on Tuesday, June 12 for all of the Nintendo news you need to know.