This is Nokia's Next Big Thing (and 5G plays a huge role)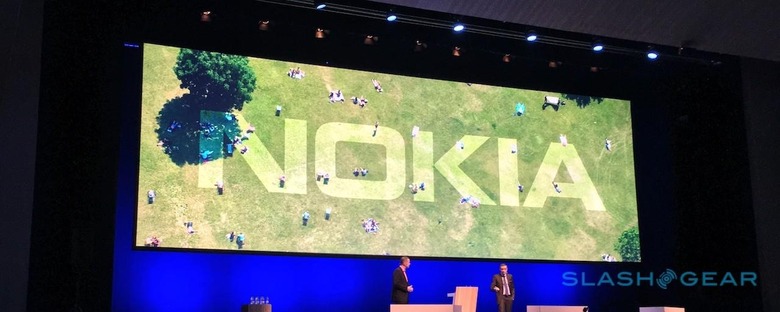 Nokia may be out of the phone business but the next step for the storied brand might see have an impact on more pockets than ever before. The company has brought new devices to Mobile World Congress 2016, but unlike previous years they're not smartphones. Instead, It's Nokia AirScale, a 5G-ready ecosystem that, while you may never hear the name in daily life, could end up gluing together your future handsets, IoT devices, cars, smart homes, and more.
That's because, amid a quickly-expanding market of different wireless types, AirScale's claim to fame is supporting multiple radio standards in the same base station.
AirScale Radio Access can in fact deliver 2G, 3G, TDD-LTE, FDD-lTE, LTE Advanced, and LTE Advanced Pro simultaneously, all in the same base-station, along with carrier-grade WiFi. For 5G, the multiband hardware is already ready for the faster, next-generation standards – Nokia has seen 19.1 Gbps rates in its trials with SKT, for instance – while a cloud-based Radio Access Network makes stitching together all those standards straightforward.
Multiple AirScale base stations can be daisy-chained to bolster coverage, which Nokia expects to be instrumental in padding out networks as 5G comes online and more and more IoT devices proliferate. Today, Nokia also said that it was launching a $350 million Internet of Things development fund.
That might not mean new connected gadgets with Nokia's branding, but the door is being left open When it comes to digital health, for instance, "while we are not commited to bringing anything to market, we are continuing to monitor this space," CEO Rajeev Suri says.
Nokia may have been busy working on 5G, but it's been keeping fairly quiet about it. That, Suri points out, is because it's easy to end up getting hyped and then the reality fall short.
"All too often we've seen those turn into money traps with little return," he argued, before insisting that 5G would be the real deal, not least because of its potential applications like in self-driving cars. "Autonomous driving could save many lives," Suri says, "but it needs the low-latency of 5G networks to work."
Meanwhile, Nokia is also looking to unlicensed spectrum – the parts not licensed by carriers for their LTE service, for instance – to fill in gaps in connectivity. AirScale WiFi will be integrated into AirScale Radio Access, but also offered in small indoor/outdoor access points and small cell WiFi modules.
The aim is to deliver gigabit-speed WiFi connections that scale exponentially, using unlicensed spectrum and a cloud-based controller that can manage more than 10,000 access points. LTE-WiFi aggregation, part of the LTE-Advanced Pro specification, will also be included so as to pad LTE service too.
What helps differentiate it from other WiFi access point systems – which you've probably experienced being overwhelmed at concerts and other high-attendance events – is shifting the controller online. Rather than each individual base station handling what device is connected and handing over that connection to its peers as users move around, a single brain in the cloud takes charge of all of that.
For users, it means being able to get online with the ubiquity of cellular but the speed of gigabit WiFi, though it could also open the door to more interesting services and even deals when you're in shopping centers or other venues. AirScale WiFi supports indoor positioning, for instance, which could be used to deliver targeted coupons, and navigation between locations where GPS either wouldn't reach or would be insufficiently accurate for.
As for smartphones, while Nokia had previously said that it would have a handset announcement sometime in 2016, it's now stepping back from that commitment. Asked whether a partner had been picked, Suri said that although brand licensing was still seen positively, it wasn't necessarily going to happen any time soon.
"There's no specific timeline and we don't need to be in a rush," Suri argued. "We think it's a good business model because the Nokia brand has great retention. Recognition of the brand is very high in many markets. We think that there's a good business model because the Nokia brand could command a premium."
"We want to be in a position to design the devices in question with the appropriate control measures should the partner not meet our expectations," he continued. "It could happen in 2016, could happen later."
Trials are already underway with hardware and carrier partners, but with Nokia having splashed out $15.6bn on Alcatel Lucent you can bet your favorite Finns are still going to be big in mobile, even if their name isn't on your next phone.