This is Microsoft's wish-list for 2017 Windows PCs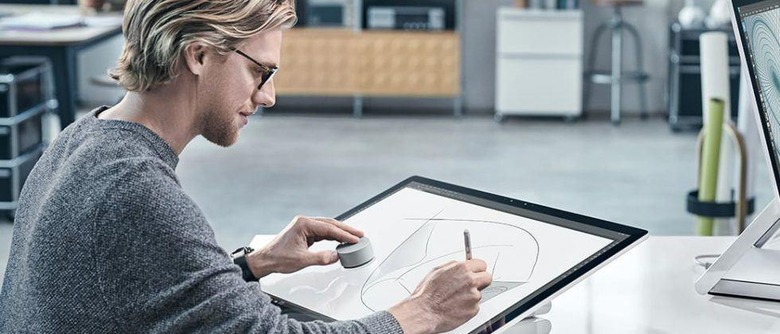 Microsoft is plotting a big Windows 10 push for 2017, and in order for it to succeed, the company will need the help of its OEM and ODM partners. A big part of this seems to be convincing consumers to upgrade to a more modern PC that offers support for Windows 10 features that may not be available in older machines. At its WinHEC 2016 conference in Shenzen last December, Microsoft outlined its vision for the modern PC, and it just recently made the video of that presentation available online.
So, what's on Microsoft's wish-list for Windows 10 PCs in 2017? First up, it wants its manufacturing partners to focus on "cool designs." This means a focus on 2-in-1 notebooks, ultraslims, and all-in-one PCs – all of those are designs that move away from traditional laptops and desktops. It would like to see the displays on these machines be Full HD IPS screens or better, along with a focus on the keyboard and precision touchpad technology.
Of course, Microsoft is also keen to give OEMs a bit of breathing room when it comes to their designs, and it suggests using features like borderless displays to draw people in. We've seen plenty of machines with these design principles running older versions of Windows, though, so in order to make them stand out even more, Microsoft is asking OEM partners to support at least two of three "hero features" that are only available in Windows 10.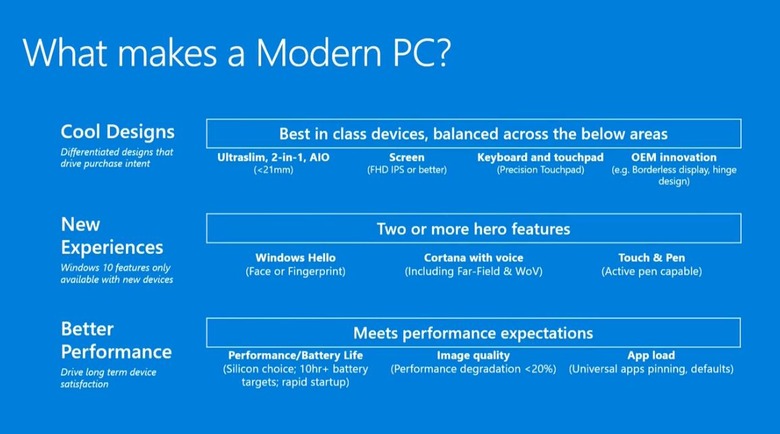 Perhaps the most important of those three hero features is Windows Hello support – Microsoft's security features that rely on either facial recognition or biometric fingerprint scanners. Microsoft would also like to see support for Cortana and Windows Ink through touch and pen capabilities. With these Windows 10-exclusive features and hardware that supports them, Microsoft is hoping to tempt people by showing that new Windows 10 machines offer more value than older hardware running the OS.
Obviously, performance is also a cornerstone here, because releasing a PC that ticks all of the boxes on Microsoft's wish-list doesn't mean much if it doesn't perform. Some of the key areas of focus are 10 hours (or more) of battery life, rapid start up for faster boot times, image quality, and a focus on app optimization.
To further expand on these points, Microsoft gave partners a list of markets it thinks they should be investing in as we move through 2017. "PCs for the modern creator," topped the list, and it isn't hard to imagine that Microsoft is looking for more machines like its own Surface Studio to tackle the creative space. It would also like peripherals centered around the Windows 10 experience – perhaps keyboard that feature a fingerprint scanner for Windows Hello, or new headsets that are compatible with Cortana.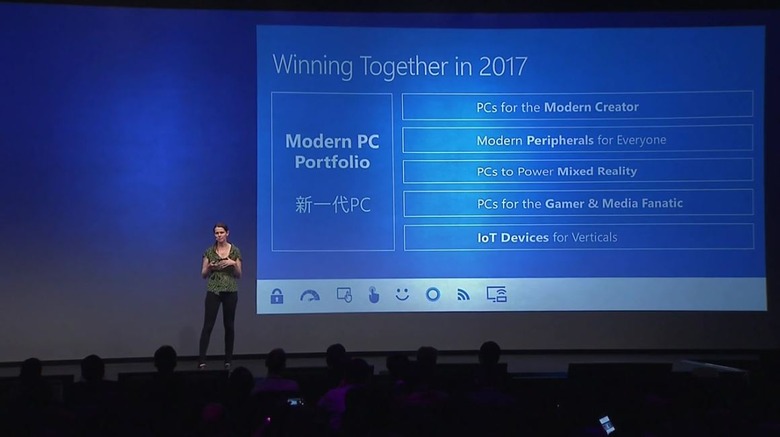 We're also seeing Microsoft ask for PCs that can power its vision for mixed reality. Windows Holographic is looking to bring augmented reality, virtual reality, and mixed reality into a more affordable space for consumers, and Microsoft will need hardware to support incoming headsets from a variety of partners.
It also touched on PCs for gamers and "media fanatics," as it tries to further blur the line between Xbox and traditional gaming PCs. The fifth and final sector it wants OEMs to focus on are IoT devices, and while these may have more of an enterprise slant than a consumer one, we could still see this focus translate to smart home applications for non-enterprise customers.
All in all, it sounds like Microsoft has a pretty clear idea of what it would like its OEM partners to focus on in 2017. We'll see if this strategy works out soon enough, but for now, you can click the source link below to see Microsoft's full presentation from WinHEC 2016. Though it's primarily for hardware partners, it gives a lot of insight into how Microsoft plans to get Windows 10 running on one billion devices.
SOURCE: Microsoft