This Is American Express' New Miami Centurion Lounge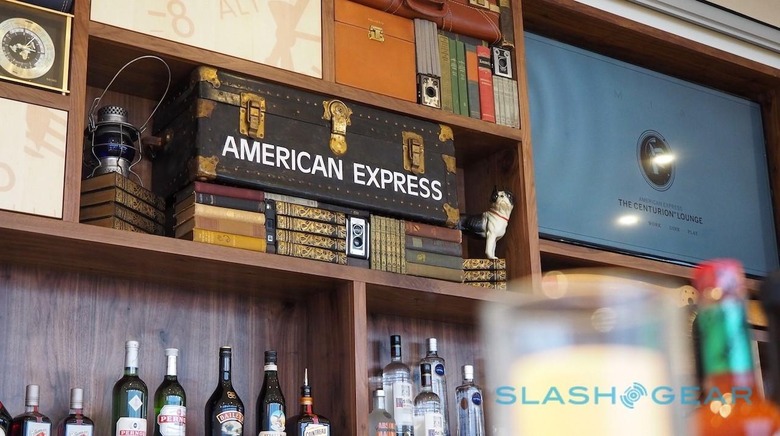 There are plenty of reasons to have an American Express card in your wallet, but access to the growing number of Centurion Lounges in airports might be top of the list. Where airline lounges all too often drop a few stale pastries in a self-serve bin next to a coffee pot and a mini-fridge of Coke, American Express' take is an altogether more luxurious experience: real food, a curated wine list, seats you'd actually want to sit in, and even extras like an in-lounge spa. Latest to the list is Centurion Lounge Miami, at Miami International Airport.
If you've not been keeping track of your card-perks, Centurion Lounge access is complimentary for anybody with a consumer or Business and Corporate Platinum Card and Centurion Members, along with their immediate family or up to two travel companions. $50 gets access for American Express Credit and Charge Card Members; the card company invited me along for the pre-opening preview, a few days in advance of the lounge's doors officially unlocking to travelers.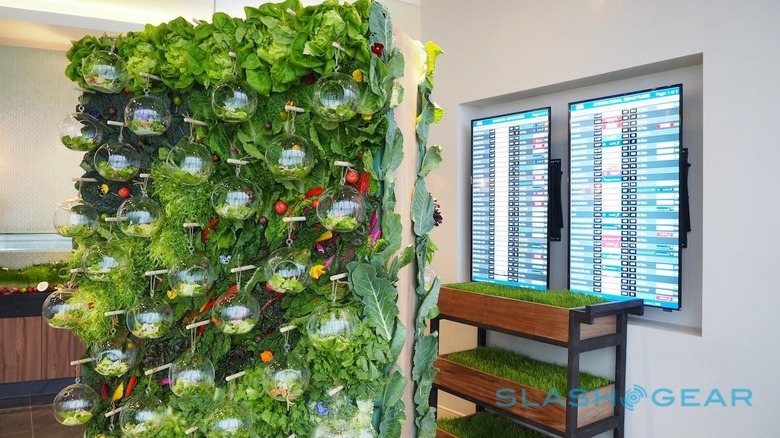 Up on the fourth floor in the MIA North terminal, and once past the living wall in reception, floor to ceiling windows mean you can't help but remember you're in an airport. The clear view of the runway, with planes taxiing in to the gates below you, would probably be enough to keep me occupied during a layover, though there's free WiFi of course.
A variety of seating – including some fantastic booth-chairs which are both comfortable and cloistering – fills the space, which curves around the outer edge of the terminal.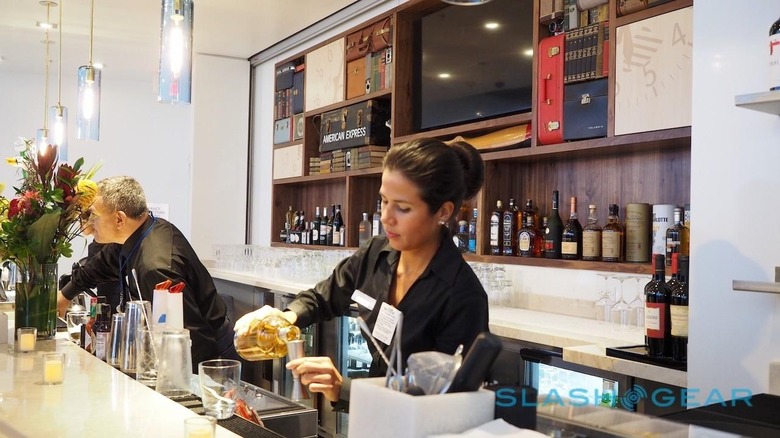 At one end, there's a dining area and bar: American Express has brought in Chef Michelle Bernstein, Chef/Owner of Cena and Crumb on Parchment and Chef of Seagrape in the Thompson Miami Beach, to figure out a seasonal menu that's also complimentary. Jim Meehan and Anthony Giglio have curated the cocktails and the wine list, respectively.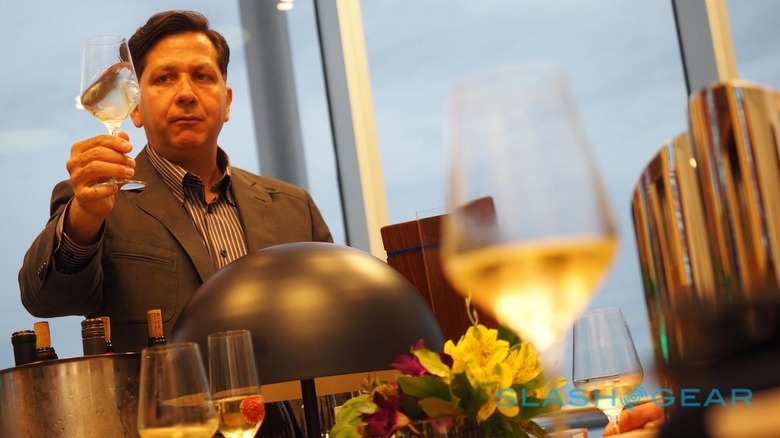 Miami joins a short list of Centurion Lounges in Las Vegas McCarran International Airport (LAS), Dallas/Fort Worth International Airport (DFW), New York's LaGuardia Airport (LGA), and San Francisco International Airport (SFO). A "Centurion Studio" will open in a few weeks time at Seattle-Tacoma International Airport (SEA).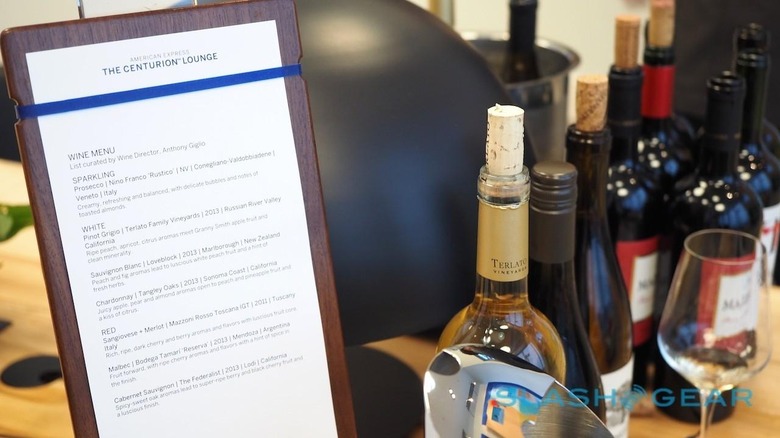 The launch of the MIA lounge coincides with a reboot of the wine list, Giglio explained to me, shared across all locations barring San Francisco (which has its own, special list of locally-sourced bottles). It's intended to be easier to navigate while you're keeping half an eye on the departures board (and are possibly jet-lagged), with a range of familiar varietals noticeably better than anything I've had either in another lounge or on a plane.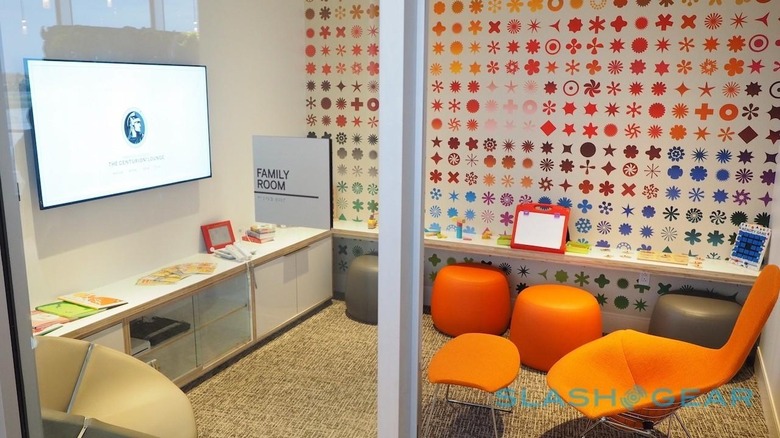 Elsewhere, there's a soundproofed family room, along with a small spa area for treatments like massages and manicures. The decor is for the most part travel-themed, interspersed with Rock Paper Photo artwork like classic celebrity photos and some new pieces, like Alexandra Gorczynski's untitled mashup of classic statues and video screens.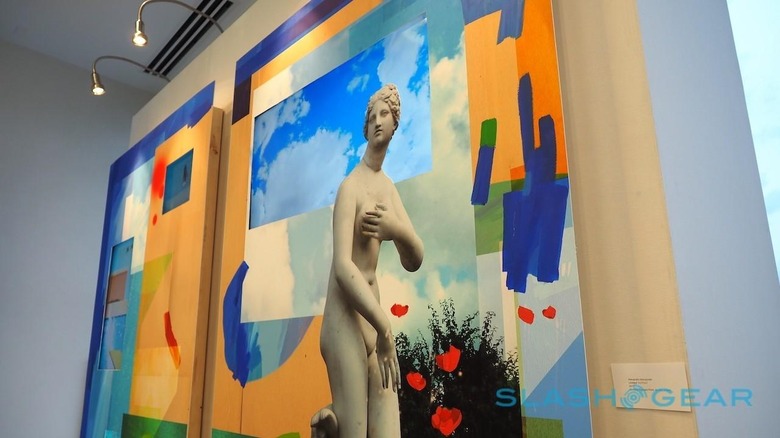 To be entirely honest, though, my time in airports is usually spent catching up on work. One whole section of the 8,000 sq.ft. area is dedicated work space, with plenty of outlets.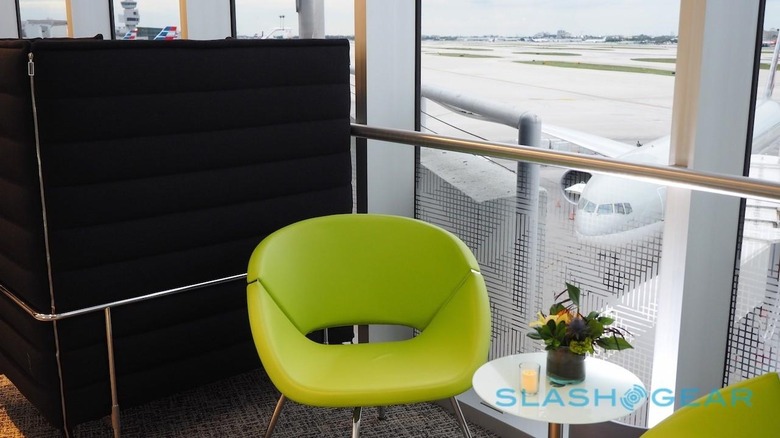 The Centurion Lounge Miami is open now, and can be found in the Miami International Airport North Terminal, in Concourse D.