This Instagram Superzoom feature update is bonkers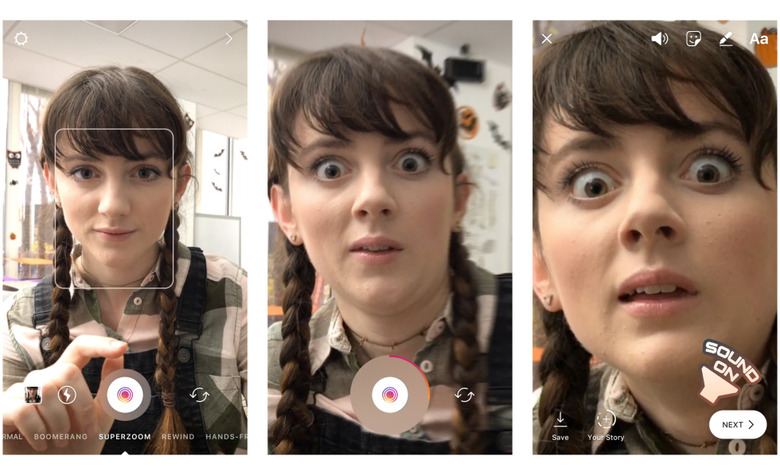 OMG there's a new feature in Instagram that is completely hilarious and you need it immediately. This new feature comes with a collection of Halloween-themed bits and pieces, the whole lot of which is available in one download. The rest of the features available in the newest version of Instagram come in the form of stickers and face filters – they're all pretty much the most spooky features you'll ever see.
Superzoom is a sort of recording for video that really needs to be seen to be understood. Superzoom sits right next to Boomerang in Instagram's newest array of recording types, and it includes a bit of "suspenseful music" right out the gate. This feature allows the product to be sent via Instagram Direct or shared to a story – or you could get really fancy with it and actually post straight to Instagram – crazy!
Halloween Face Filters will allow the user to make themselves 2 spooky 4 U. Watch out for the most ghostly of filters freaking you out in personal messages – don't get too ghastly! Transform into a zombie or a vampire, start up the fog machine, or flip on the spooky flashlight for flashbacks to Are You Afraid Of The Dark.
Halloween stickers include spooky dismembered body parts for praise, clap, and thumbs up. They also include some candy corns, devil horns, a pumpkin, eyeball candies, a fancy apple, and a bunch of other weird aesthetically pleasing bits. All of the stickers are free to use by all users.
To update, take note of the version number – it's Instagram version 20.0 for both iOS in the Apple App Store and version 20.0 for Android in Google Play's app store. Both are free as they've ever been, and both should be available immediately.
Or if it's not available, you can still take DRAMATIC pictures of yourself and zoom in on them manually yourself. That's basically the same thing.