This HP Spectre 13.3 wants to crush the MacBook with extreme-thinness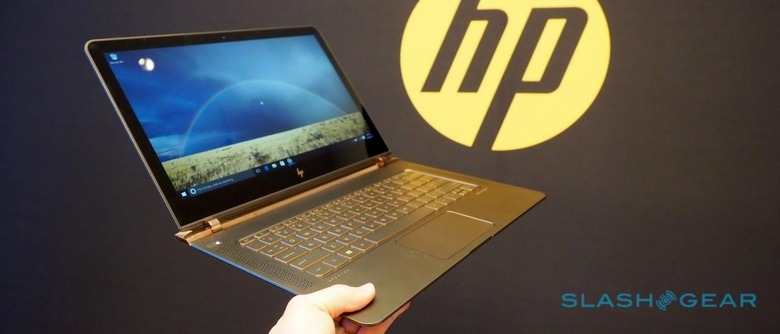 Once upon a time, the most handsome Windows 10 ultraportable you could have was a MacBook running Bootcamp; now, HP wants to offer you an alternative. The HP Spectre 13.3 follows in the premium footsteps of earlier high-end notebooks from the firm, bringing some creativity to Windows computer design that has been sorely missing.
First impressions are of extreme thinness. In fact, the 13.3-inch notebook is 10.4mm thick, comparable to an AAA battery no less, and tips the scales at 2.45 pounds.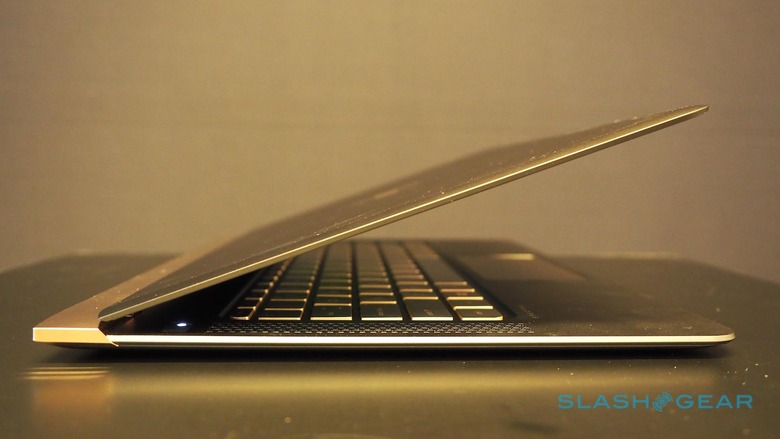 The lid is a wafer, and the base seems little thicker once the screen is lifted. HP took inspiration from furniture for the Spectre's hinges, two slender C-shapes that look like they should be delicate but actually glide smoothly open and shut.
Doing double-duty of keeping the weight down but also avoiding body flex are CNC machined aluminum for the lid and keyboard deck, and a carbon fiber base. HP continues to eschew the more traditionally-geek-friendly silver highlights for coper and ash-silver instead – the rear section is both particularly shiny and hungry for fingerprints – which may well prove divisive. It looks better in-person, I think.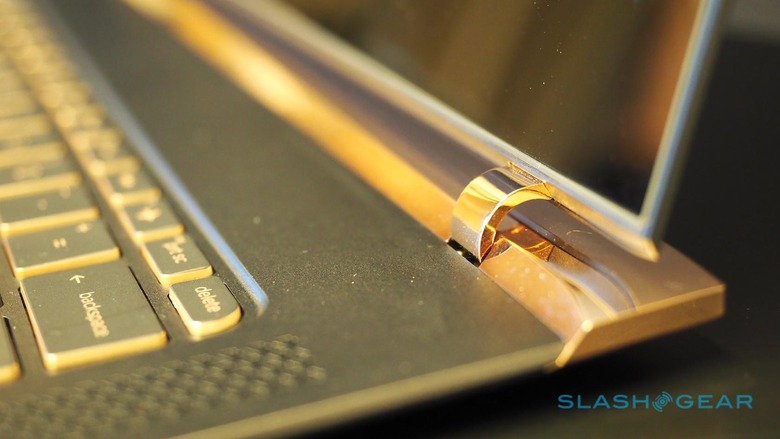 There's also a new logo, a heavily stylized "HP" on the lid. Previous Spectre series notebooks spelled out the whole Hewlett Packard name, you might recall, but the computing division lost the rights to that in the split late last year. HP tells me it'll be keeping this new logo exclusively for its more premium models.
The dimensions mean most regular ports simply won't fit in the space HP has to play with, and so – with the exception of a 3.5mm headphone jack – the new Spectre embraces USB-C completely. There are three USB-C ports each with USB 3.0 support, and two of which also support Thunderbolt.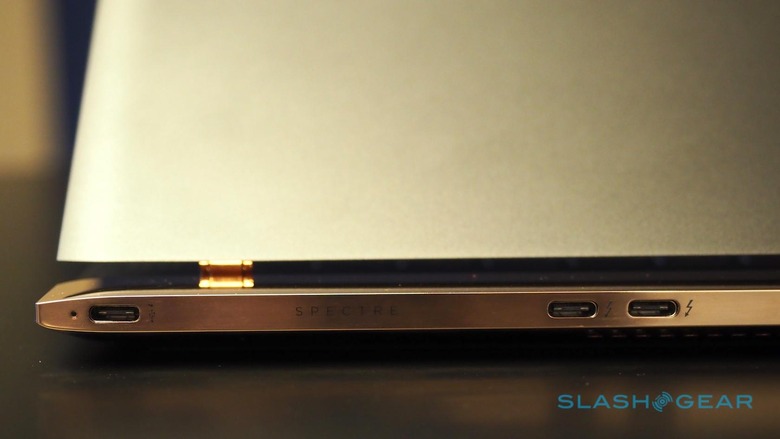 Any of them can be used to charge the notebook, and any of them can be used to charge a connected peripheral, like a phone.
Unfortunately, in the US you won't actually get any USB-C adapters in the box. HP tells me that's Best Buy's decision, and instead there'll be USB 3.0, VGA, and HDMI adapters offered from $34.99 apiece.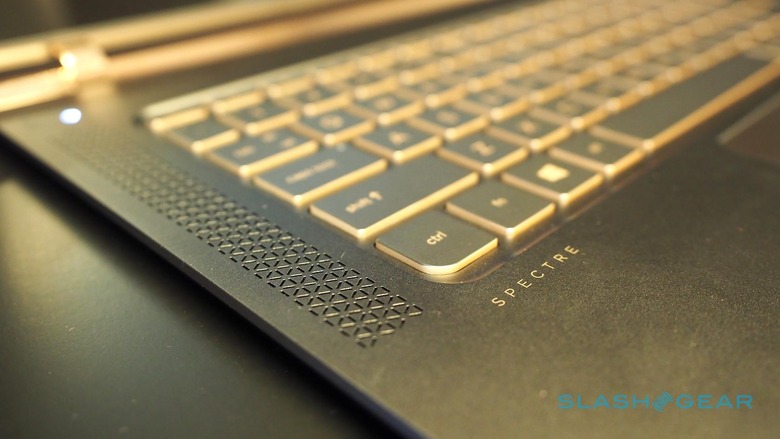 The specifications are as you'd expect, for the most part, though the design has forced a few compromises. Rather than a low-power processor, Intel's regular sixth-gen Core i5 and Core i7 chips are inside, along with 8GB of memory and up to 512GB of PCIe SSD storage.
However, there's no touch support – the touchscreen layer would add too much thickness, HP says – and the IPS screen is Full HD resolution, not Ultra HD. A sufficiently thin 4K panel still isn't available, HP tells me, though it does throw in Gorilla Glass 4.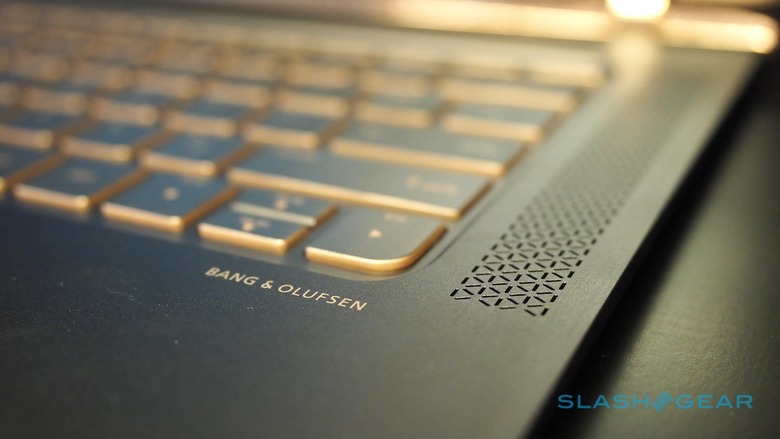 The backlit keyboard keys have 1.3mm travel – rather than 1.5mm – though in my brief typing test I didn't particularly notice any slowdown in my pace. HP claims that's because it pays particular attention to the resistance you feel when you first strike each key and when it bottoms out.
Underneath is a glass trackpad, while either side – behind somewhat ornately-milled grills – are Bang & Olufsen tuned speakers. Unsurprisingly they're notably lacking in bass.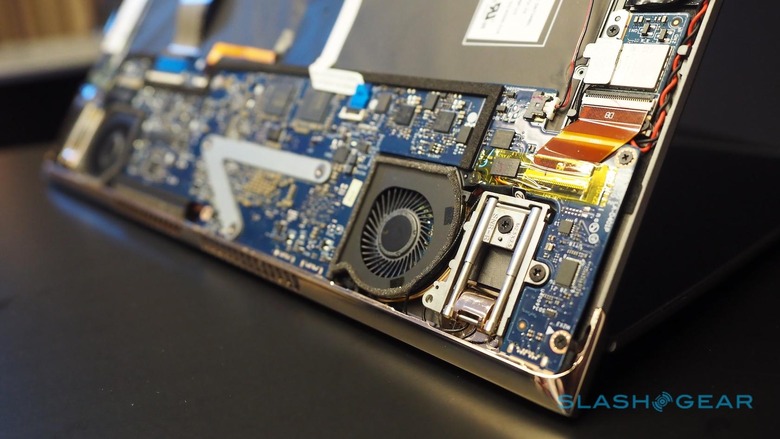 I don't think HP gets quite the credit it deserves for its mechanical engineering. The original Spectre X360 had a clever triple-cam mechanism for its 360-degree hinge, for instance, and while this new Spectre doesn't flip all the way around, it does have some complex mechanics to make the hinges work.
In this case, it's a set of tiny pistons – two for each hinge – squeezed into the bottom portion of the notebook. They provide enough resistance to keep the screen in position at any angle, without making it so stiff as to be impossible to open single-handed.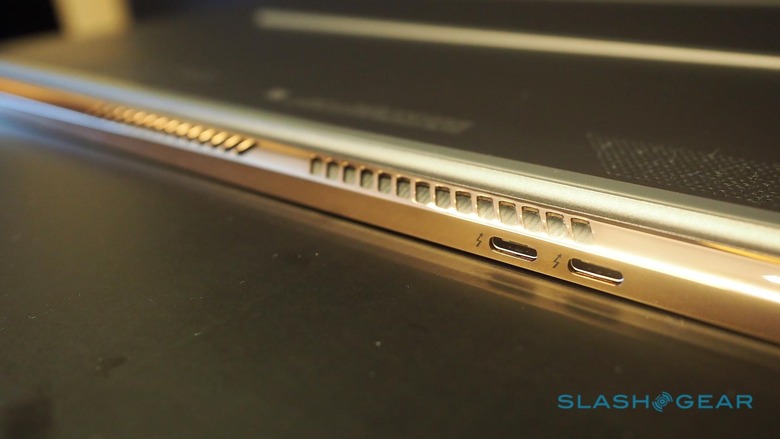 Finding there was insufficient room for the traditional cooling fans, meanwhile, HP flipped things around so that, rather than pushing air across the processor and other components, the fans create low-pressure zones around them so that cool air rushes in, instead.
In all, HP claims up to 9 hours, 45 minutes runtime from a single charge.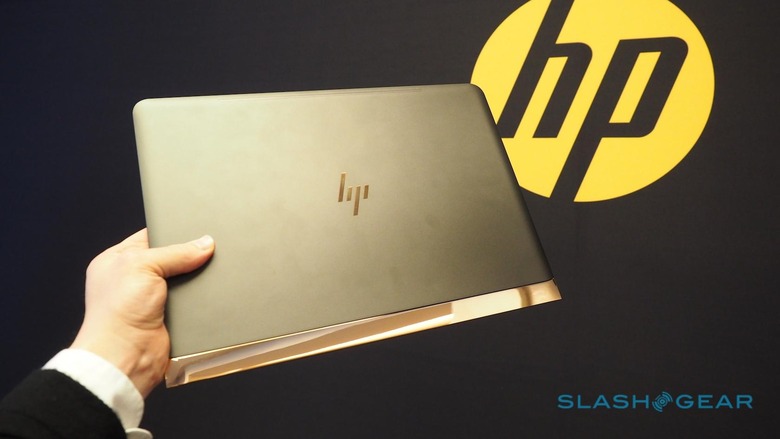 It's not a machine for everyone. Those with a bag full of accessories they want to keep using will likely find the need for USB-C adapters too frustrating, while pixel-addicts or those who like to navigate with their fingers are both out of luck with the Spectre's non-touch, FHD screen.
Still, priced from $1,169 when it goes up for preorder on April 25 – and lands in Best Buy stores from $1,249.99 on May 29 – it's quite clearly taking on Apple's MacBook Pro with Retina display and doing so competitively. Style-starved Windows fans take note.
[gallerybanner p="434675"]