This Dr. Who Phone Booth Alerts You Of Phone Calls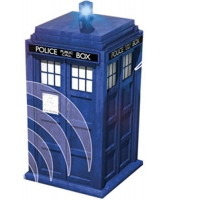 For any Dr. Who fans check out the Dr. Who Tardis Phone Alert Desk Flasher. Yet another long name that tells you exactly what it is, it's a full description within itself. Wait, it does leave out that it's actually for your mobile phone, but that is basically it. I have become a Sci-Fi Channel addict lately and that includes their new Dr. Who series. However, although this gadget is cute it seems a little pointless for me.
I'm sure some need a gadget to plug into their phone to tell them when their phone is going off. Except your phone can do that all by itself, although, one nice thing is that if your phone is on silent then it can flash a light to let you know a call is coming in.
It can signal you by a silent flash or if you flip the hidden switch it goes into audio and says a few of the show's famous phrases. "Pleased to meet you...I'm the doctor by the way!", "Run for your life!" and "Did I mention it travels in time?". The gadget is three inches tall, and priced at just below $10.
Dr. Who Tardis Phone Alert Desk Flasher [via shiny shiny]