This Dacia Is The UK's Cheapest Car... And It's Not Half Bad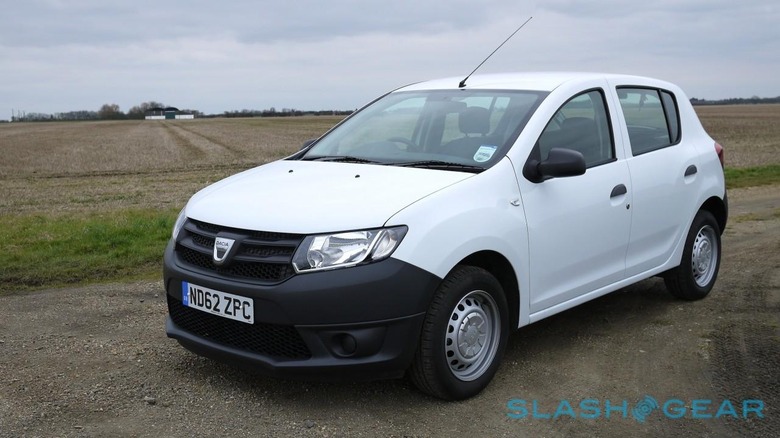 Drivers on a budget: Dacia wants your money, but not much of it. The Renault subsidiary has been making quiet inroads into the European market, and is now targeting the UK with a pretty straightforward premise: a car the size of a compact for the price that undercuts the cheapest supermini. Some drivers don't care about badge cachet, or halo branding, or being recognized as a high-flier at the traffic lights, Dacia argues: instead, the Sandreo is the automotive equivalent of white goods. And, with a starting price of £5,995 ($9,149) it has more than a few people interested, too. We caught up with Dacia for some time behind the wheel, and to see if cheap really does mean cheerful.
It's easy to get distracted by luxury cars and marques coaxing ever more performance from sporty two-seaters, but life at the cheap end of the spectrum can be a lot tougher. Building to a budget isn't easy, and so Dacia went for a strategy that mimics that of the low-cost airlines: in short, you pay a little bit for everything.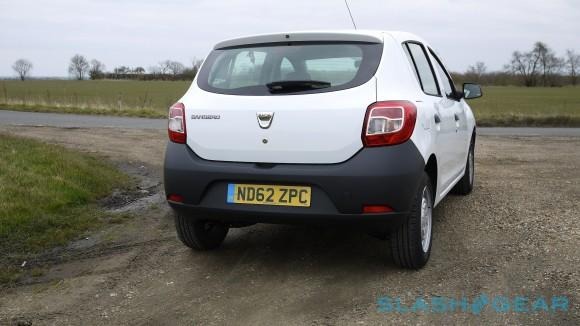 The entry-level Sandero Access comes in white only, with black plastic bumpers and a single engine choice: a 1.2-liter 16V 75bhp borrowed from Renault, with a leisurely 14.5s 0-62mph time and a top speed of 101mph. It's 5-door only, but when you step inside you could be forgiven for thinking you were stepping back a decade or so. No electric windows, no air conditioning, no central locking, not even a radio (Dacia tells us that a lot of their buyers begrudge paying for something they never end up turning on, though the Access does come pre-wired to fit your own choice of aftermarket stereo).
You won't mistake it for a BMW, or even a Ford inside. The plastics are sturdy but feel cheap, and there's a lot of rhino-skin effect plastic and flocked headlining material. Some of the touch points, like the twisting, folding vents in the center console are particularly cheap to the touch, and the switchgear clicks with a crispness we're not used to now that most car manufacturers go in for more premium-feeling dampening.
Start the Sandero up, though, and your £6k doesn't seem like such a bad deal. For a start it's a spacious five-seater, with a large trunk and legitimate room for an all-adult complement of passengers. Dacia purposefully opted to match the sort of dimensions of a car from the class above the price band, and while that means you miss out on some of the darting zeal of a smaller city car, you make up for it in space for people and luggage. It's also cheap to insure, slotting into group 2.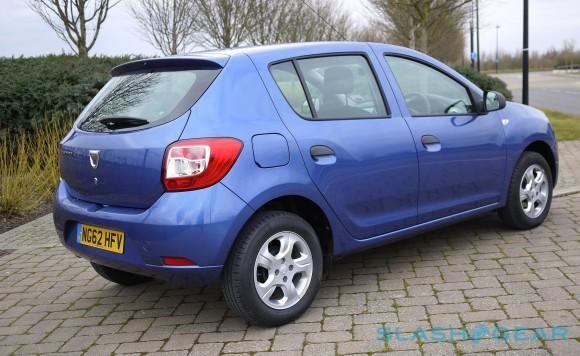 The petrol engine is actually quite good, too, though it's best when you wind the Sandero up. It's a fizzy little thing, preferring to be worked hard else you face that ponderous climb back up to speed again. There's power steering (along with emergency brake assistance, ABS, stability and traction control, front and side airbags, and all the other safety kit the regulators demand) but it's not too over-assisted, meaning there's a fair amount of feel from the road. We had the most fun when we ignored the "change up" indicator which flashed up with miserly regularity by the rev counter, but if you obey the instructions Dacia claims you could see combined fuel consumption of 48.7mpg (Euro).
Curiously, though, while the low starting price is working as the initial point of appeal, Dacia says most buyers actually opt to step up through the range. Pay £7,395 ($11,285) and you get the Sandero Ambiance, with a choice of TCe 90 or dCi 90 gas or diesel engines (with frugal ECO modes saving roughly 12-percent in fuel consumption) borrowed from Renault's swankier 4th-gen Clio, as well as a Bluetooth-equipped radio/CD player, electric windows, body-color bumpers, alloy wheels and central locking. Finally, there's the £7,995 ($12,200) Sandero Laureate, with the joys of air-con, rear electric windows, cruise control, electric mirrors, and even the unbridled luxury of a leather-wrapped steering wheel and gear knob (there's no auto option anywhere in the range).
Then there are the options, like £395 ($603) for a 5-year (60,000 mile) warranty, or £850 ($1,450) for 7-years (100,000 miles); Dacia knows that other car companies go for 5- or 7-years as standard, but they also recognize that some of their customers would rather pay less and then run the car into the ground. You can even have leather seats and other luxuries, but we can't help feel that over-speccing the Sandero starts to blunt its overall purpose.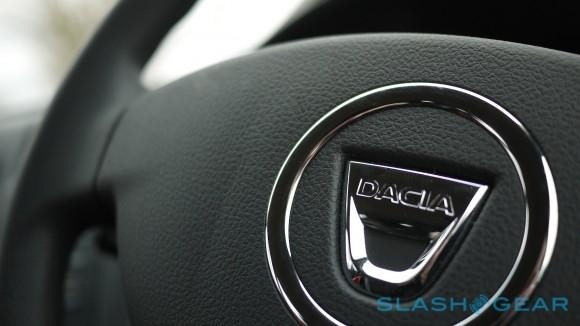 With that in mind, the TCe 90 and dCi 90 engines, though more refined than the entry-level lump, lack some of the charm. They chug away well, are a little faster, and manage better fuel economy (56.5mph Euro combined for the TCe 90; 74.3mpg Euro combined for the dCi 90), but we're not convinced the initial extra outlay is worth it. The Sandero makes most sense when you think of it in terms of a washing machine, or a refrigerator: it's an appliance, not a luxury or a status symbol. That might not appeal to car enthusiasts, but anybody wary of the used car market and simply wanting cheap A-to-B transport should take a look.