This $79 AI USB stick could democratize deep learning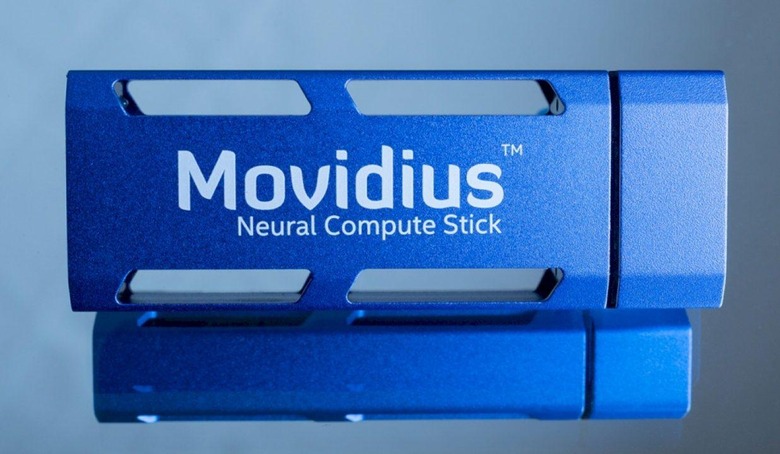 In September of last year, Intel announced that it had acquired Movidius. Modivius is a company that does a lot of different things, from making avoidance sensors for DJI drones to developing deep learning technologies with a handful of different partners. Today we're seeing some of the deep learning fruits of that buyout, with Intel introducing us to the Movidius Neural Compute Stick.
What looks like a simple USB thumb drive is, in reality, a whole lot more complex. The goal of the Movidius Neural Compute Stick is to allow for the development of deep learning applications at the edge. Essentially, this little stick will allow developers to prototype and deploy deep neural network applications without a reliance on cloud systems.
At the heart of the Neural Compute Stick is the Modivius Vision Processing Unit. This is the same unit that can be found in a bunch of other devices that require AI at the edge, including drones and security cameras. Modivius has made AI chips like this for products where latency in uploading to the cloud is a concern, so it isn't really much of a surprise to see it launch that same chip in the NCS.
The NCS supports the Caffe framework and connects through USB 3.0. The host machine you connect it to doesn't need to be a beast of a computer, either – all the NCS requires is an X86_64 computer running Ubuntu 16.04, 1GB of RAM, 4GB of free storage, and at least a USB 2.0 port, though obviously a USB 3.0 port is recommended.
At the moment, the Neural Compute Stick is available through Mouser Electronics here in the United States or RS Components in the UK. It sports a retail price of $79, which honestly doesn't seem too bad considering what it does. This is likely just the beginning of Intel and Movidius's plan to take the deep learning world by storm, so stay tuned for more.