This 'Solid Poetry' has a hidden suprise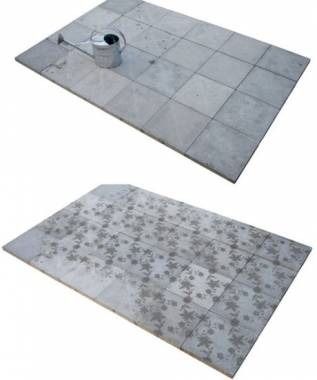 It's always nice to have a patio for all of your barbecues. It would seem everyone has them anymore, which might influence some to change theirs up a bit to stand out from the crowd. Well these tiles of concrete could help with just that.
Although the concrete seems plain at first sight, if you stick around to see it rain, it will reveal another side. When this concrete gets wet a cute pattern shows up. In addition to this star pattern I came across a photo of a flowing vine as well. Those are the only two designs I am aware of, but there could be more out there.
These tiles were created as a graduation project and are known as Solid Poetry. If you would like to find pricing you will have to email Frederikmolenschot.
Concrete – Patterened when wet [via coolest-gadgets]