Thinksound ts02+ mic Headphones Review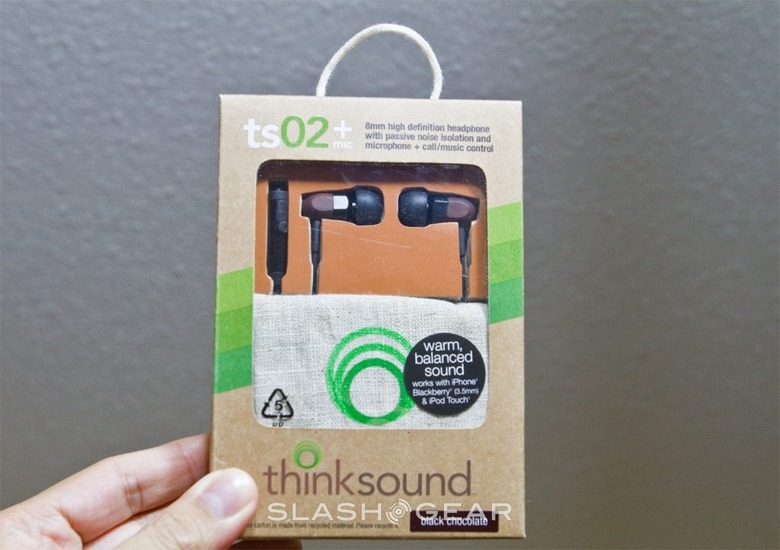 Being a green gadget is big business these days; you can get plenty of mileage out of using recycled packaging, donating a dollar to a penguin for every unit sold, or generally avoiding unnecessary pollution with how you transport or produce your device. Still, we do wonder exactly how much is lip-service and how much is authentic Earth-friendly consideration. Claiming to be resolutely in the latter category is Thinksound, who reckon their ts02+ mic headphones deliver decent audio performance without slaughtering the planet in the process. Check out our full review after the cut.
The Thinksound packaging isn't quite as bright and glossy as that of rivals, but that's down to the recycled cardboard and bleach-free materials. There's no inner plastic liner, either, and the cables – which are PVC free – are tied up with string rather than metal ties. Even the carrying pouch is made from cotton sourced from renewable plantations. The ts02+ mic earbuds themselves are made from real wood, which Thinksound says also brings natural resonance and improved acoustics.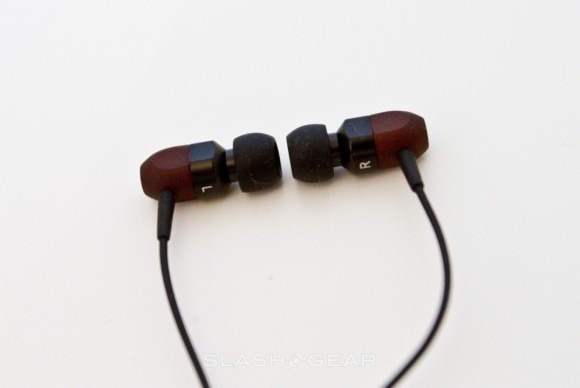 You'd hope there'd be some strong audio, too, given the founders of Thinksound met while working at Tivoli. The ts02+ mic headphones use 8mm drivers enclosed in either "silver cherry" or "black chocolate" wooden housings, with a 20Hz to 20kHz response range and a gold-plated 3.5mm plug. Midway down the cable is a basic one-button microphone/remote unit, which will work with your iPhone, iPad, BlackBerry and "most" other smartphones, according to Thinksound; we didn't have any trouble answering and ending calls on the handful of devices we tested it with, and you can play/pause and skip tracks on compatible devices.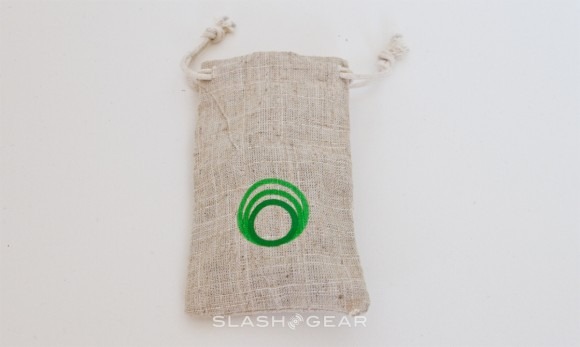 Build quality feels decent, with the wood nicely finished. Four different earbud sizes are included – all the same basic shape, rather than any of the double-flange tips we've seen on other brands – together with a cable clip to keep the cord from flying around. They're lightweight and comfortable, and the sound is reasonable if nothing outstanding. Trebles and mids are nicely defined and vocals are sharp, but there's a noticeable lack of bass which can leave dance, R&B or electronic music feeling less than rounded. We prefer some more thump in the low-end, though the ts02+ mic are well suited to vocal or jazz which is less bass heavy.
It's certainly not bad, but then again there's a whole lot of competition in the $99 bracket. We're partial to Sleek Audio's SA1 headphones, which come in at $79.99, also have wooden housings but throw in detachable earphone cables and a user-adjustable audio tuning system. Still, the SA1's don't have the Thinksound's in-line microphone.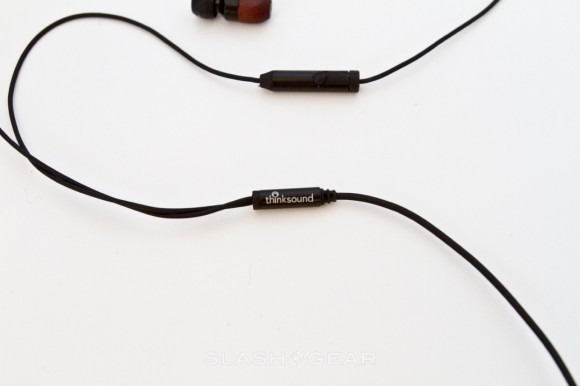 There's a lot to be said for making environmentally conscious decisions with your gadget purchases, and happily opting for the Thinksound ts02+ mic headphones isn't the audio equivalent of wearing a hair-shirt. If being Earth-friendly, having decent sound and hands-free functionality are equally weighted, they come recommended; still, those looking for superlative audio performance at the expense of the other categories might find more for their money elsewhere.