ThinkGeek debuts TK-421 iPhone case with Flip-Out keyboard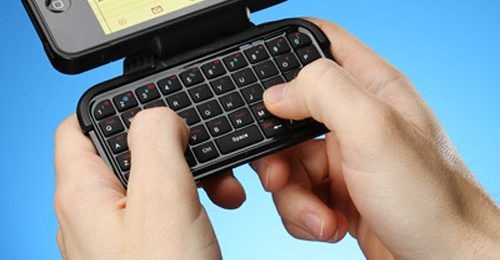 Many folks out there like the iPhone, but lament the lack of a physical keyboard for the smartphone. Earlier this month a case from Nuu broke cover that added a QWERTY keyboard to the iPhone and today we have a new case with a keyboard for the iPhone from ThinkGeek.
The ThinkGeek case is called the TK-421 and has a flip-out keyboard that hides under the iPhone when not needed. To reveal the keyboard the iPhone swivels up to the right and out of the way. That keyboard has little square keys in a standard QWERTY layout.
There are versions for the iPhone 3GS as well as the iPhone 4. Both use Bluetooth for connecting to the iPhone and the cases protect the smartphones as well. The keyboard will work with email, notes, and web surfing. Either version is $49.99 and won't be in stock until around November 23.