Thing-O-Matic is Inexpensive Star Trek Replicator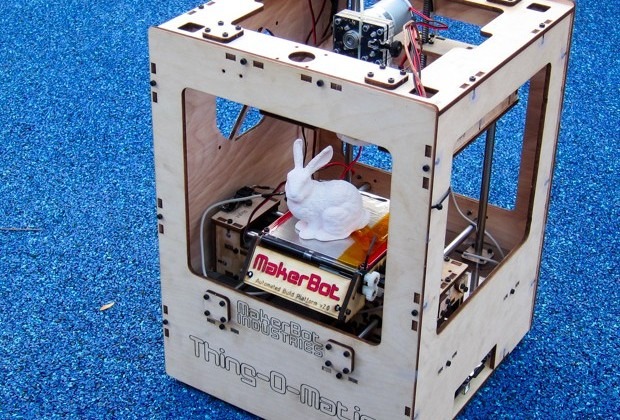 Sort of! This is MakerBot Industries' Thing-O-Matic, a home 3D printer for just over a thousand dollars ($1,225.00). Holy crap that's awesome. It's approximately 12 inches by 12 inches by 16 inches and can print 3D objects that you design on your desktop "continuously for hours at a time." This is the same sort of machine we had (probably still have) at my alma mater the Minneapolis College of Art and Design – last I checked they were using it to carve 3D replicas of human heads. All this stuff gets cut down from MakerBot ABS Plastic, which you get 1 pound of to work with for starters when you buy the Thing-O-Matic kit. Make a thousand rabbits!
The great thing about any 3D printer is not only your ability to create things you've modeled in a computer in a 3D realm, but your ability to create things you'd never be able to create by hand – for example, a human heart, with all of it's inner tubes carved perfectly precisely. This particular 3D printer carves down to 0.005mm resolution. That's heavily accurate, and so sharp you're in more trouble of creating something that'll collapse on itself than missing a detail.
The way this printer innovates upon others is first it's tiny size and home usability (you can buy other 3D printers and put them in your house, of course, but this one's like comparing a bike to a car (sizewise)). Secondly, this printer works in a way very similar to your everyday average paper printer, shooting out piece after piece of printed matter without end. Other 3D printers require you to reset everything via cleaning and re-clicking. Fun! Take a peek at the full product description below, and feel free to order one on pre-sale (coming soon!):
***Availability: Ships with a 7 week lead time. This is a Pre-sale item.***

The MakerBot Thing-O-Matic 3D printer is a breakthrough in 3D printing technology. We've named it the Thing-O-Matic because it is an automatic 3D printer. All other 3D printers can only do one thing at a time while the MakerBot Thing-O-Matic 3D printer prints thing after thing! Buy it, put it together and enjoy being the first on your block to live in the cutting-edge personal manufacturing future of tomorrow!

Fully Automatic

The MakerBot Thing-O-Matic 3D printer comes with a new larger MakerBot Automated Build Platform v2.0 that will keep printing and printing... Automatically!

The MakerBot Automated Build Platform is truly a revolution in 3D printing. Updated to be larger for the Thing-O-Matic, it allows you to have a print queue where your machine will clear the build surface between builds by printing, then ejecting. It prints objects one after another. This turns your MakerBot into a little factory that sits on your desktop. Best of all, this is completely automated: you hit print, and the machine does all the work. Want to print 100 butterflies? Easy. Want to print an entire chess set? No problem. Want to start a business selling printed things that you've designed? Awesome. Have the MakerBot Thing-O-Matic 3D printer do all the work while you design new things.

Extremely Reliable

The MakerBot Thing-O-Matic 3D printer comes with the MakerBot MK5 plastruder which will give you thousands of hours of trouble-free printing.

We've invested many hours into designing, testing, and tweaking the MK5 plastruder. The result is an extruder that is extremely reliable, and very simple to maintain. The hot end on this extruder is essentially unbreakable and the filament drive system is one of the strongest on the market. We've run this thing for more than a thousand hours with minimal maintenance. Changing the filament is a breeze with the filament pressure thumb screw. You can even hot-swap the filament mid print!

Higher Quality

The layer alignment is much better which results in nicer prints and higher resolution.

We've completely overhauled the drive system to give the optimum positioning accuracy. The entire system has been upgraded to sturdy 3/8" diameter linear shafting. This is overkill, but you can trust that the axes will be sturdy and straight. We've also switched to self-aligning, sintered brass bearings. These are very forgiving to DIY assembly and provide a nice, smooth motion on the steel shafts. Last, but not least we've completely replaced the Z axis with a stepper driven, cantilevered stage. Guided by two of the linear shafts, this completely eliminates any Z wobble and results in nicely aligned layers. Using a high-angle lead screw, we were able to increase the speed of the Z axis from 150mm/minute to 1000mm/minute. That's more than 6 times the speed! This means the layer changes are almost completely imperceptible and blobbing is significantly reduced for smoother prints.

Easier to Use

Connect to the MakerBot Thing-O-Matic 3D printer over USB and hit print – the machine will detect its position and start printing.

The new MakerBot Gen4 Electronics have been designed to make the printing experience even easier than ever. The motherboard now sports an integrated USB port, so you simply plug the MakerBot in with a standard USB cable. We've also added full endstop support so that you never need to touch the XYZ axes ever again. When you hit print, the MakerBot Thing-O-Matic 3D printer will automatically home itself, heat up, and begin printing. All you have to do is sit back and relax while your MakerBot does all the work. Living in the future is awesome. Oh yeah, and the electronics are all inside, so you don't have wires dangling everywhere. This also makes travelling on the subway with your MakerBot stress-free.

The MakerBot Thing-O-Matic 3D printer kit is available for $1225 and has a 7 week lead time. Order a MakerBot Thing-O-Matic 3D printer and get the latest in personal manufacturing technology!

You'll get:

* Makerbot Plastruder MK5

* MakerBot Automated Build Platform v.2.0

* The lasercut parts to assemble a Thing-O-Matic CNC machine.

* 3 x NEMA 17 motors

* The hardware to assemble it.

* Belts and pulleys

* Smooth Rods and Drive system components

* Pre-assembled 4th Generation Electronics

* a USB cable to talk to it

* cat5e and rainbow cables to wire things up

* a standard ATX power supply

* a tools kit with all the hex keys, wrenches, and other bits you need to construct it.

* SD card to buffer your prints

* 1lb of MakerBot ABS Plastic to print with

Full instructions and documentation will be released on the day we start shipping this kit in mid-November.

Some tech specs on the Thing-O-Matic:

* Interface: Print through USB or print from SD card

* Size: 300 x 300 x 410 mm (12″ W x 12″ D x 16″ H)

* Build Area: 96 x 108 mm

* Build Height: 115 mm

* Generation 4 Electronics

* Supports up to 5 stepper drivers (XYZ + A/B)

* Connect over USB (no more FTDI cable)

* Optional LCD interface support (Not included)

* Full mechanical endstop support

* High current mosfets to drive heated build platform and extruder heater

* Thermocouple support for more accurate temperature sensing

* 500W Hercules ATX power supply

* Works with both 110v and 220v power

* Theoretical XY Positioning resolution of 0.02mm (20 microns or 0.0008″)

* Theoretical XY Maximum Feedrate of up to 5000mm/minute (roughly 200 IPM)

* Theoretical Z Positioning resolution of 0.005mm (5 microns / or 0.0002″)

* Theoretical Z Positioning Feedrate of up to 1000mm/minutes (roughly 40 IPM)

* Capable of printing with ABS and PLA

***Availability: Ships with a 7 week lead time***
[Via ReadWriteWeb]