These computers lose Windows 7 support starting today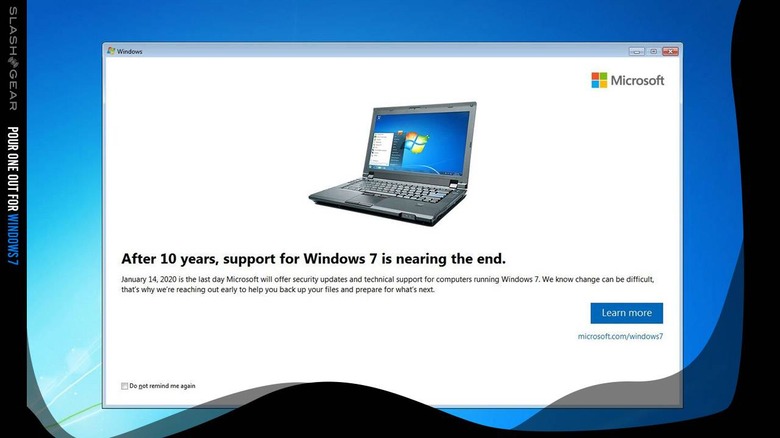 Devices running Windows 7 (or older) will lose Microsoft support starting on January 14, 2020. What does that mean? According to Microsoft, your PC will "become more vulnerable to security risks" because there'll be no more "security and quality updates." As of that date, Microsoft will no longer provide technical support of any sort "for any issues" whatsoever – UNLESS you pay Microsoft a bit of cash, and you've got the right version of Windows 7.*
TO BE CLEAR: ALL computers lose support from Microsoft for Windows 7 starting today, EXCEPT for those that seek extended support. This is not generally done by the average user. Extended support generally acts as a safety net for support for IT professionals working with a significant number of business computers that, for whatever reason, haven't been updated yet to a newer version of Windows.
Support for IT pros
That includes *Windows 7 Professional and/or Windows 7 Enterprise, and you'll be paying for "extended security updates through January 2023. The start of the period during which "Extended Security Updates" was offered was January 2020 (you could have signed up before the end of support on the 14th). Users could continue to sign up "at any time during the three years that the offer is available."
The full Microsoft FAQ on Extended Security Updates for Windows 7 is mostly intended for IT professionals working with businesses. If you're an everyday average Windows 7 user with a computer at home, by all means read on.
Support for individuals
The original release date for Windows 7 was all the way back on October 22, 2009. It was at that time that Microsoft first made a 10-year product support commitment. At the end of this commitment – January 2020 – users will find that Microsoft will no longer offer support or updates for the operating system or the Microsoft apps within said operating system.
Also ending support is Office 2010. According to Microsoft, these products "will continue to work" but warn users that "new security and feature updates will stop." In short – unless you feel you can handle a computer that's not getting "security and feature updates" from Microsoft, you're probably going to want to update to a newer version of Windows.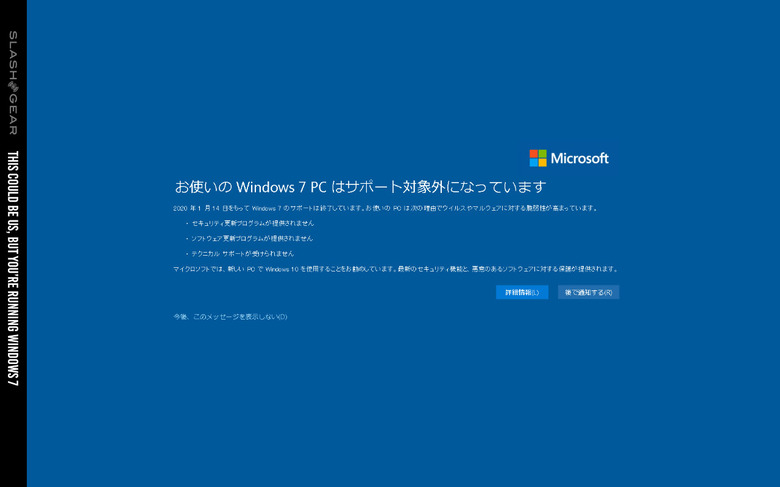 Requirements for newer Windows
If you want to use Windows 10, you'll need a 1GHz processor (or faster) with 1GB RAM for 32-bit or 2GB for 64-bit systems. You'll need 32GB of hard drive space, and you'll need a graphics card that is compatible with DirectX 9 or later with a WDDM 1.0 driver. Your display will need to be at least 800 x 600 pixels large, and you'll likely want to have an internet connection to download Windows 10 in the first place – though that bit's not expressly required for all versions of Windows 10.
If you want to update to Windows 10, Microsoft has a massive guide through which you can click and make the transition relatively easy.
You COULD also go ahead and download Windows 8 or Windows 8.1. Requirements for Windows 8.1 include a 1GHz processor with support for PAE, NX, and SSE2, 1GB (32-bit) or 2GB (64-bit) RAM, hard drive space at 16GB (32-bit) or 32GB (64-bit), and a graphics card support that's a Microsoft DirectX 9 graphics device with a WDDM driver. Requirements for standard Windows 8 are nearly identical. You can see full Windows 8 requirements at Microsoft.
If you have Windows 8 on your computer now, chances are you have a computer that had Windows 8 when it was purchased. If this is you, you'll want to update to AT LEAST Windows 8.1 as soon as possible – you can download a Windows 8.1 Disk Image if you do so wish, and may whatever god you believe in have mercy on your soul – and good luck!
If you have a computer that requires the use of Windows but cannot run Windows 8 or newer, your end-of-support from Microsoft is January 14, 2020. Every Windows device unable to run Windows 8 or higher will lose support from Microsoft on January 14, 2020, unless they've purchased extended support.