These are Sony's new Aerosense drones
Sony is showing off its new Aerosense drones, developed with Japanese autonomous robotics specialist ZMP to send cameras into the sky. The joint venture, established this month, will see Aerosense unmanned aerial vehicles do surveys, gather mapping data, and more, effectively squeezing into the gaps between traditional satellite photography and human-piloted survey planes.
Sony will be contributing its camera, robotics, and networking talents to the partnership, along with its various sensors. In return, ZMP will bring its autonomous piloting technologies, as well as existing links with industry.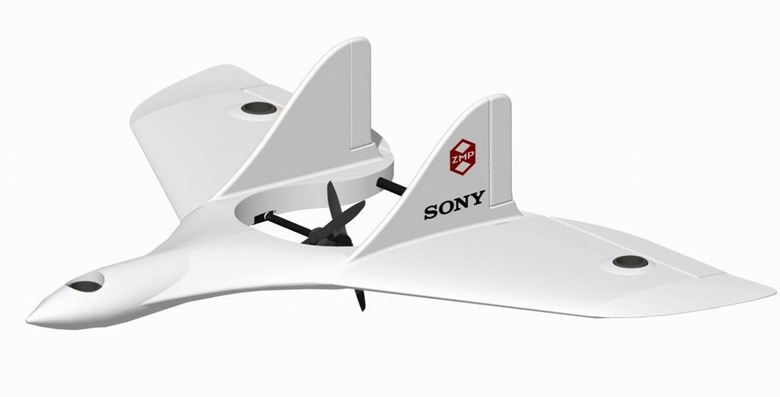 Aerosense plans to roll out its first "measuring, surveying, observing, and inspecting" services in 2016, offering a package of drone flights and cloud-based processing of visual data. Although there's no sign of pricing at this stage, the lure is likely to be greater flexibility than traditional methods of aerial surveying but at a more affordable cost.
So far, two designs have been shown. The AS-MC01-P is a 2kg quadcopter, with four spindly legs and one of Sony's QX30 lens cameras mounted underneath on a pivoting gimbal.
It uses GPS position and a technology called Visual SLAM to build up 3D models of environments as it flies through them, with TransferJet used to wirelessly send graphics from the camera. Aerosense's cloud processing can then create 2D or 3D representations, viewable from multiple angles.
Aerosense's second design looks a whole lot more serious, meanwhile. The AS-DT01-E weighs 5KG and should be able to fly for up to two hours at a time. A top speed of around 105 mph is expected, and while a specific camera hasn't been decided upon yet, it's capable of carrying a payload of up to 22 pounds.
SOURCE Aerosense