These airless tires could make GM cars puncture-proof from 2024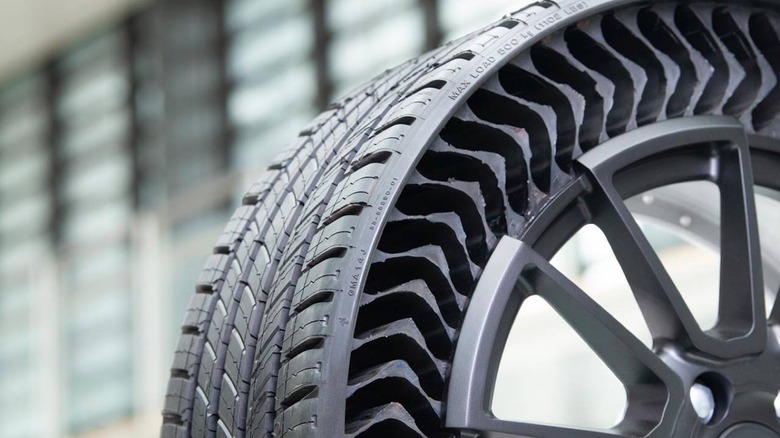 General Motors aims to have airless tires – where a puncture is physically impossible – on its cars as soon as 2024, with the new Michelin technology headed Ito a real-world trial later this year. The Michelin Uptis Prototype – short for "Unique Puncture-proof Tire System" – looks at first glance like a regular tire, but uses a complex composite structure instead of traditional tubes.
Normal tires rely on compressed air inside to support the weight of the car, as well as help cushion bumps in the road. While new types of rubber and other composites have made them more resilient to punctures, getting a flat can still mean a premature end to a journey.
It's also a big ecological problem. Around 200 million tires are scrapped around the world each year because of punctures, premature wear from improper air pressures, or damage from road hazards, Michelin says. Those contribute to otherwise still functional tires being retired early.
Uptis uses a new structure of composite materials instead, formed into pressure-resilient fins. While the outer tread looks much like a regular wheel, viewed in profile you can see right through the internal structure. That's made up of dozens of dog-leg springs.
Now, General Motors plans to put the latest Uptis Prototype to the test. Later this year, there'll be a fleet of Bolt EV equipped with the new tire, and dispatched to deal with the challenging roads of Michigan. The new rubber will make the electric cars impervious to punctures and blowouts.
If all goes to plan, the goal is to have an Uptis option on passenger vehicles sold by GM brands potentially as early as 2024. That will be good news for regular drivers, but also have big upsides to fleet managers and even for new autonomous products, like GM-owned Cruise.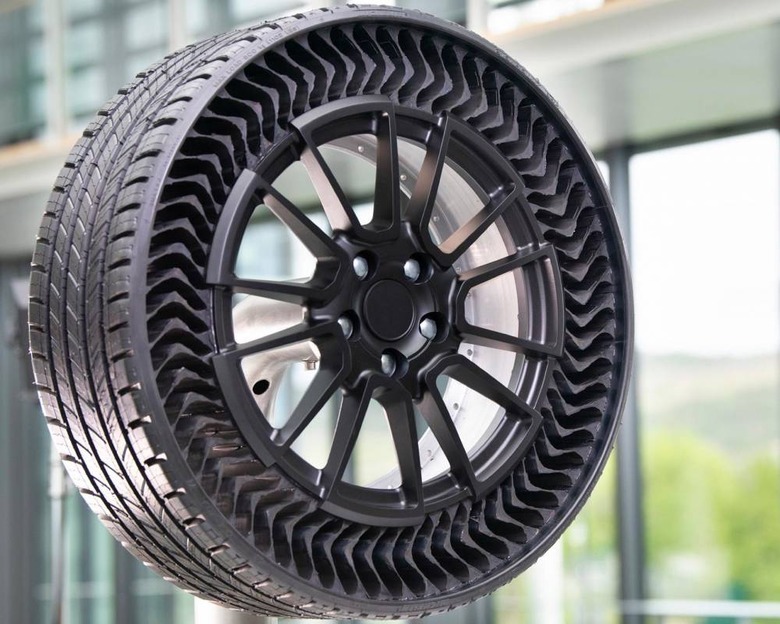 Without air pressure to monitor, fleets of vehicles – self-driving or otherwise – will require one less point of maintenance. Similarly, there'll be a cut in downtime from flat tires. Environmentally, there'll be a reduction in raw material use.
How much Uptis tires are likely to cost in comparison to regular tires remains to be seen, of course. It's also unclear how the driving feel will compare to traditional rubber. That's been a challenge for existing run-flat wheels, which have met with mixed feedback among drivers.