These 7 Jeep Safari concepts span Retro to Baja beast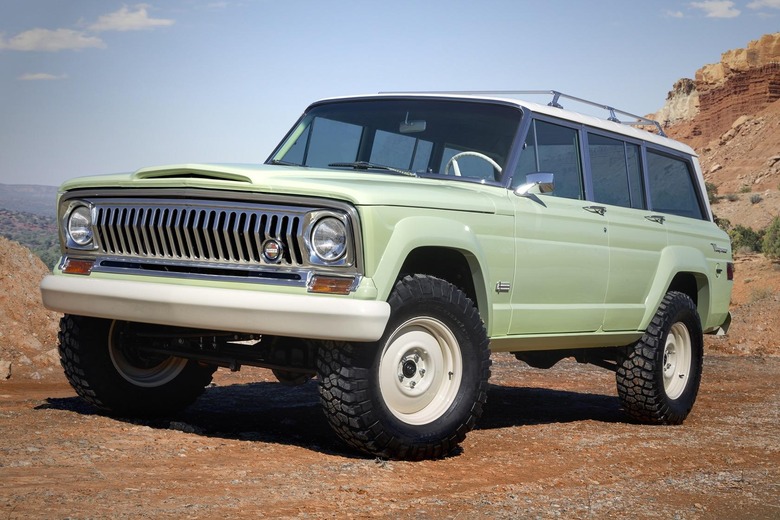 If there's one thing Jeep owners love, it's customizing their trucks, and so the automaker has teamed up with Mopar to provide seven concept inspirations for the 52nd Annual Moab Easter Jeep Safari. The seven customs won't, sadly, be up for sale as you see them here: Mopar says it has used a mixture of production parts and new prototypes for the Jeep fleet.
Of the seven, it's probably the Jeep Wagoneer Roadtrip concept – shown above – that's the most striking. It's designed to tickle the nostalgia, with the original 1965 steel body atop a wheelbase stretched by five inches. Moab used a boxed and reinforced frame, paired with four-link suspension with coilover springs, and 17-inch steel wheels with 33-inch BF Goodrich Mud-Terrain tires to give it some real off-road cred.
Inside, the original bench seats are to be found, along with door panels, kick, and rear panels all with Oxblood leather trim. The wicker headliner isn't going to be to everybody's taste, but it's certainly distinctive, while Jeep and Mopar made a custom tool box from the valve cover of the truck's original engine. Instead of that, incidentally, there's a considerably more powerful 5.7-liter V8 with a four-speed automatic.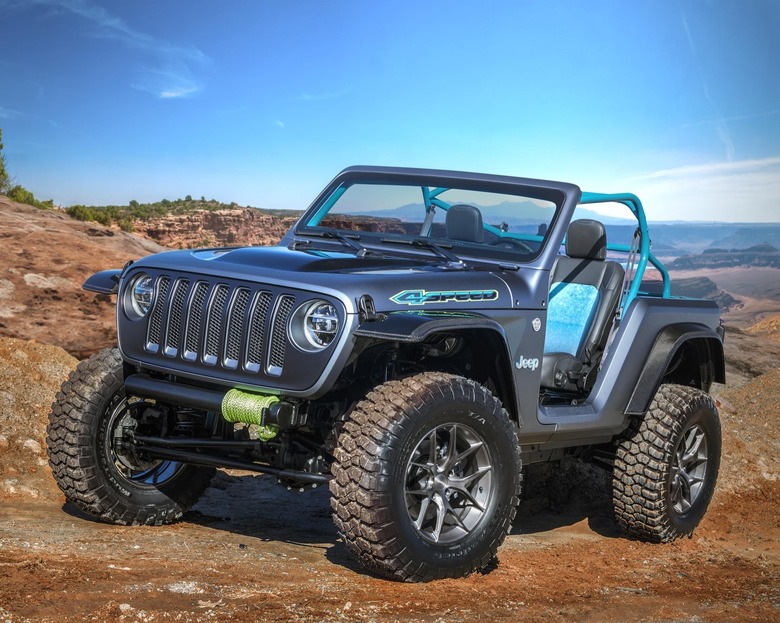 If retro isn't your bag, the rest of Jeep and Mopar's concepts are a lot more modern. None more so, arguably, than the Jeep 4SPEED Concept, a vision of what lightweighting could do to the new Jeep Wrangler. Carbon fiber replaces the hood, fender flares, and rear tub, and the aluminum panels are perforated to save heft. It sits 2-inches higher than the stock Wrangler, but is 22-inches shorter, entirely from the front and rear overhangs. That, Jeep says, makes for much improved approach and departure angles.
The 2.0-liter turbocharged I-4 engine, new on the 2018 Wrangler, is kept, along with the eight-speed auto transmission. However it's paired in the 4SPEED with Dana 44 front and rear axles with 18-inch lightweight mono block wheels and 350inch BF Goodrich Mud Terrain tires. Inside, the rear seats are gone and the whole thing is designed to be easily cleaned, including perforated aluminum panels for the foot wells.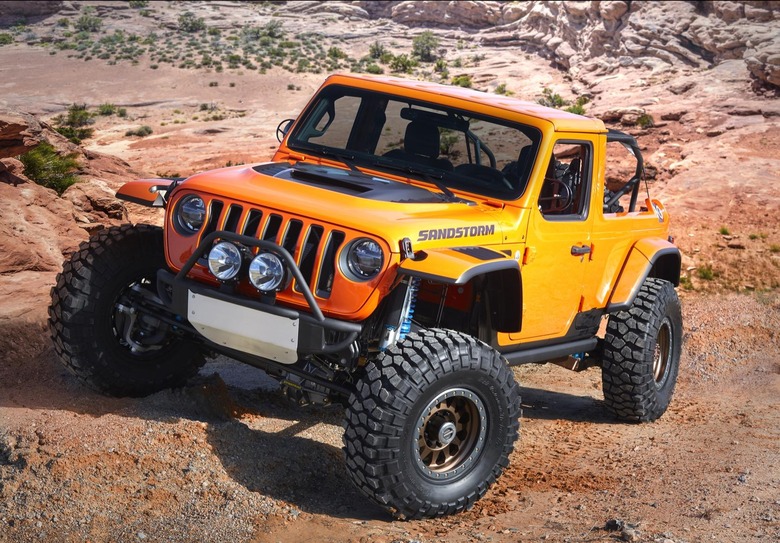 As for the other cars, they all tick some sort of off-road box. The Jeep Sandstorm is Baja-inspired, with an extreme-duty suspension system and a hefty 6.4-liter V8 Mopar performance engine with a 6-speed manual transmission. It has vast 39.5-inch tires and custom coilovers and bypass shocks for 14-inches of travel on the front wheels and 18-inches on the rear.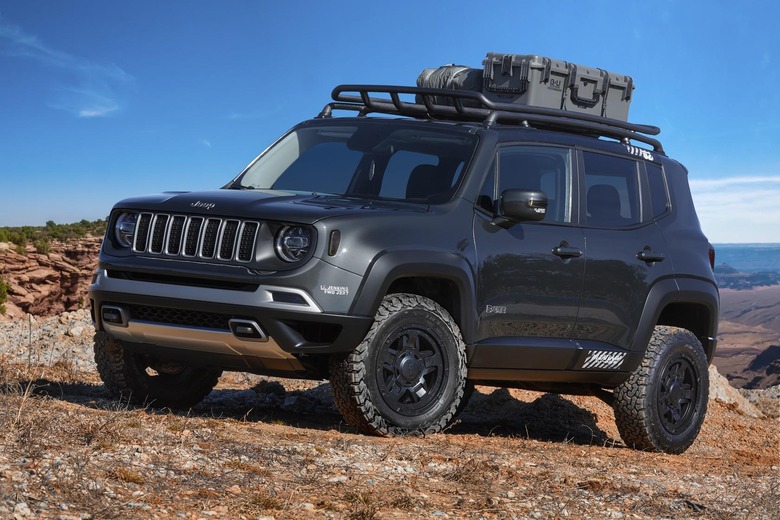 Then there's the Jeep B-Ute, with a more subtle lift and styling that wouldn't be too out of place in the Walmart parking lot. That's a lot like the Jeep J-Wagon, in fact, which throws on plenty of Mopar parts – like high-intensity LED lights, custom wheels, and a premium interior – but doesn't stray too far otherwise from what you'd find in your nearest dealership.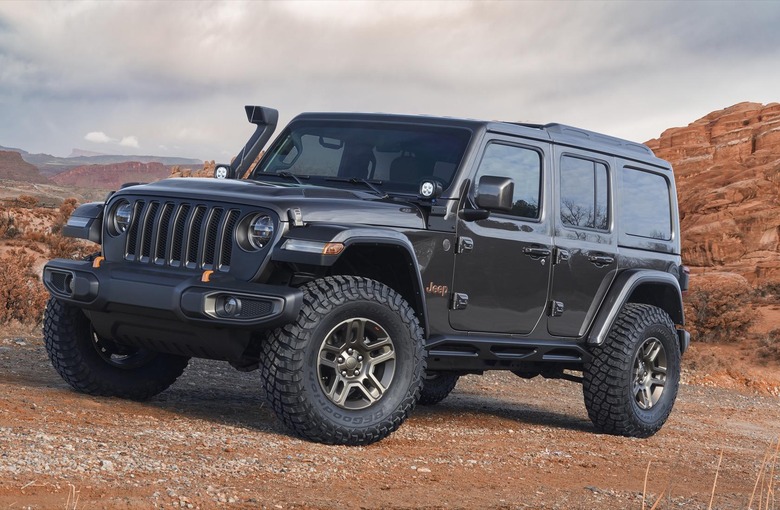 Along those lines, the Nacho Jeep consists entirely of production Jeep Performance Parts parts, including a beefier hood atop the 2018 Wrangler Rubicon donor, extra LED lighting, a 2-inch lift, and custom interior trim.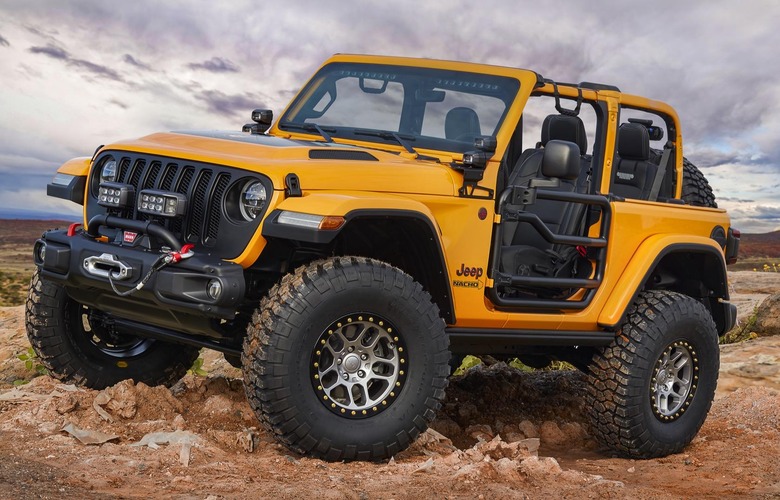 Finally, the Jeep Jeepster Concept straddles both those lines. It pairs production parts with some metalwork, with the hardtop chopped by 2-inches and given a custom, raked-back windshield. Plenty of LED lighting, a 2-inch lift, and oversized tires plus 2.5-inch aluminum body shocks promise real off-road talent, while inside the sport bar is replaced by a concept roll cage that also accommodates the spare tire. Custom storage packs mount to the tailgate for food, water, and tools, and there's a concept "rock step" which combines a rock rail and side step.