There are 50 new Amazon Dash buttons and it's getting ridiculous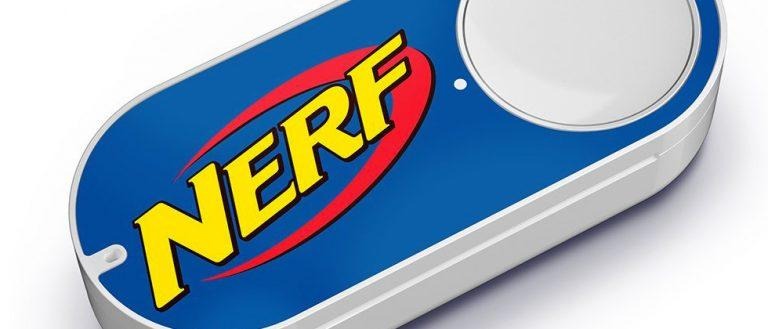 This week the folks at Amazon have added 50 new Dash Buttons to their collection, bringing the full set up to over 150. This set of buttons works for Amazon Prime members, allowing them to press said button once to see products delivered to their home soon thereafter. What's more, this newest set includes such baffling buttons as NERF and PLAY-DOH, making certain you're fully stocked on soft arrow and doh for forming fake cookies.
If you've just shared this article with a friend to show them the insanity of Amazon Dash buttons, let's make it simple. You've got a button with a brand on it. That button is pressed by you, and products are shipped to your home. Easy peasy. Watch this video and see:
What's crazy is the amount of buttons that now exist – totaling more than 150.
Amazon Dash is a waste: here's a better option
– Affresh
– Lavazza
– Amoretti Dash Button
– Luminess Air
– Aquaphor Baby
– Mentos
– AZO Bladder Control
– NERF
– AZO Urinary Tract Health
– New Chapter Bone Strength Calcium
– Balance Bar
– New Chapter Multivitamins
– Brooklyn Bean
– New Chapter Wholemega Fish Oil
– Brookside Bars
– New Chapter Zyflamend
– Campbell's Chunky Soup
– Nutiva
– Campbell's Soup
– Osteo Bi-Flex
– Cascade
– Persil
– Clif Bar
– Pepperidge Farm Goldfish Crackers
– CocoaVia
– Pepperidge Farm Milano Cookies
– Culturelle
– PLAY-DOH
– Culturelle Kids
– Plum Organics Mashups
– D'Addario
– Puffs
– Dial
– Quilted Northern Ultra Plush
– Dial Liquid Hand Soap
– Quilted Northern Ultra Soft and Strong
– Dropps Laundry
– Schwarzkopf
– DUDE
– Simplehuman
– Enjoy Life Foods
– SmartyPants
– Estroven
– Supergoop!
– EveryDrop
– Swanson Broth and Stock
– FIJI Water
– TheraBreath
– FoodSaver
– Trident
– Glade
– TRUE IMAGE
– Hammermill
– V8 +Energy
– Hershey's Variety Pack
– V8 Vegetable Juice
– Hubert's Lemonade
– Vega
The idea here is to remove any barriers these brands can between you and an order of their products. With these buttons, brands that work with Amazon want your purchase to be as easy as it can be.
What's more, these buttons are $5, and once you've ordered something with them, you get $5 credit on your Amazon account. Amazon Prime, that is. So they're sort of – KIND OF – sort of free. Not really, but they seem that way.
The full collection of these buttons can be found at Amazon – but be forewarned: they're addictive.