The weirdest, crazier cars of Amelia Concours 2016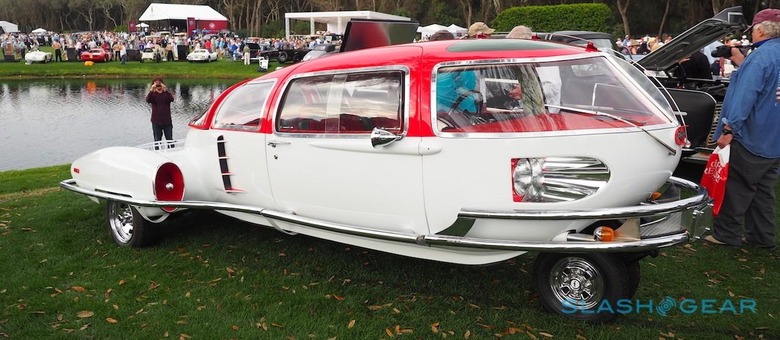 Just as fine art can be challenging, so can classic cars, and while Amelia Island Concours d'Elegance has its fair share of multi-mullion supercars, so it also has a more refined selection of automotive oddballs. In fact, when some of the biggest collectors in the US – and abroad – get together to outdo each other, you're bound to find some more unusual vehicles in the mix.
If it's striking looks you're after, the 1952 Pegaso Z-102 fits the bill. over 92-inches long, and banana yellow, it's the only known surviving example of the automaker's "Cupula" coupe bodywork. It's had some unusual owners, too, including a period where it was confiscated by the Dominican government.
Earlier still, and looking like the inspiration for Batmobile from Batman & Robin, the 1938 Phantom Corsair was built on a Cord platform but designed as a coupe for six. With a heady $24k price tag, it could hit a 115 mph top speed and included features still considered modern on today's supercars, like push-button door releases. Only one was made, and it's more than likely a nightmare to parallel park.
Possibly the most phallic of the cars at Amelia Island, the 1951 Studebaker Manta Ray was actually modeled on the jet aircraft creators Glenn Hire and Vernon Antoine worked on in their day jobs. Despite their ambitions for a company producing the outlandish car, only one was ever built, and its appearance this year breaks six decades of having been hidden away from the public eye.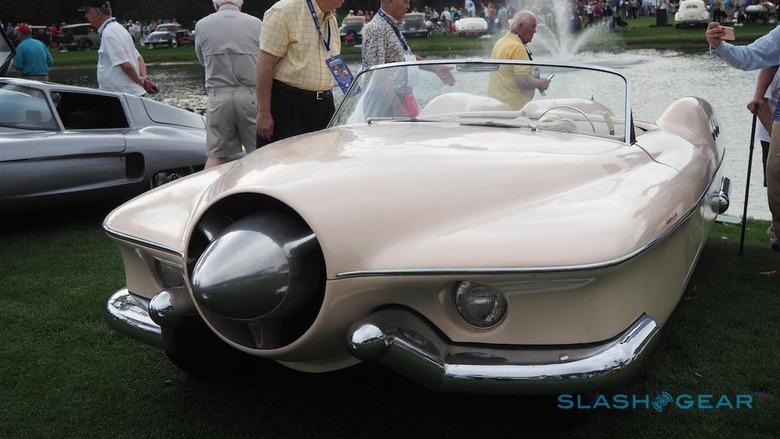 Few styling exercises hide their donor car quite so well as the 1962 Covington Tiburon, but more than just aesthetics disguise the Porsche underneath. Intended to demonstrate the value of the – at-the-time-novel – aerodynamic principles, only six of the cars were made, dubbed the most streamlined cars in the world in 1966. That they resembled a set-piece from The Day The Earth Stood Still was a happy coincidence.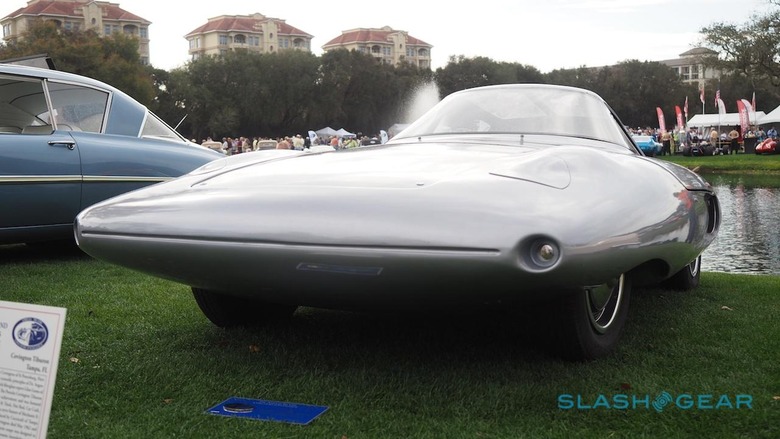 Arguably a precursor to the Hummer, the designers of the 1973 Mohs Safarikar had big game not military targets in mind when they created the vast, aluminum bodied car. Sliding doors and a removable roof kept hunters safe while tracking wildlife, it has a full aluminum body for lightness – important, considering it's spacious enough for a family of four to sleep in the back. Luckily for the animals, it never reached Africa.
Resembling the illegitimate lovechild of the Oscar Mayer Weinermobile and a BMW Isetta bubble-car, the 1974 Fascination is odd from every angle. Created back in 1974, only five were ever built, and it's the first of that short series that was brought to Amelia Island.
I'm a firm believer that wagons are sexy, but even I'm not entirely convinced by a Rolls Royce estate wagon. Just four were made in 1959, designed by Harold Radford and based on the Silver Cloud.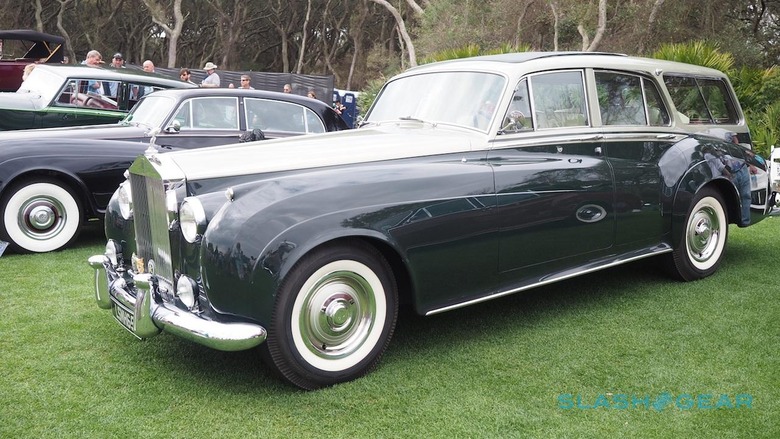 The 1938 Graham 97 Supercharged Cabriolet by Saoutchik may be an oddball but it's also a stunning one, star of the 1938 Paris Salon. It pairs a distinctively curved and jutting radiator and fenders with a body that includes cantilevered doors, decades before supercar customizers figured out gullwings. What makes it particularly special is the level of detail involved, not least thanks to the extensive restoration which began in 2014.
There are more photos of each car – and details on their designers, builders, and current owners – in the gallery below.
[gallerybanner p="431508"]