The VW ID. SPACE VIZZION is a weird EV sports wagon with a secret message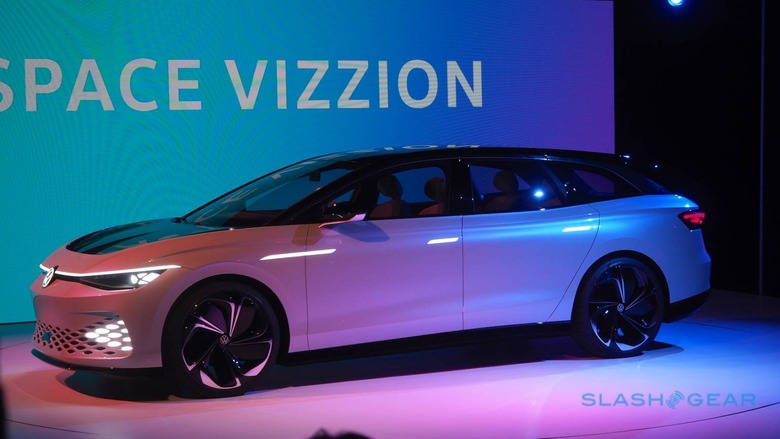 Volkswagen's first ID.3 all-electric car based on the new MEB platform isn't expected until next year, but the automaker isn 't slowing down on stacking up new potential models. The VW ID. SPACE VIZZION is the seventh EV to use the modular electric drive matrix, and its electric Gran Turismo is arguably the most striking yet.
You could think of it as a futuristic wagon, or of a condensed SUV, or even a well-stretched sedan. Whatever the definition, VW says that while the ID. SPACE VIZZION may only be a concept today, it's weighing a potential production version for North America and Europe.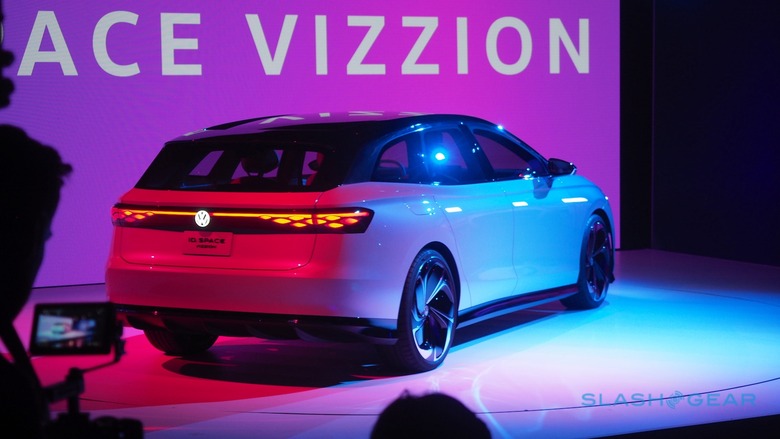 The MEB's flexibility shows its strength here, allowing Volkswagen to tinker with the length of its EV and its drivetrain. As shown off at the LA Auto Show this week, the ID. SPACE VIZZION is – at 195-inches – about as long as a VW Atlas Cross Sport SUV. However it's narrower and lower.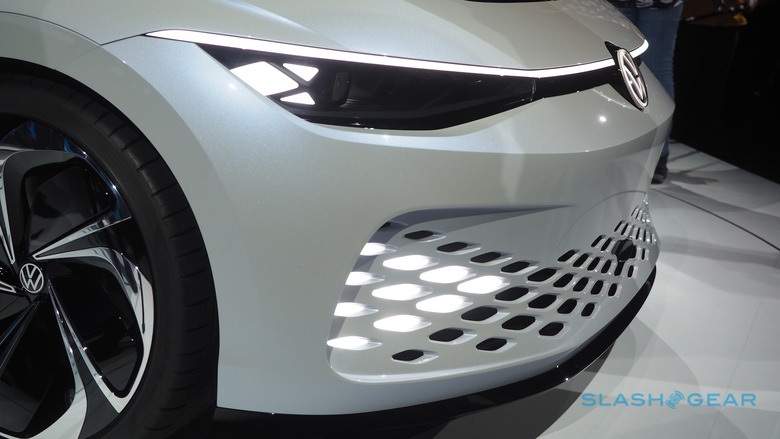 A 275 horsepower electric motor is mounted at the rear, powered by an 82 kWh lithium-ion battery, for 406 lb-ft of torque. VW says that it's enough to give the ID. SPACE VIZZION a near-50:50 weight distribution. There's electronic damping control, multilink rear suspension, and strut-type front suspension.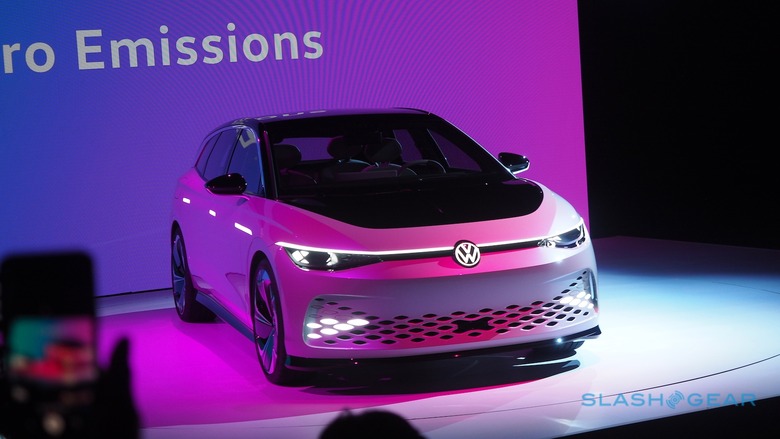 However, the car could just as easily be AWD. Add in a 101 hp coaxial drive to the front, and the ID. SPACE VIZZION 4Motion would offer 335 horsepower and 517 lb-ft of torque in total. VW says that, in such a configuration, 0-60 mph could arrive in 5.0 seconds, and the top speed be an electronically-limited 109 mph.
As for range, in RWD form you're looking at up to 590 km on the European WLTP cycle. In the US, Volkswagen estimates that could be more like 300 miles on the EPA cycle.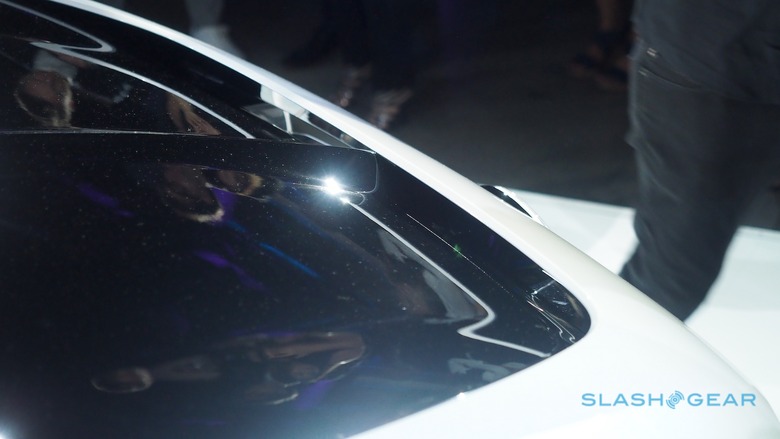 Helping there is the aerodynamic slipperiness. VW's engineers used some clever airflow guidance to bring the coefficient of drag down to 0.24, with air being guided up through a horizontal panel between the headlights, over the top of the car, and then down through a second horizontal panel over the tailgate.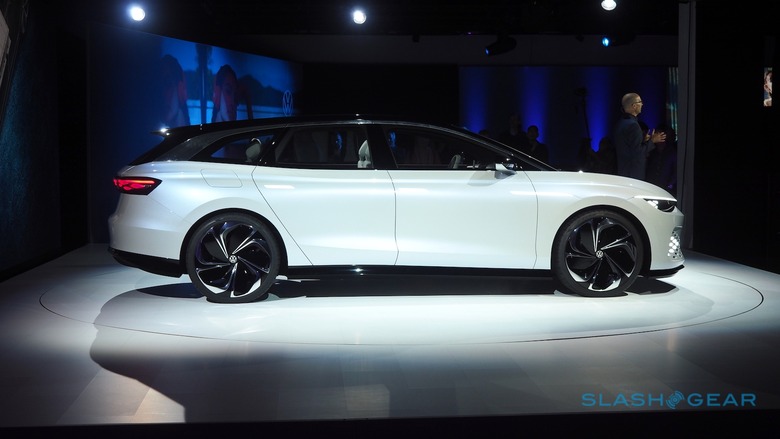 Door handles are done away with in favor of touch pads, again with reducing wind drag in mind. Walk up to the ID. SPACE VIZZION and the pads light up; touch one, and it pulses, vibrates, and the door opens. Indeed graphical lighting is a big theme in the concept, with the IQ.LIGHT LED headlamps joined by an illuminated VW logo and crossbar, along with honeycomb-style LED daytime running lights. They also act as X-shaped turn signals.
Turbine-style 22-inch aluminum-alloy wheels have five aero flaps, bringing them flush with the wheel arches and helping to avoid airflow interruption. The roof spoiler, too, is functional, helping cut turbulence at the rear. That's also where you'll find more LEDs, with the transparent red light strip crossing the white VW logo.
All those lights allow VW to program in welcome and goodbye patterns, that the ID. SPACE VIZZION can show as you unlock and lock the car. That even includes headlamps that look like they're eyes opening.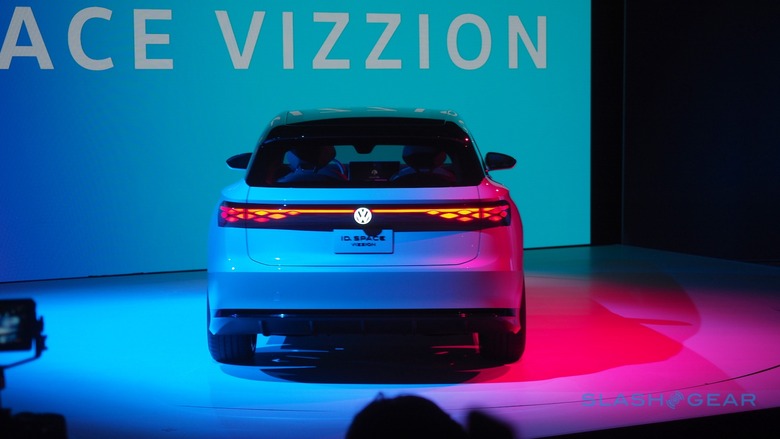 Inside, there's seating for four, though VW says it could add a rear bench instead and accommodate a fifth person. Rather than leather, there's AppleSkin, a faux-leather made in part from residual matter from apple juice production. VW has used chrome-like paint rather than actual chrome, and done away with plastic decorative inserts in favor of more AppleSkin. The automaker says it'll be doing that with all ID. models, and that future iterations of the material will have metallic finishes and ambient illumination.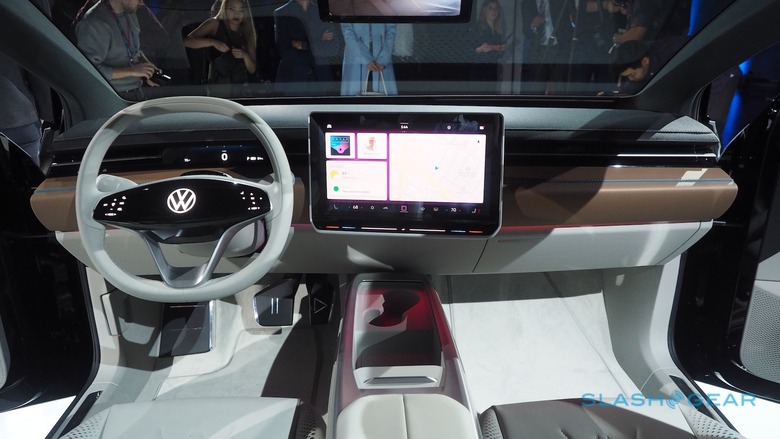 The dashboard relies on a head-up display to deliver the essential data to the driver; a 15.6-inch touchscreen in the center deals with HVAC, entertainment, and other settings. Ambient lighting offers 30 colors, and different hues can be assigned to different touch-surface controls. There's a large, fold-out center console with more storage and USB-C ports. VW's 20.7 cubic foot trunk has two electric longboards underneath.
Even the steering wheel has had an upgrade. VW has equipped it with touch panels, and the right-hand stalk is used to select drive, energy-recovery mode, park, and reverse. Light is used to deliver messages from the navigation and other systems, such as suggesting a lane change, or can even proactively change to more relaxing tones if the driver encounters traffic. Natural language voice control is supported, too.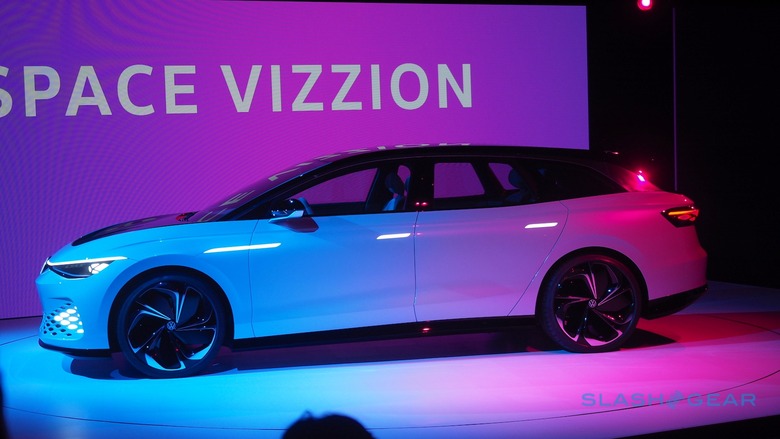 In a time when SUVs and crossovers are only growing in popularity, making a luxury four-door GT car might seem like an unusual strategy. VW says it hopes to put a production version of the ID. SPACE VIZZION into the US market sometime in 2022, an example of the flexibility of the MEB platform and the ability of that to support more niche models in a way that's still cost effective.