The Vizzywig 4K video app is back, ready for iOS 8.1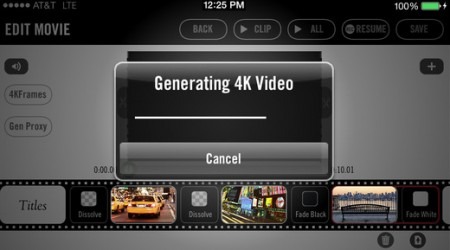 Remember the Vizzywig 4K app that shot video from your iPhone in 4K resolution? After being pulled from the App Store, they're back — and sporting a new name. Rather than 4K, Vizzywig has now branded themselves 8K. Why the double-down in the naming scheme? Because the app has eight times the pixel density of FaceTime HD, of course. Vizzywig also says that for the best frame-rate experience, an iPhone 5S is needed. The 24 frames per second make video smoother.
To be clear, Vizzywig 8xHD — the app's official name — takes a series of pixel-dense, raw, uncompressed photos, then strings them together to make a movie. You're not getting traditional video capture, but that's not the point. Incredible videography is.
Vizzywig 8xHD captures at 3264 x 2448, which is much higher than the FaceTime HD resolution of 1280 x 720. Accordingly, they pixel density is 8.67-times more than FaceTime HD.
Vizzywig says you can use an iPhone 6 or 6 Plus, but the video won't be as smooth due to its capture rate of ten frames per second. Even if you "downgrade" to HD, Vizzywig promises amazing results:
Each frame of the motion picture sequence in Vizzywig 8xHD is captured as a high-resolution RGB photo instead of as a motion-compressed YUV video frame, the quality, color, fidelity and depth of the final video produced from the still photo sequence is truly amazing.
The app is now $49.99, well below the original asking price of $999.99.
Source: iTunes