The USB Mirrored Compact Card Reader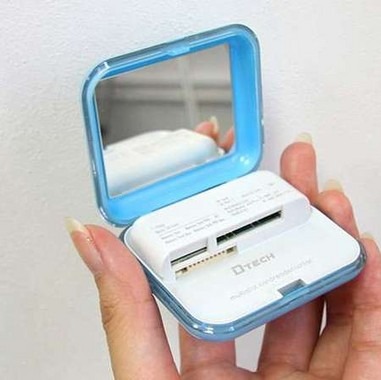 Of all the things a woman carries in her purse, somewhere in those terrifying depths is typically a compact of some sort. Now, I say that and I haven't carried one in several years, however, most women do carry them. This compact actually offers a bit of technology thrown in, and no I don't mean just pretty LED lights to illuminate your face while riding in dark cars.
This compact has a card reader stowed away inside of it and the shocker is, it doesn't come in pink. Although, pink would be cute, I am impressed that someone created a useful gadget for women that isn't a pretty pink.
The compact is also nice since you could leave the cards in it and close the lid, leaving them perfectly safe and stashed away for when needed. The compacts come in both blue and gray and it is being sold for $15.
[via ohgizmo]