The Ultimate Messenger Bag - Dancing Robot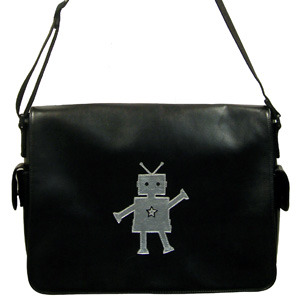 If you're looking for a laptop bag that is functional and cute snag this one complete with a dancing robot. Listed as the "Ultimate Messenger Bag" it definitely beats out those boring business-like laptop bags.
One down side is that its not sufficiently padded, so you might need to slip an extra sleeve on your laptop to keep it protected. However, its that perfect style that might make it worth the extra effort of snagging a sleeve.
It has a squared bottom so its extremely roomy, with side pockets for all those extra gadgets. Its made of waterproof vinyl and is priced at $80. It will hold up to a 17" laptop.
Happy Robot Bag: Makes strangers smile [via popgadget]