The Star Wars USB Hub with glowing lights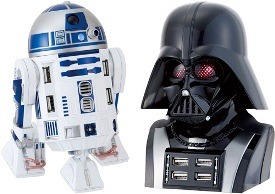 If you haven't gotten enough of all the random Star Wars accessories, here's two more and these do have a use besides looking cool. These little USB hubs have 4 different ports to keep your gadget addiction going strong.
The Darth Vader version features red glowing eyes which can glow all through the night if you like. The R2D2 version also features flashing lights and his usual beeping from the movie, which I'm hoping can be muted.
Although the beeping would be cool on occasion, after a while it'd just become annoying. The hubs are unfortunately only being sold in Japan thus far and for $66 a piece.
[via coolest-gadgets]