The Solar-Energy Saving Cordless Fan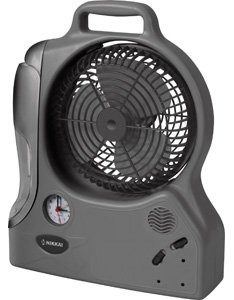 If you intend upon doing any camping this summer but can't live without a few gadgets, this solar powered fan might be just the thing to help you out. I know for many, camp sites without any power whatsoever are fun but they do need a fan an alarm clock and maybe even a charger for small gadgets.
This fan takes care of all of those issues. It can charge up your cellphone or MP3 player, as well as having an alarm clock, lantern and obviously, the fan function. With a full charge the fan can keep going for 6-8 hours on high.
If you run the fan on the low speed it can run for 12-16 hours. The battery takes about 5-7 hours of sunlight to charge up or you can just plug it into a regular outlet and charge it that way instead. The fan is being sold for about $69.
[via ubergizmo]