The Solar Energy Purse keeps your gadgets going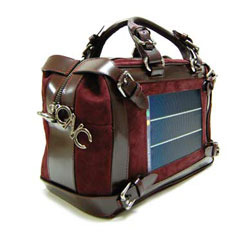 It seems like solar gadgets are popping up like daisies anymore. Well here is one slightly more fashionable gem, that allows for you to charge up your little gadgets on the go. Even when it isn't in direct sunlight it has a battery it can run off of.
The bag was designed by Ennio Capasa, who happens to feature it on one of those designer sites that makes you want to rip your hair out. Excessively busy, yet with minimal information.
Unfortunately they don't mention any word on pricing or availability. However, many of those sites have an area in which you can contact for pricing and more information.
[via bbgadgets]