The Simpsons couch gag has Rick and Morty crash in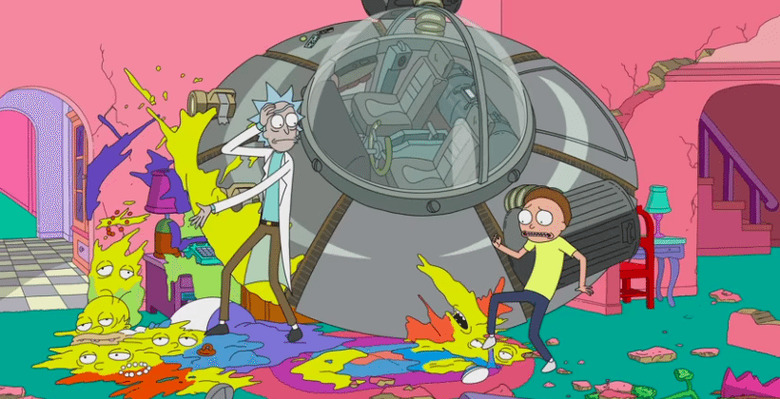 Some bad news might have surfaced on The Simpsons front, but one of its upcoming couch gags is a bright spot among it all. There are some guest animators in play, as Bart laments, and they bring with them Rick and Morty who crash — literally crash — the Simpsons' family time television watching. It is somewhat long as far as couch gags go, and is wonderful all around...if you've a careful eye, you'll notice there's even a moment of acknowledgement for the Futurama fans out there.
The couch gag is for the upcoming season finale, and it stars Rick and Morty from Adult Swim — they've accidentally crash landed a space ship directly onto The Simpsons' couch...while they're all sitting on it, rendering them into goo. Some of that goo is put in a vial, a mission is enacted to regenerate them, and a little misplaced spit means everything only works out "okay enough".
Speaking to The Hollywood Reporter, The Simpsons' Matt Groening said, "Rick and Morty visiting The Simpsons was probably the most ambitious and lengthy couch gag that we'd done." He also said that he "loved it," and that "it plays like a mini-episode".
The second season of Rick and Morty will be arriving on July 26 on Adult Swim, while The Simpsons' couch gag will be airing on Sunday night with the rest of the (unrelated) episode. Check out the timeline below for more Simpsons news!