The PS4 Finally Has An Official Twitch App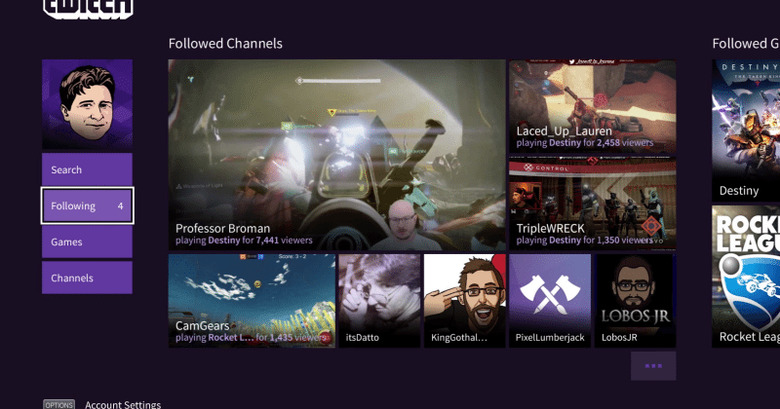 Given how Twitch has become the go to platform for broadcasting game playthroughs and viewing such, you'd think it would be one of the first things the latest gen PlayStation 4 would have in its roster. While the PS4 did have the basic ability to broadcast and watch PS broadcasts, that was the full extent of Twitch's presence. Now, owners are finally freed from the shackles of the PS web browser with the new Twitch PS4 app that will allow them to watch any Twitch stream at their convenience.
To be clear, this Twitch app is really more about convenience but it's an extremely needed and long overdue convenience. The PS4 did launch with Twitch integration but it was severely limited. Actually, it was limited to broadcasting games which, truth be told, is truly a critical part of the platform. However, to view those Twitch videos, especially those that weren't created from a PlayStation console, users had to make do with watching Twitch through the console's web browser.
And now, as they say, there's an app for that. With the Twitch app for the PS4, users will not only be able to watch both live and recorded broadcasts, they will also be able to participate in chats, at least on the PS4 only. They will also be able to follow channels and games of interest. And there is no platform restriction, as you have access to content created or streamed from other consoles or PCs as well. But as a special treat for PS4 users, the app will have a special featured section that showcases PS4 broadcasters only.
And now for the fine print. This initial release of the PlayStation Twitch app is available only for the PS4 and, again initially, only for the United States, Canada, Argentina, Brazil, Chile, Colombia, Mexico, Peru, Bolivia, Costa Rica, Ecuador, El Salvador, Guatemala, Honduras, Nicaragua, Panama, Paraguay, and Uruguay. More regions are promised to follow. As for the PS3 and the PS Vita, they will get theirs some time in Fall.