The Prodigy speaks live on Twitch for My Day Is The Enemy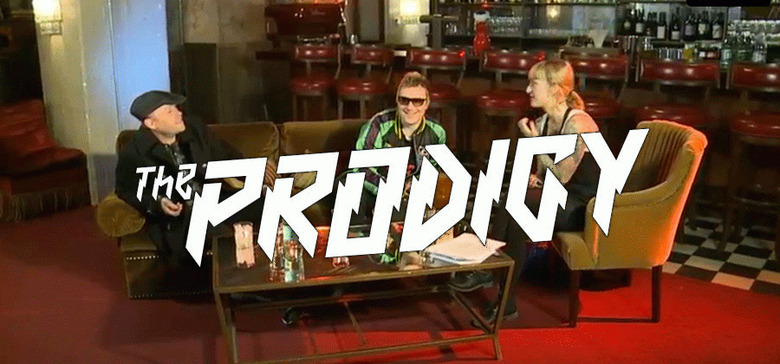 On the couch with "Artist Couch" on Twitch this week, Liam Howlett and Keith Flint spoke about their upcoming album "The Day Is My Enemy." This is the first broadcast – the first saved, anyway – of "Artist Couch" on Twitch. This COULD be construed as the first move outside the gaming universe by Twitch, right along with Lindsey Stirling hosting for release. They spoke directly to questions asked on the fly from users on Twitter about their immediate future and tour bits and pieces.
UPDATE: Twitch lets us know that this broadcast was part of their ongoing Beta Music Library service. We'll likely see similar events popping up in the future!
Below you'll see the livestream of the chat – if it's still going on by the time you get to this article. Like all live or non-live video here on SlashGear, we've gone ahead and set autoplay to "no", so you'll have to press play. Let us know if they say anything particularly juicy that we've missed!
They also showed the music video for their single "NASTY." This is one of several singles that've been released for the album thus far, each of them with their own rather unique video. This NASTY video focused on the antiquated practice of hunting foxes in England with packs of horses.
Behold the fox, turning its hunters into its slaves.
Below you'll see the video for Wild Frontier. This track is also on the new album and features some heavy-duty blood-filled claymation action.
Howlett and Flint suggested that the track they loved the best on the tour. "The album has the music in its best form for the record," said Howlett, "then we break it all down and take it on the road."
The tracks change and evolve, suggested the crew – they're out and changing as they run their course in live presentation.
Above you'll see the title track from the album: "The Day Is My Enemy."
Howlett and Flint also spoke on some of their favorite tunes. "Slaves," they both said, while Flint suggested he liked "Dead Weather, and anything Jack White does," as well as the supergroup "Them Crooked Vultures."
Have a peek at the live stream and stay tuned as the rest of the singles arrive, as well as the album at the end of this month!
BONUS: Wall of Death!